Stories tagged with
Access
Click on a story title to read that post. Posts are ordered chronologically from newest to oldest.
Asking the right questions about seniors' access to transit
July 6, 2011
By Sean Barry
Photo Credit: TransLink In a blog post last Thursday, Streetsblog Capitol Hill's Tanya Snyder tackled a question that has been marinating since Transportation for America released "Aging in Place, Stuck without Options," addressing seniors' mobility challenges: Is it the job of overextended transit agencies – and the responsibility of taxpayers – to expand transit to [...]
Seniors and transit report generates widespread coverage and discussion
June 22, 2011
By Sean Barry
Last week, we released Aging in Place, Stuck without Options, documenting the more than 15.5 million Americans 65 years and older who, by 2015,  will live in places with poor or non-existent public transportation. The report ranked metro areas according to the percentage of seniors projected to face poor transit access, and asked: How do [...]
Most Aging Baby Boomers Will Face Poor Mobility Options
June 14, 2011
By Transportation for America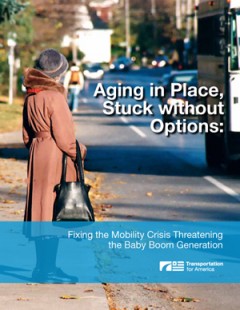 By 2015, more than 15.5 million Americans 65 and older will live in communities where public transportation service is poor or non-existent. That number will grow rapidly as the baby boom generation "ages in place" in suburbs and exurbs with few mobility options for those who do not drive. This new report ranks metro areas by the percentage of seniors with poor access to public transportation, now and in the coming years, and presents other data on aging and transportation.