Stories tagged with
complete streets
Click on a story title to read that post. Posts are ordered chronologically from newest to oldest.
New Walk Score app: Another step forward for walkability
September 25, 2012
By David Goldberg
Few single actions have helped advance the cause of walkable neighborhoods more than the launch of WalkScore.com a few years ago. In a simple and elegant formulation, Walk Score summed up what it meant to be "walkable" and put a value on it. Since then, every real estate web site worth visiting has added it [...]
Guest Post: In Honor of Powell Calhoun and Donna Williams
April 16, 2012
By Transportation for America
Editor's note: This guest post by Barbara McCann is cross-posted from the National Complete Streets Coalition. We're re-running this here because we've previously highlighted the work of Dr. Scott Crawford in Jackson, Miss. to bring attention to the danger posed to residents by streets that aren't safe for everyone that needs to use them. Sadly, that turned out [...]
It's National Walking Day, but too many people will have to walk unsafe streets
April 4, 2012
By Stephen Lee Davis
You may not have known it — it's not the most publicized special day on the books — but today is National Walking Day. Some of you may have traded part or all of your drive or transit trip today for a walk to work. But for many, every day is "walking day," and it [...]
Senate committee takes positive steps for freight, multimodalism, performance and safer streets
December 14, 2011
By Stephen Lee Davis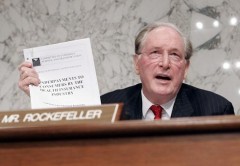 The Senate Commerce Committee passed a package of bills to create and implement goals and objectives for the overall transportation bill, update our federal freight transportation policy, and an amendment to help ensure that federal dollars help build streets that are safe for all users. These bills (including others not mentioned) represent the majority of this committee's contribution to the overall Senate transportation bill.
Transportation for America responds to Senate Commerce Committee actions on transportation authorization
December 14, 2011
By Transportation for America
WASHINGTON, D.C. — The Senate Commerce Committee today adopted two key policy measures for the upcoming authorization of the federal transportation program. The "Surface Transportation and Freight Policy Act of 2011" establishes policy goals for the federal surface transportation program, such as addressing congestion, improving access to multiple travel options, supporting domestic manufacturing and reducing [...]
Governor Cuomo signs Complete Streets legislation as New York Times surveys pedestrian safety in Orlando
August 17, 2011
By Sean Barry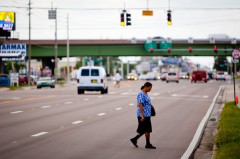 NY Governor Andrew Cuomo's decision to sign complete streets legislation is a step forward for pedestrian safety, though a Times report out of Orlando yesterday illustrates how much further we have to go. The status-quo for most people on foot or on bike around the country is woefully unsafe and insufficient, though perhaps nowhere more so than in Florida.
New York Complete Streets clears legislature, awaits Governor Cuomo's signature
June 23, 2011
By Sean Barry
Complete streets legislation passed both the New York State Senate and Assembly unanimously this week and awaits Governor Andrew Cuomo's signature. Once the legislation becomes law as expected, New York State will follow in the footsteps of hundreds of other states and municipalities that have already started prioritizing the needs of all users on their [...]
Seniors and transit report generates widespread coverage and discussion
June 22, 2011
By Sean Barry
Last week, we released Aging in Place, Stuck without Options, documenting the more than 15.5 million Americans 65 years and older who, by 2015,  will live in places with poor or non-existent public transportation. The report ranked metro areas according to the percentage of seniors projected to face poor transit access, and asked: How do [...]
Tell your Representatives: Complete Streets will help curb pedestrian deaths
June 7, 2011
By Sean Barry
In last month's Dangerous by Design 2011 report, we documented the 47,000 preventable pedestrian deaths between 2000 and 2009, along with the 688,000 injured. This is equivalent to one American being struck by a car or truck every 7 minutes for the past ten years. The majority of these deaths occur on roadways that are dangerous by design — engineered for speeding traffic with little to no consideration for people walking, biking or using public transit. None of us should have to deal with losing a child, friend or loved one simply because they were walking in the wrong place at the wrong time.
Coastal Alabama advocates make Complete Streets in Mobile a reality
June 2, 2011
By Sean Barry
With the echo of the latest pedestrian fatality figures still ringing, a city in the deep South became the latest, albeit unlikely, place to adopt a Complete Streets policy. To paraphrase the song: if it can happen there, it can happen anywhere. When people think of "infrastructure," images of roadways and grids tend to come [...]