Posts Tagged "bipartisan"
Last summer, the Senate Environment and Public Works Committee passed a transportation bill lauded by both sides of the aisle. While the bill was indeed bipartisan, it does great damage to the priorities of both the Democrats and Republicans. Our director Beth Osborne explains why bipartisanship on its own doesn't make a bill good, and how it's possible to create a transportation bill that achieves both parties' objectives.
Earlier this spring Utah became the third state in 2015 to pass a comprehensive transportation funding bill, raising the state's gas tax and tying it to inflation. Unlike most other states acting this year, Utah raised revenues to invest in a variety of modes and also provided individual counties with the ability to go to the ballot to seek a voter-approved sales tax to fund additional local transportation priorities.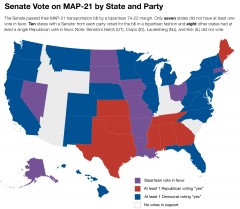 As this map and graphic below amply demonstrates, the Senate's transportation bill not only was developed with bipartisan input and adopted with votes from both parties, but it garnered support from every region of the country and from the reddest of "red" states, the bluest of blue, as well many others that trend purple. This is a noteworthy accomplishment in this Congress, and one that House leaders should take note of before dismissing HR 14 out of hand.