Posts Tagged "north carolina"
One of the most powerful avenues for persuading a skeptical community to invest in transit is to see it successfully implemented nearby — whether in the community or neighborhood right next door, or a city and region a few hours away. This trend is illustrated in two of this year's Transportation Vote 2012 ballot measures through two very different stories in Virginia and North Carolina.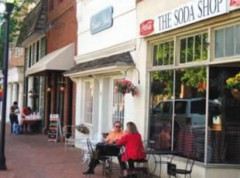 This collection of 12 case studies puts to rest the idea that livability is an exclusively "urban" idea — small cities, towns and rural regions across the country are transforming themselves into more livable communities. Davidson faced a surge in population head-on by revitalizing its town center and improving transportation options, earning the 2004 National Award for Smart Growth Achievement from the U.S. EPA.
With more and more people looking to save money and leave their cars at home, some smaller cities across the U.S. — like Burlington, a town of almost 50,000 in North Carolina — are hoping to provide residents the option of using public transportation.