One of the most powerful avenues for persuading a skeptical community to invest in transit is to see it successfully implemented nearby — whether in the community or neighborhood right next door, or a city and region a few hours away. This trend is illustrated in two of this year's Transportation Vote 2012 ballot measures through two very different stories in Virginia and North Carolina.
In the tidewater region along the Virginia coast, discussions ramped up in the 1980s and 90s about a light rail system connecting the neighboring cities of Norfolk — a little more inland — and Virginia Beach on the Atlantic Ocean, mostly via an underutilized Norfolk Southern railroad corridor that runs in a neat, straight line from Norfolk all the way to the beach.
In 1999, an attempt was made to pass a referendum on the potential light rail system in the City of Virginia Beach, but voters rejected it. Perhaps as a result of the controversy or simple issue fatigue after talking about it the concept for more than a decade, the Virginia Beach city council washed their hands of the whole affair and passed a resolution affirming that the city would have nothing to do with the future construction of the light rail system for ten years.
That setback didn't stop the project in its tracks.
Norfolk decided to forge ahead on their own with a system spanning the core of their mostly linear city along the Elizabeth River. And in summer of 2011, The Tide — the first light rail system in Virginia — opened to huge crowds and daily ridership exceeding projections.

Crowds of people took rides during the Grand Opening of The Tide in Norfolk, Virginia. Newtown Road Station. Photo by D. Allen Covey, VDOT
Down the road in nearby Virginia Beach, citizens there finally got to move beyond renderings and promises and meetings and see a brand new working light rail system through the center of their neighboring city just a few miles away. Perhaps they bemoaned the perpetual traffic congestion on I-264 between the two cities and wistfully thought about how nice it would be to hop on a train at the beach and get to the downtown mall or the Tides baseball park right on the river in Norfolk.
But most powerfully, the idea of rail transit in their community was no longer an abstraction; a figment of some planner's or city councilperson's imagination. There it was, dropping off students by the thousands at Norfolk State and winding right through a newly rebuilt MacArthur Square and park by the mall every day with shiny new passenger vehicles on the way to the burgeoning hospital complex on the west side of town.
A year and a half later, it's easy to understand how Virginia Beach voters went to the polls Tuesday and gave a hearty "me too!" to the Tide system. Though it was a nonbinding resolution directing the city council that still has the final say on moving forward, 62 percent of voters supported the measure. And in no small part because of the case study of success just a few miles west.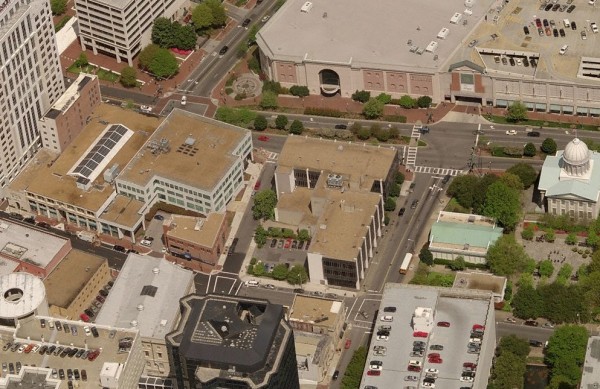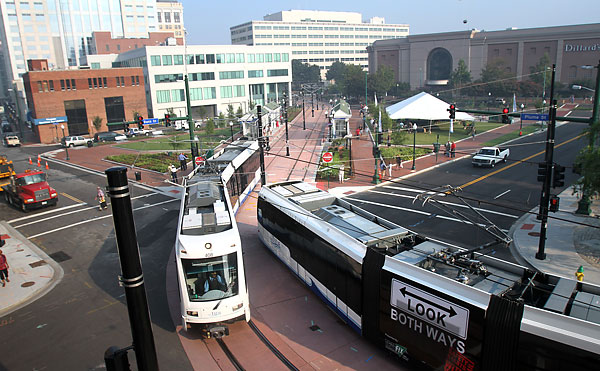 MacArthur Square in the center of Norfolk before, and how it looks after tearing down an old office building and creating a stop and a new park across from the downtown mall. First photo from Bing Maps, second photo by Steve Earley, the Virginian-Pilot
North Carolina Research Triangle
Raleigh-Durham and Charlotte are just a few hours apart on Interstates 85 and 40 and about the same size in population (1.7 million) yet Charlotte has done far more to invest in rail transit in the last decade, with more to come. (Though acknowledging the differences: Charlotte is a metro anchored by a central city and the more spread-out Triangle region is composed of the large and small cities of Raleigh, Durham, Chapel Hill, Cary and the suburban Research Triangle Park.)
After the better part of two decades of discussion and study, Charlotte's new Lynx Blue Line opened in 2007 and is a popular line running south from downtown to "uptown" Charlotte that has stimulated a wealth of new development along the way. According to our friends over the Center for Transit-Oriented Development, the Blue Line has catalyzed more than 10 million square feet of new housing, retail and office development along the corridor.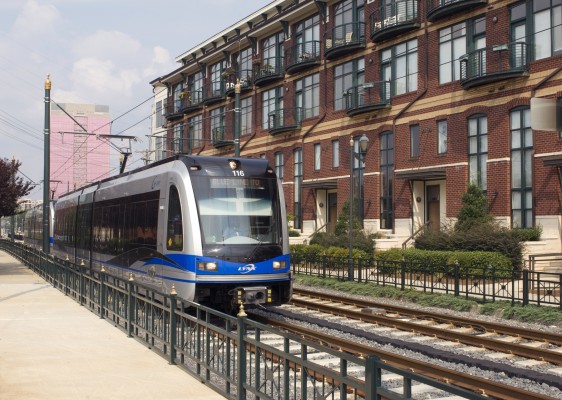 Simliar plans have been discussed in the Raleigh-Durham metro area for almost as long, but with four cities in three different counties trying to agree on a single region-wide plan, they've certainly had a harder time making it happen.
Perhaps prodded along by the success of the Blue Line down the road in rival Charlotte, Durham approved a half-cent sales tax last year to fund transit operations and a regional light rail line toward Chapel Hill, and Orange County (Chapel Hill) approved their half-cent tax to do the same just this week on Tuesday.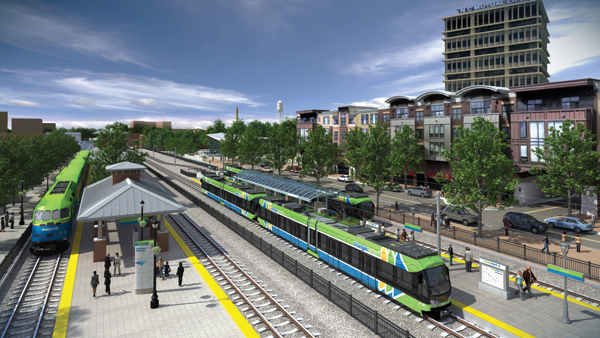 Rendering of a station in Durham courtesy of Triangle Transit
Unfortunately, the third partner in the region, Wake County (Raleigh), decided not to put a sales tax on the ballot this fall, so as of yet, there's no truly regional commitment to building rail transit.
Leaders of similar sized cities and regions know that investing in transit, the signals it sends to employers, and the kind of growth that it can stimulate are key to continuing to attract a smart workforce. In a similar story about Nashville, Ralph Schulz, president of the Nashville Area Chamber of Commerce, told the Nashville Ledger that "the lack of a mass transit system costs the area about one in five businesses considering relocating here." (In that story you'll see that Nashville Mayor Karl Dean knows it too and is a tireless advocate for investing in more transit.)
With Charlotte signing on the dotted line with the Federal Transit Administration just a few weeks ago to move ahead on a 9-mile expansion to the Blue Line that will reach northward to UNC-Charlotte, the bar has been raised in the region which the Triangle most closely identifies as their competition for jobs and workers.
While they're two-thirds of the way to a regional system with Orange and Durham approving the tax, unlike Norfolk's story, the utility of a Chapel Hill-Durham line will be incredibly limited without including lines into Wake County to connect the thousands of jobs in the Research Triangle Park and downtown Raleigh with Durham.
But every trip that a Triangle leader or citizen takes down the road to Charlotte will be a powerful reminder that successful new rail transit in a similar still-sprawling southern city is a downpayment on future growth that reaps dividends in shorter commutes, more access to jobs and neighborhoods, and an increase in the type of walkable neighborhoods that are so heavily in demand these days.
On an optimistic note, if a booming suburban city in the South with jobs scattered across the region like Raleigh can find a way forward with more transit, there's hope for many other similar regions.
—
Though these regions have voted to tax themselves to invest in transit and make their vision for the future a reality, they can't do it alone. They need a strong federal partner to come through and help leverage those local dollars into tracks in the ground one day.