They say all politics is local. Well, that goes double for transportation.
During a federal election season that saw the presidential candidates making only the barest mention of our teetering system for funding transportation infrastructure, local voters took transit funding into their own hands in more than two-dozen locales Tuesday. Most of the measures that included public transportation and a more balanced set of transportation options appear to have passed – or in the case of California, came achingly close to the required two-thirds majority. (Read The Transport Politic for a great summary of important measures. -Ed.)
According to the Center for Transportation Excellence election tracker, 14 of the 20 measures whose ballots have been tabulated at this point passed, a 70 percent rate. And in two of the "losses", the funding proposal actually won 65 percent of the vote. Despite continued doubts on the economy, voters confronted with a well-presented plan to fix or improve local transportation networks generally said "yes" to slightly higher taxes. Up until yesterday, 2012 had seen 33 of 39 such measures pass, for an 85 percent pass rate.
One of the most closely watched votes Tuesday was Measure J in Los Angeles, where voters were asked to extend their 2008 transit tax another 30 years out to 2069. It was an ambitious scheme to build more of the expansive rail and rapid bus network faster by taking larger upfront loans over the next several years. The longer repayment stream was necessary in order to be able to sell long-term bonds in the coming years. Outside observers thought it was a heavy lift to get voters to approve another transit tax just four years after passing Measure R, but Mayor Antonio Villaraigosa and others felt that Angelenos are impatient to get the transportation options they're seeking sooner.

Metro Board member Richard Katz, Los Angeles Mayor and Metro Board Chair Antonio Villaraigosa, Metro Board member and Los Angeles County Supervisor Zev Yaroslavsky earlier this year celebrating the new Expo Line light rail, funded in part by 2008's Measure R. Photo by Metro Library and Archives.
Apparently they were right: The measure won 64.7 percent of the vote. Unfortunately, that's just shy of the two-thirds required for revenue measures in California. (Notably, only 2.3 million Angelenos voted this year versus the 3.3 million who voted in 2008, when LA's breakthrough sales tax for transportation, Measure R, passed with 67.8%.) A similar fate befell Alameda County, across the bay from San Francisco, where a half-cent sales tax would have helped improve local bus service and build a BART extension to Livermore. It's likely to fail despite also receiving a strong majority of support — over 65.5 percent. (That vote is still too close to call and might not be decided for a few days, though it is still trailing. -Ed.)
Transportation issues played a significant role in a few mayoral races, as well. In Honolulu, the election became a referendum on construction of the $5.26 billion light rail line voters approved in 2008 (and which is already under construction today.) There, rail supporter Kirk Caldwell, the former city managing director, bested former Gov. Ben Cayetano, who came out of retirement to stop the rail project. Caldwell, who said he will "do rail better", came from behind to win 54 percent of the vote to Cayetano's 46 percent.
In Portland, OR, Charlie Hales – a longtime rail and streetcar proponent – beat state Rep. Jefferson Smith with 62 percent of the vote. In San Diego, U.S. Rep. Bob Filner, a Democrat, beat city council member Carl DeMaio in a race in which both candidates passionately embraced complete streets and safer conditions for walking and biking. And in Troy, MI, Mayor Janice Daniels, who rejected federal funding for a transit center in 2011, was recalled.
In other key votes, a few jurisdictions voted to join the transit party begun by neighboring communities. In Orange County, NC, home of Chapel Hill and the University of North Carolina, third city in the Research Triangle formed with Raleigh and Durham, voters approved a sales tax expected to raise $661 million for upgraded bus service and light rail to connect to Durham. Partly prodded by in-state rival Charlotte, which has seen multiple benefits from its own rail line, Durham County approved a half-cent sales tax for those purposes last year. Now it remains to be seen whether Raleigh will complete the triangle.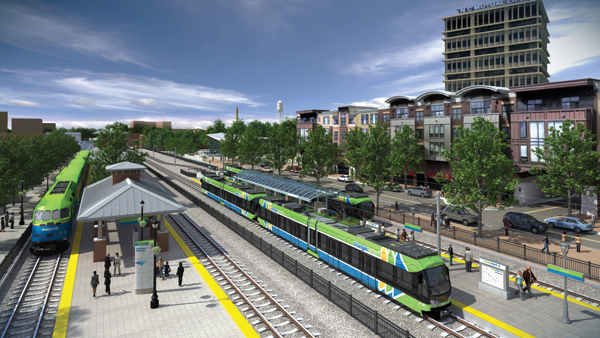 Rendering of a future light rail/Amtrak station in the Triangle Transit System in Durham, courtesy of Triangle Transit
Inspired by the success of light rail in neighboring Norfolk, voters in Virginia Beach approved an advisory measure in support of extending it to their city and, potentially, waterfront. The city council will make the ultimate decision whether to go forward. Elsewhere in Virginia, the D.C. "suburb" of Arlington approved a $32 million bond issue for transit, roads, bike, and pedestrian projects, with half going toward improvements related to the Metro rail service in Arlington. In Michigan, where four jurisdictions – Kalamazoo, Muskegon and Eaton and Ogemaw counties – passed transit levies, the Grand Rapids suburb of Walker overwhelmingly rejected withdrawing from the regional transit system.
In South Carolina, voters in Richland County – home of the state capital, Columbia – passed a penny sales tax to would widen and build roads, expand bus service and extend miles of sidewalks, bike lanes and trails. It passed with 54 percent and will be collected for 22 years.
Bucking the trend, voters in Clark County, WA – across the Columbia River from Portland – appear to have rejected a proposal to fund transit service on the proposed Columbia River Crossing, a controversial, multibillion-dollar bridge and freeway project connecting Vancouver, WA to Portland. That loss likely wasn't just about transit — transit-supporters such as Mayor Tim Leavitt of Vancouver and the Clark County Chamber of Commerce opposed the sales tax measure, claiming there were other ways to fund operations and maintenance of proposed transit improvements. (This vote is still too close to call, though the measure is currently losing. -Ed.)
A couple of the ballot failures were nonetheless winners in the "worth a try" category. Memphis city leaders sought a one-cent per gallon gas tax to raise money to expand eight bus routes and build a downtown trolley, but were rebuffed. In Houston, transit advocates sought to end the practice of diverting a quarter of the one-cent transit sales tax to local roads. Voters confused by the fact that a "for Metro" vote continued the diversion and effectively ends light rail expansion, overwhelmingly approved it.
So many localities ponying up their share for expanded transportation options has led some to argue that the feds can shrink from their commitment to fund infrastructure. But ask any of the local communities that have just taxed themselves to improve transportation options and you'll quickly hear that it's not an either/or proposition.
Local communities have a vision for a 21st century transportation system that provides affordable options for every resident. They're willing to tax themselves to get there, but they can't do it alone. Stay tuned in the next several days for our take on what seems likely to change – or not – at the federal level as a result of election 2012.