OK, now it's official: Rep. Bill Shuster (R-PA) will replace Rep. John Mica (R-FL) as chair of the House Transportation and Infrastructure committee. That much has been resolved after a 2012 election that still leaves a number of key questions hanging in the balance.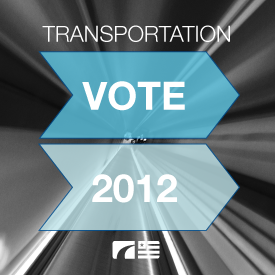 It is too soon to say, obviously, what sort of chairman Rep. Shuster will be. His early remarks – seeking to strike a middle ground while avoiding dogmatic statements – appear to put him more in the mold of his father, Bud Shuster, who served 28 years in Congress and chaired T&I for six years in the 1990s. In remarks honoring him in 2002, former T&I Chairman Jim Oberstar praised Bill Shuster's dad thusly: "His perseverance, patience and willingness to find common ground made him one of the greatest committee chairmen we have seen in recent years in the House."
However, "Things are different (now)," Bill Shuster told The Hill last week. "To move legislation, I think certainly takes some of the skill set that he had. … But also, you've got to make sure that you're listening to the … committee and the (GOP) conference to move these things forward. I've learned a lot from him, but there's some things that happen around here today that he didn't have to deal with."
In other comments, Shuster has said that he does not support rolling back the federal role in transportation or giving the entire job to the states. Rather, he said he wants to find the additional revenue and financing strategies that can help make up the gap between necessary investment levels and a federal gas tax whose earning power is in decline. In a nod to reality, he also endorsed exploring the potential of transitioning to a per-mile fee, or vehicle miles traveled tax (VMT), rather than a per-gallon gas tax.
"Longer term, VMT seems to me to be the only way to stop the decline because we're all going to be driving cars five, ten years from now that are going 40, 50 miles [per gallon] or more, or maybe not using any gas at all," he told The Hill. Whatever the revenue source, he and his colleagues will need to move quickly: His committee needs to be ready to adopt the next transportation in just 22 months.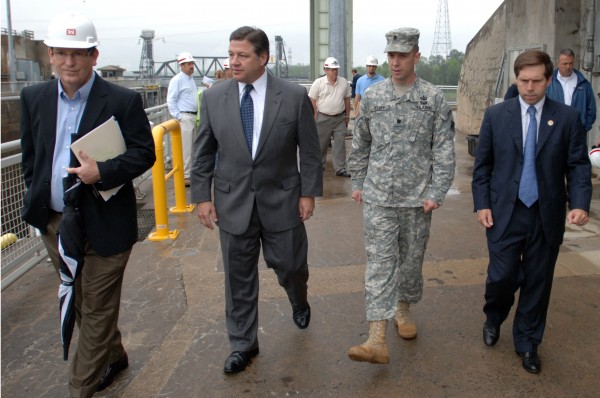 Rep. Bill Shuster, second from left, tours a Corps of Engineers lock facility in Chattanooga, Tennessee.
But what about raising the gas tax in the meantime?
Suddenly, almost everywhere you look in transportation land, people are talking about the possibility of a gas tax increase, and Shuster himself raised the possibility this week. Some argue that a lame duck session provides the perfect opportunity. They and others also see the potential to include a gas tax increase as part of the debt deal that is expected in the so-called "fiscal cliff" negotiations.
There is some justification for that argument. A shortfall in expected gas tax revenues already has led Congress to make increasingly large transfers from the over-burdened general fund to the highway trust fund, and was a key reason that last summer's transportation bill lasts only two years, rather than the typical six. A gas tax increase large enough to cover all the highway and transit funding now coming from general revenues would hardly cure all the budget issues, but it certainly could help, the argument goes.
But will the Obama Administration end its opposition to talk of a gas tax increase? The President had declared it a non-starter as long as the economy is sputtering. Has the U.S. economy stabilized enough – even as fears of a Europe-led global recession lurk in the wings – to allow a gas tax increase to be put on the table?
Whither Ray LaHood?
And speaking of the Administration, if Ray LaHood has the old Clash song "Should I Stay or Should I Go?" on his iPod he's probably listening to it a lot these days.
A year ago he announced – or rather blurted out – that he planned to step down if Obama got re-elected. The possibility has fueled much speculation as to replacements, but he has been silent since the election.  That didn't stop The Atlantic Cities from running a recent piece on why a mayor should get the nod for the job. The article quotes yours truly praising LaHood as one of the best to hold that job, and given his support for innovations like the TIGER program, his emphasis on the safety of everyone who uses road and transit systems, his strong support for local communities trying to improve their livability … Well, we'll stand by those remarks.