Transportation for America today released an easy-to-follow handbook to help stakeholders understand and engage in implementing the new federal transportation law adopted last summer.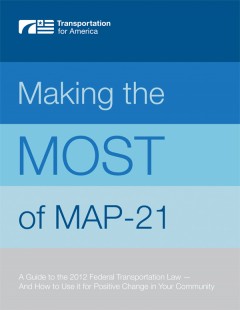 Making the Most of MAP-21: A Guide to the 2012 Federal Transportation Law — And How to Use it for Positive Change in Your Community features both narrative chapters and two-page explainers on the key features of the new program, from the consolidated highway program to the new transportation alternatives, as well as new financing options.
"Making the Most of MAP-21 is in an invaluable tool for those at the municipal level who are seeking both to understand the scope of the changes in the federal law, and determine how they can effect change at the local level," said John Robert Smith, the co-chair of T4 America and the former four-term mayor of Meridian, MS.
After nearly three years of extensions of the expired previous transportation law, Congress in July adopted Moving Ahead for Progress in the 21st century, or MAP-21. While it stopped short of providing more robust funding or a sweeping vision for infrastructure in the 21st century, MAP- 21 makes significant changes to federal transportation policy.
For one, it will mean that much more will depend now upon how well state departments of transportation manage affairs and attend to the needs of all their constituents. Federal law no longer sets aside a minimum amount of money for repairing our roads and bridges, leaving it to states to decide whether to repair or replace what we have, or to build new facilities that will themselves need to be maintained. More types of projects now compete for the money allocated to metropolitan areas. The law cuts by a third the money dedicated to make our roads and neighborhoods safer for walking or biking, but it gives localities more direct control over what remains.
"MAP-21 provides some opportunities for communities like ours to win federal support for our vision for a better future – but only if we know when, where and how to affect the decision-making process," said Peter McLaughlin, a commissioner in Hennepin County, MN. "With this handbook, T4America has given us a road map for doing that."
The handbook includes handy reference tables for funding by program for each state, as well as public transportation apportionments, bridge conditions, pedestrian and bicycle fatalities, the impact of transit service on local congestion and transportation costs by metro. It also offers a compendium of arguments that community supporters can use to bolster their desire to broaden local transportation options, make their streets safer and keep their system in good repair.
Find the handbook on the web with all of T4 America MAP-21 resources at https://t4america.org/resources/map-21.