Posts Tagged "road usage charge"
Though Massachusetts' bridges are middle of the pack in deficiency, they're beyond middle age (an average of 56-plus years) and many of its busy subways, bus lines and commuter trains – and the roads, bridges and tunnels that carry them — are starting to fall apart after decades of heavy use. Saddled with debt from the Big Dig (among other things) and chronically underfunded after years of budget cuts, Massachusetts leaders and advocates are trying to reform their transportation agencies while raising new money to bring an aging system into the 21st century.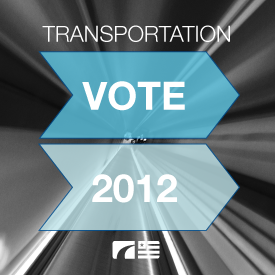 Though some pieces have fallen into place – including a decision on who will lead the House's key transportation committee for the next two years — the 2012 election still leaves a number of key questions hanging in the balance. We've looked at a few local transportation ballot measures, but what will the impact be on transportation at the federal level as a result of the 2012 elections?