Residents in Burlington, NC have greater access to jobs today thanks to a new transit system, which launched in 2016. A far cry from a large, transit-rich city, Burlington is showing how important public transportation can be for smaller communities. Many residents are already pushing for service extensions and longer hours for the fledgling system.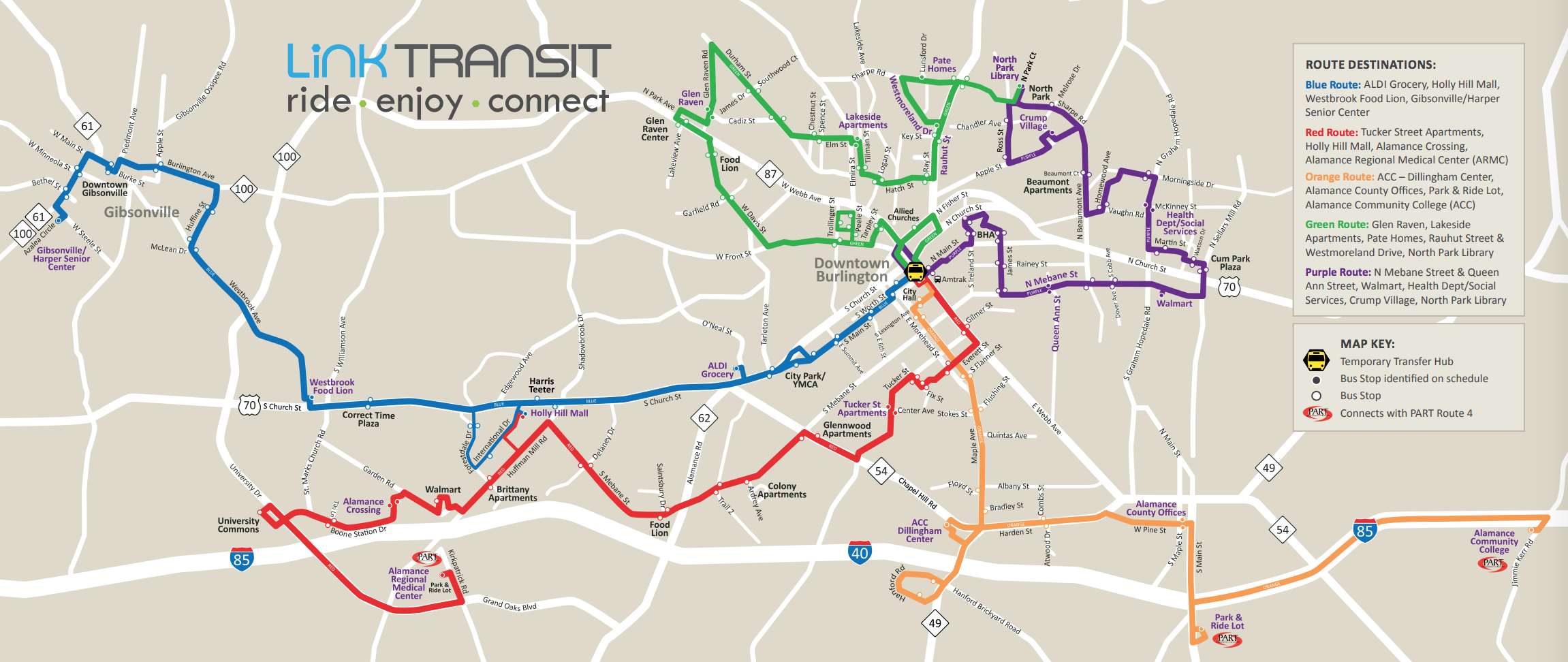 Link Transit's current route map. (Image: Link Transit)
Share your rural or small city transit story here
Burlington, NC is located roughly halfway between Greensboro and Durham/Chapel Hill just north of Interstate 85 with a population of approximately 52,000. (For comparison, places like Allen, TX and Greeley, CO are home to about twice as many people as Burlington.) But up until 2016 this growing area had only a countywide, on-demand shuttle service operated by Alamance County Transit Authority (ACTA). Reliable, fixed-route transit was nonexistent.
As the town and region grew, increasing transportation options to provide better access to jobs and opportunity became more important. "Our citizens are starting to expect it as an option, whether they use it once a week or everyday," said Mike Nunn, Burlington's Transportation Director. "We need this as an option in our community."
"We had a lot of folks who had never been from one side of the community to the other. They hadn't been to the new retail development because they didn't have transportation—nor could they get a job in that area because they didn't have transportation," Nunn said on a recent T4America's webinar.
The Burlington-Graham Metropolitan Planning Organization (MPO), which encompasses all of Alamance County, actually began planning a fixed route service all the way back in 2008. Nunn emphasized that an important piece of the planning effort included educating the public and local elected officials because the community was unfamiliar with the benefits of a fixed-route transit system.
In June 2016, LinkTransit began serving Burlington and other nearby cities. The service consists of five color-coded routes connecting in the center of Burlington and extending to neighboring Graham and Gibsonville. LinkTransit connects to intercity express bus service that goes east to Chapel Hill and west to Greensboro, as well as Amtrak service.
LinkTransit links employers to employees
Nicole, a Burlington resident, told local Fox 8 how important the new transit service was for her. She said she couldn't afford a car and finding reliable transportation to her job at Best Buy was a challenge: "It's been really tough getting back and forth to work because you never know if someone's going to pick you up or drop you off," she said. "So at least now I know I've got a concrete way to get to work."
Though the service currently only operates from 5:30 a.m. to 6:30 p.m., Monday to Friday, residents are already requesting greater frequency, new stops, and expanded hours to meet non-traditional commute schedules.
"Everyone would like it to run seven days a week already," said Nunn. "We are sixteen months in, and that is the first thing we hear. And also, for employment, to go to 7:30 or 8:30 at night. That's a funding issue. That just takes dollars."
Businesses are also responding. Nunn added that employers are frequently advertising their jobs as "on the green route" or "on the purple route." LinkTransit already extended a main commuter route, the Orange Line, adding two additional stops near three hotels, a truck stop, and industrial suppliers like Delta Gypsum and Ferguson. Before the route extension, riders would get off at the end of the line and walk more than a half mile and under a highway overpass to reach jobs at these businesses.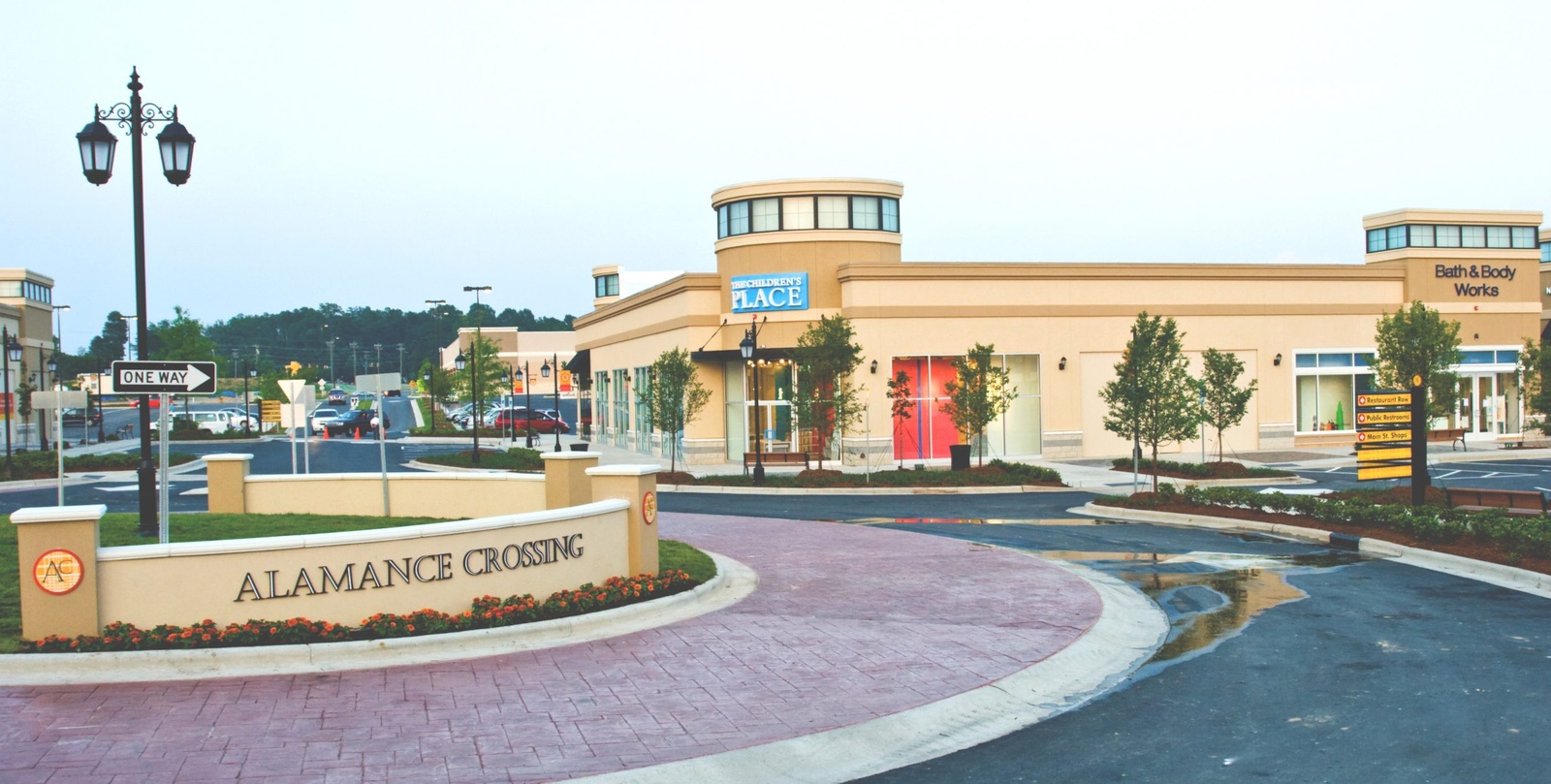 Alamance Crossing, Burlington's second and newest (outdoor) shopping mall, is served by the red route. The Holly Hill Mall is served by the red and blue routes. (Image: A_Moffa, LocalWiki)
The new bus service was a major factor in the decision of PRA Group to open a 500-job call center at Burlington's Holly Hill Mall in 2017. The debt-buying company, which has more than 5,000 employees in offices in twelve countries, cited public transit access as a major factor in their selection of the mall site, which is strategically located at the transfer stop for the red and blue bus lines.
"Access to a skilled workforce is the number one consideration of companies looking for a new location," said Peter Bishop, City of Burlington Economic Development Director. "LinkTransit provides a critical piece of infrastructure in our efforts to compete with other communities for new jobs and investment."
Do you work for an operator of a rural transit system? Are you someone who rides it frequently? We want to hear from you.
Share your rural or small city transit story here