Stories tagged with
business
Click on a story title to read that post. Posts are ordered chronologically from newest to oldest.
Business Leaders Emphasize Economic Potential of a Renewed Vision for the Nation's Transportation Program
May 6, 2010
By Transportation for America
Business and transportation industry leaders today joined Transportation for America for a briefing on Capitol Hill to underscore the potential of a reformed, multi-year transportation bill to boost the economy and create lasting jobs across the country. Business leaders from Siemens, IBM and the Silicon Valley Leadership Group, which represents more than 300 major companies in the Silicon Valley including Yahoo!, Microsoft and AT&T, highlighted the power of new and innovative policies to revolutionize the transportation sector, make our country more economically competitive for the 21st century and provide working Americans the affordable options they need to get to their jobs every day.
Cleaner buses can create jobs, improve the environment
January 14, 2010
By Stephen Lee Davis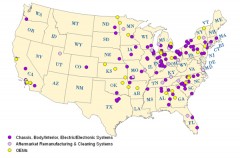 A new study by Duke University illuminates the fact that thousands of green jobs are waiting to be tapped in transit bus manufacturing — if the federal government will make a sustained commitment to investing in public transportation. Jobs in and related to public transportation are some of the lowest hanging fruit in the push for green jobs, so what's keeping the domestic manufacturing industry from ramping up?
Bay Area business leaders push the Senate for clean transportation
October 22, 2009
By Stephen Lee Davis
A top-flight organization (and T4 America partner) representing more than 300 elite Silicon Valley businesses from Apple to Yahoo! sent a letter last week to Senate Environment and Public Works Chairman Barbara Boxer, a California Democrat, urging her to make sure the Senate climate bill adequately invests in clean transportation alternatives to reduce emissions in their region while keeping it mobile and competitive.
Local regions serve as laboratories for transportation reform
October 16, 2009
By Sean Barry
A "comprehensive, but bottom-up approach to transportation" may sound like an oxymoron, but to a panel of regional planning experts on the frontlines of reform, it sounds a lot like common sense. Tuesday's briefing, titled "Planning for a Better Future: Lessons from the States on Regional Sustainability Planning" featured experts from three regional laboratories on [...]