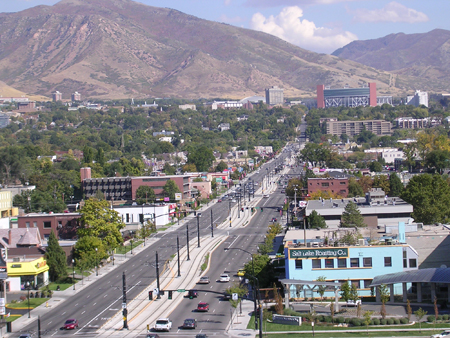 A "comprehensive, but bottom-up approach to transportation" may sound like an oxymoron, but to a panel of regional planning experts on the frontlines of reform, it sounds a lot like common sense.
Tuesday's briefing, titled "Planning for a Better Future: Lessons from the States on Regional Sustainability Planning" featured experts from three regional laboratories on transportation reform – Sacramento, CA; Salt Lake City, UT (right); and Minneapolis, MN.
The American Planning Association and LOCUS, an association of pro-reform real estate developers, co-hosted the event at the Capitol Visitors Center on Tuesday afternoon.
Regional blueprints, or plans, outline a long-term transportation vision for a region. Metropolitan Planning Organization, or MPOs, typically have jurisdiction over this process, alongside partners at the county and municipal level. One objective of these plans is to lower greenhouse gas emissions through measures like increased transit use and building new homes near jobs.
"Comprehensive, but bottom-up" is how LOCUS President Christopher Leinberger, the event's moderator, describes a potential direction for federal policy. In essence, the federal government would provide the funding and set the benchmarks, while regional planning authorities make allocations and are expected to achieve significant reductions in emissions.
Panelists stressed that their primary focus is on increasing choices – in transportation and housing – for all Americans. The recent economic recession was fueled in part by an over-supply of single-family homes on large lots. And while ample demand exists for mixed-use development on smaller lots, a combination of lagging infrastructure and policy restrictions have prevented the private sector from moving to meet that demand.
That is why the engagement and support of the business community is so critical.
Natalie Gochnour is the Chief Operating Officer for the Salt Lake City Chamber of Commerce. Her group's seat at the table and engagement with a strategic and sustainable vision for the Salt Lake City area led to championing a sales tax increase to pay for 70 miles of light-rail for seven years.
"My message is this: don't underestimate business community support for new ways of seeing and new ways of doing," Gochnour said.
Michael McKeever, Executive Director of the Sacramento Area Council of Governments, cited a similar dynamic in his area, where the Sacramento Area Chamber of Commerce helped push the blueprint concept in its early stages and has hailed the region's long-range plan as a signature accomplishment.
Both Sacramento and Salt Lake City have seen substantial increases in transit usage and decreases in vehicle miles traveled (VMT) since beginning to implement their blueprints.
Commissioner Peter McLaughlin of Hennepin County in Minnesota addressed successes in his region as well.
T4 America Director James Corless emphasized that there was no "silver bullet" in regional sustainability planning, but that providing benchmarks and the required funding would result in substantial leaps.
Communities should be asking, "what do we want to look like in 25 years?" Corless said. "That's the fundamental question."