A new transportation bill finally passes in 2012 — but what changes does MAP-21 bring?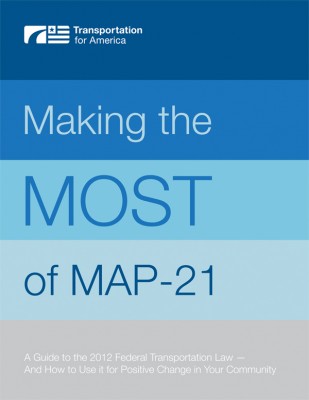 • Download your copy of this 109-page handbook today. (6.6mb PDF)
• View our full collection of MAP-21 resources, including helpful additional data and simple two-page explainers for the changes made to the major programs.
After a delay of more than 1,000 days from the expiration of the previous law, Congress in summer of 2012 adopted an update to the federal transportation program known as Moving Ahead for Progress in the 21st century, or MAP-21.
While it stopped short of providing more robust funding or a sweeping vision for infrastructure the 21st century, MAP-21 makes significant changes to federal transportation policy that are critical to understand. There are key provisions that allow for engaged stakeholders, local officials and citizens to push for genuine progress. By the same token, other provisions are cause for concern and will require vigilant monitoring.
Much more will depend now upon how well state departments of transportation manage affairs and attend to the needs of all their constituencies. Federal law no longer sets aside a minimum amount of money for repairing our roads and bridges, leaving it to states to decide whether to repair or replace what we have, or to build new facilities that will themselves need to be maintained. More types of projects now compete for the money allocated to metropolitan areas. The law cuts by a third the money dedicated to make our roads and neighborhoods safer for walking or biking, but it gives localities more direct control over what remains.
Explore all of our MAP-21 related resources here.
Though the bill stopped short of the reforms our coalition was working for, there were notable positive changes made in MAP-21:
A major increase in federally backed loans, known as TIFIA, could help regions that raise their own transportation funds stretch those dollars farther and build out ambitious transit plans faster. (See Chapter Six: Tools and Financing)
The bill provides a new framework for measuring and improving transportation performance. Accountability under this structure will largely need to come from the public to ensure that the U.S. Department of Transportation sets the right performance measures and that states, metro regions, and transit authorities all set aggressive targets that guide investment decisions. (See Chapter Two: Performance Measures.)
The Cardin-Cochran provision will provide grants to local communities to make their streets safer for walking or biking. Dedicated funding for this grant program was retained, though at a far lower dollar level. About half the money will be given directly to metro areas, with the remainder used at state discretion. (See Chapter One and the explainer on Transportation Alternatives in the Appendix)
A new grant program will fund community-led planning for neighborhood revitalization around transit lines. (See Chapter Four: Transit)
Looking beyond MAP-21's expiration in 2014
With federal gas tax revenues remaining flat even as population grows and the existing system shows its age, it is clear that bolder reforms will be necessary within the next few years.
Other factors also argue for a more forward-looking approach: Gas prices are trending ever upward. Demand for public transportation is booming like never before. Demographic shifts show a more diverse America with fewer young people driving and huge increases in demand for more walkable towns and suburbs. More and more people are clamoring for safer streets and healthier communities.
But For the next two years, the debate over transportation spending has moved to the states where many decisions will be made about how to spend the billions of dollars distributed under MAP-21.
And this is why we've written this handbook: Your voice will be needed more than ever to urge your state to make sure that money reflects the priorities of local people — seniors trying to get to the doctor, families struggling to make ends meet and trying to get to their job, kids simply trying to cross the street to get to school.
You have numerous opportunities for the next two years to guide these decisions at the state and local level, and our hope is that this handbook will help.
—
You can find all of our MAP-21 related resources — including additional helpful MAP-21 data, graphics and short program explainers — on our full MAP-21 resources page.