Stories tagged with
biking
Click on a story title to read that post. Posts are ordered chronologically from newest to oldest.
Lessons for Congress in the case of the students suspended for biking to school
May 24, 2012
By David Goldberg
We're not going to pile on in the story of the overly punitive principal who suspended 64 Michigan students for biking to school as a senior "prank". After all, she later rescinded the suspensions. But it's hard to let a teachable moment like this go by as Congress is negotiating whether to X out funding [...]
It's National Walking Day, but too many people will have to walk unsafe streets
April 4, 2012
By Stephen Lee Davis
You may not have known it — it's not the most publicized special day on the books — but today is National Walking Day. Some of you may have traded part or all of your drive or transit trip today for a walk to work. But for many, every day is "walking day," and it [...]
Attempt to eliminate funding for safe walking and biking fails
November 2, 2011
By Stephen Lee Davis
The attempt by Senator Rand Paul to take the relatively tiny amount of money that goes toward safer walking and biking on our streets and redirect it to our massive backlog of deficient bridges failed yesterday in the Senate. Busy bicycling bridge Originally uploaded by Steven Vance to Flickr. Send a message to your Senator to [...]
Bikes and pedestrians will go begging in House transport bill proposal
July 20, 2011
By Stephen Lee Davis
The House has not yet released the full text of a transportation bill proposal, but the House Transportation and Infrastructure Committee has released an outline of the principles that will be included in the bill. We posted a short analysis of the outline here. This is one in a series of posts looking into some of [...]
New report and map chronicles the visceral reality of 47,000 preventable pedestrian deaths
May 24, 2011
By Stephen Lee Davis
From 2000-2009, 47,000 people were killed while walking our nation's streets, according to the 2011 edition of our pedestrian safety report. These fatalities occurred largely on streets designed for speeding traffic at the expense of people on foot. Dangerous by Design 2011 adds a visual element: Data from 2001-2009 can be viewed on an interactive map, showing details about the victim, the street type and even what the street looks like via Google Street View.
Report documents preventable pedestrian deaths, ranks most dangerous metro areas
May 24, 2011
By Transportation for America
More than 47,700 pedestrians were killed in the U.S. between 2000 and 2009, and the majority of those deaths were preventable, according to Dangerous by Design 2011. This new report shows how roadway designs promoted by federal investment endanger people on foot and ranks major metropolitan areas to assess how safe pedestrians are while walking. The top four – Orlando, Miami, Jacksonville, and Tampa – are all in Florida.
San Francisco East Bay will connect communities through largest bike path network in the country (TIGER series)
October 28, 2010
By Sean Barry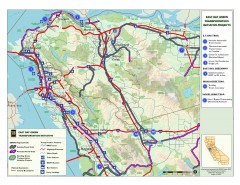 Residents of the San Francisco East Bay won big in last week's TIGER grants, with $10.2 million slated to go toward giving the East Bay the largest bike path network in the United States and giving residents not only top-notch recreational trails, but viable new options for regular daily travel in the region.
National Geographic on Dangerous by Design
August 30, 2010
By Stephen Lee Davis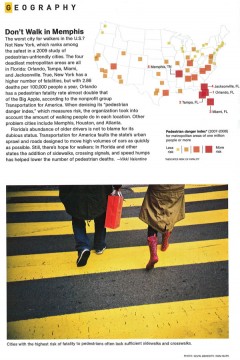 We mentioned this on Twitter when the issue came out back in July, but National Geographic had a nice one-page feature on Dangerous by Design, our study from 2009 ranking metro areas on their relative danger to those on foot and bike, focusing on Florida's overall risk based on having 4 of the top 10 most dangerous metros. In the last 15 years, more than 76,000 Americans have been killed while crossing or walking along a street in their community, and it's high time that more attention was paid to this preventable loss of life that we far too often ignore or simple believe to be inevitable.
Helping kids get active and healthy by "keeping them moving"
July 15, 2010
By Sean Barry
We're facing an epidemic of childhood obesity, and this could very well be a generation of children who live shorter, less healthy lives than their parents. A healthier transportation system for America's kids requires change in federal policy. But change will remain out of our grasp without a sense of urgency from everyday people on the ground. So where's the meeting point between policymakers in Washington and citizens in their neighborhoods?
Dozens of bicyclists ride to USDOT Friday to tell Secretary LaHood "thanks"
June 1, 2010
By Sean Barry
Transportation for America was proud to co-author and circulate a letter thanking Secretary Ray LaHood for USDOT's policy statement elevating walking and biking in national policy. Last Friday, several of us at T4 cycled with a handful of national partners to DOT Headquarters across town to thank the Secretary in person.