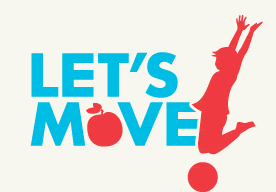 In February, First Lady Michelle Obama announced her exciting "Let's Move" campaign and the goal of seriously confronting childhood obesity in the United States within a generation. Now, the campaign – more formally known as the Presidential Task Force on Childhood Obesity – is getting to work on an action plan to influence federal policy.
This is a great start, but there's an omission: the task force has not emphasized the potential role for the U.S. Department of Transportation. The link between physical activity and the built environment is well established – transportation practices strongly influence physical activity and health outcomes for Americans of all ages.
An active living approach to physical activity incorporates walking and bicycling into everyday activities. Forty years ago, more than half of children walked and bicycled to school, contributing to exercise and good health. Today, less than 15 percent of children walk or bike school, with the rest ferried by school buses or car.  Children who have access to safe, convenient and ample walking and bicycling opportunities in their community develop active transportation habits that can last a lifetime.
Michelle Obama has been a positive role model for children and a leader in promoting healthy habits. Let's make sure the influence of transportation and the built environment are a part of the Let's Move effort. More walking and biking = healthier kids.
You can see Transportation for America's comments on the First Lady's task force here.