Posts Tagged "biden"
U.S. Treasury Secretary Tim Geithner hammered on the job-creation and economy-boosting effects of the Obama administration's plan for infrastructure investment in a blog post on the department's website. Writing the same day Vice President Biden and Transportation Secretary Ray LaHood were in Philadelphia promoting a $53 billion, 6-year passenger rail package, Geithner argued that investing in our nation's roads, bridges, rail and transit systems creates "both immediate and long-term economic benefits."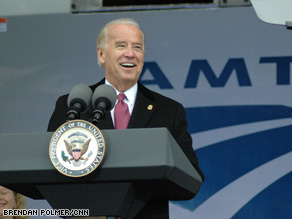 Vice President Joe Biden made an emphatic case for high-speed rail in Philadelphia today as the Obama administration kicks off series of events to highlight the need for infrastructure investment. The Vice President singled out Meridian, Mississippi mayor and T4 America campaign co-chair John Robert Smith, who served his hometown for four terms.