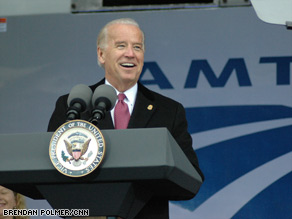 Vice President Joe Biden made an emphatic case for high-speed rail in Philadelphia today as the Obama administration kicks off a series of events this week to highlight the need for infrastructure investment.
Biden, who was joined by Transportation Secretary Ray LaHood and other officials, is a fitting messenger for rail's benefits. Dubbed "Amtrak Joe," he was a regular commuter on the Acela line during his 36 years as a U.S. Senator from Delaware. While campaigning in 2008, he told the New York Times, "If we get elected, it will be the most train-friendly administration ever."
The Vice President announced a six-year, $53 billion investment in national high-speed and intercity passenger rail during remarks at Philadelphia's historic 30th Street Station. Passengers traveling on Amtrak's Keystone Corridor from Pittsburgh and Harrisburg use the station to connect to the popular and speedy Acela line, which runs through New York City, Boston and Washington, DC.
While the Obama administration has made clear that responsible deficit reduction is a priority, Biden emphasized there are some areas where it would be irresponsible to scale back.
"As President Obama said in his State of the Union, there are key places where we cannot afford to sacrifice as a nation – one of which is infrastructure," the Vice President said, adding: "If you shut down Amtrak's Northeast Corridor, you'd have to add seven new lanes to I-95 to accommodate the traffic."
The Vice President singled out Meridian, Mississippi mayor and T4 America co-chair John Robert Smith, who served his hometown for four terms. Biden hailed Mayor Smith for using passenger rail to revitalize the economy, bring jobs to the region and improve quality of life. Meridian's restored Union Station serves 300,000 passengers, hosts over 250 events every year and has leveraged millions in downtown investment.
The need for increased travel options to accommodate expected population growth was also a theme in the Vice President's address, along with the fact that simply widening highways and building new ones will not suffice.
"In the next 40 years, the United States is expected to increase in population by 100 million people," he said. "Seventy percent of all people in America now live within 50 miles of the Atlantic Ocean or the Pacific Ocean. You know how congested we are now. What happens with 100 million more?
"When you talk about the investments we're making in rail, they pale in comparison to investment you'd have to make in runways or highways," he added. "And that's before you factor in the environmental benefit of taking cars off the road."
With this long-term commitment, cities and states now have the certainty to pursue longer-term plans for rail, and businesses can move forward putting more Americans to work making this vision possible. The administration has also made strides on streamlining existing programs in USDOT. Now, for the first time, all high-speed and passenger rail programs are consolidated into just two new accounts.
As Streetsblog already noted, the politics of transportation spending remain muddled, but today's announcement was a key step toward laying the foundation for a 21st century system.
Photo: CNN