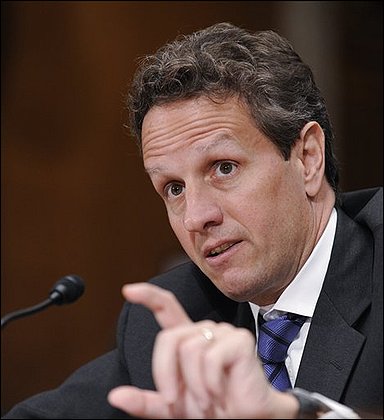 U.S. Treasury Secretary Tim Geithner hammered on the job-creation and economy-boosting effects of the Obama administration's plan for infrastructure investment in a blog post on the department's website.
Writing the same day Vice President Biden and Transportation Secretary Ray LaHood were in Philadelphia promoting a $53 billion, 6-year passenger rail package, Geithner argued that investing in our nation's roads, bridges, rail and transit systems creates "both immediate and long-term economic benefits."
Treasury Department analysis reveals an unemployment rate among American workers building infrastructure at 15 percent, significantly higher than the national average. Investing in infrastructure would create jobs in construction, manufacturing and retail trade, all sectors hard hit by the economic downturn, and nine out of ten jobs created would pay middle-class wages.
Geithner emphasized the administration's commitment to spending federal dollars in a targeted and fiscally responsible way, writing: "our strategy is designed to make crucial investments in infrastructure while bringing our deficits down to sustainable levels."
Simply increasing spending levels is unacceptable, Geither wrote, adding "we must also reform the ways in which we invest." He continued:
Not all infrastructure investments are good investments, and too often we have seen transportation projects exemplify the worst of Washington – the bridges to nowhere that rightly make American taxpayers cringe. The President's Budget recognizes this and will make some difficult choices, proposing significant spending cuts, including to some programs we would preserve in better times.
President Obama's plan includes a National Infrastructure Bank, which would "select projects on the basis of rigorous analysis," Geithner explained. The Bank would evaluate and fund projects that generate the best return on investment, leverage private capital to do it and promote increased transportation options along the way. House Transportation and Infrastructure Committee chairman John Mica, a key player in Congress, has cited securing private capital for projects as a key priority for federal transportation spending.
Infrastructure investment benefits all Americans, even in ways we do not always think about. Upgrades and additions to the New York City subway system allow millions to "get to work faster, increasing their productivity and quality of life by decreasing the amount of time lost to commuting," Geithner notes. But it also means that "the far-away Kawasaki plant in Lincoln, Nebraska that manufactures the subway cars will increase production, putting Nebraskans to work."
You can read Secretary Geithner's entire post here.
Photo: Washington Post