Posts Tagged "interstate"

USDOT is in the midst of a new initiative to address some of damage created by interstates driven through the heart of urban areas. Last week a group of experts traveled to Nashville to discuss ways to repair the damage inflicted upon a part of North Nashville by a segment of Interstate 40.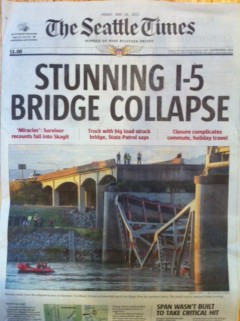 Shortly after the evening commute last night (around 7 p.m. local time) an entire section of the Interstate 5 bridge — both north and southbound lanes — over the Skagit River north of Seattle, Washington collapsed and fell into the river, sending two cars tumbling down into the river, injuring three yet miraculously killing no one. One of those who plunged into the river along with his wife called it a "miracle" that no one was killed or more severely injured.
Here in Washington, DC last weekend, the 12-foot-wide bicycle and pedestrian lane of the Woodrow Wilson interstate bridge over the Potomac River held its grand opening, filling with bikers and walkers joining the thousands of cars that cross the bridge each day. The bridge, connecting Virginia and Maryland on the southern part of the Capital Beltway, is a vital transportation link in the region, where Interstate 95 (and the large majority of truck traffic) bypasses Washington, continuing north or south along the eastern seaboard. But making the Wilson Bridge an intermodal success was not easy.