Shortly after the evening commute last night (around 7 p.m. local time) an entire section of the Interstate 5 bridge  — both north and southbound lanes — over the Skagit River an hour north of Seattle, Washington collapsed and fell into the river, sending two cars tumbling down into the river, injuring three yet miraculously killing no one. One of those who plunged into the river along with his wife called it a "miracle" that no one was killed or more severely injured.
From the Seattle Times:
Rescuers pulled three people with minor injuries from the water after the collapse, which authorities say began when a semitruck with an oversized load struck a steel beam at around 7 p.m.

That caused a massive piece of the northern side of the bridge to wobble, and then fall into the water, taking with it a gold pickup, its travel trailer and an orange SUV.

Rescuers did not believe there was anybody else in the water but were planning a morning search to be sure.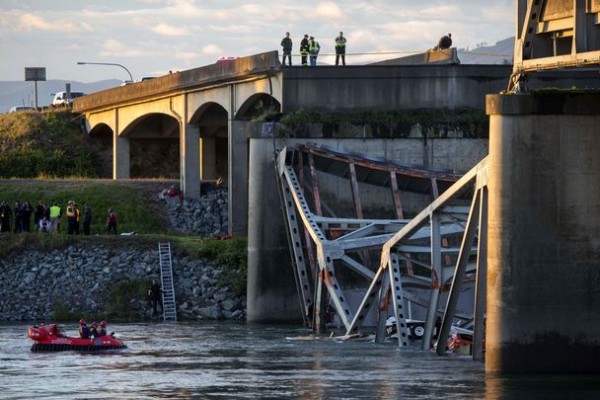 Seattle Times photo by Dean Rutz. Link to gallery of images here.
Perhaps the most amazing part of this story is that on a bridge that carries more than 70,000 cars daily and at a time of day when traffic could be expected to be moderate at the least, only two vehicles fell into the yawning gap and into the water. Along with everyone else, we at T4 America are relieved that no one died in this tragic bridge collapse.
Just like several years ago in Minnesota, attention quickly turned to the bridge itself. So what do we know about it today?
The Interstate 5 bridge over the Skagit River actually predates the creation of Interstate 5. It was built to carry old US 99 over the river in 1955. When Interstate 5 was built in 1957, it largely followed the US 99 corridor and just like many other bridges, this bridge was folded into the interstate system, though it certainly wasn't built to today's interstate standards.
Because of that (and likely other design considerations), the bridge was considered "functionally obsolete" by state and federal inspectors, which is a designation that could mean any number of things, none of which have anything to do with structural safety. The lanes could be narrower than today's standards, the weights allowed could be less than an interstate bridge built today, or built using materials that would be considered obsolete today.
However, the bridge was not considered "structurally deficient" at the time of collapse, which means that a bridge requires repair, rehabilitation or replacement, along with much more regular inspections. To be considered structurally deficient, one of the three major components of a bridge (deck, superstructure, substructure) has to score a 4 or below on a scale of 1-10.
The data in our interactive map is not the most recent release of federal data, but the ratings for this specific bridge have not changed in the federal National Bridge Inventory that was reported in early to mid 2012 by Washington State. WSDOT likely inspected the bridge again sometime in 2012 after they reported annual bridge data to the federal government, and WSDOT is saying publicly today that the bridge was not structurally deficient and was still only considered functionally obsolete.
Here's the snapshot from our interactive map of U.S. bridges, which you can use to look up the condition of the bridges near any U.S. address.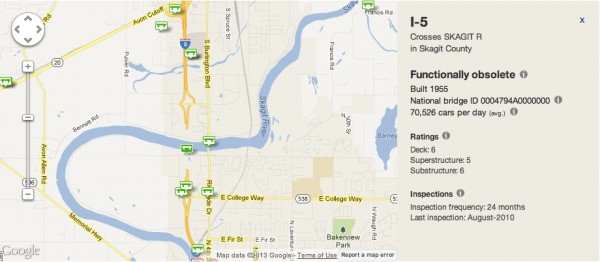 (Amazingly, you can see that Google Maps has already updated their map to show that Interstate 5 no longer crosses the Skagit River.)
On a list of structurally deficient bridges in Washington compiled by WSDOT in September 2011, this bridge is not included, though there is at least one other nearby Interstate 5 bridge in Snohomish County that is included, built in 1933. (It's scheduled for repair, per WSDOT.)
It's hard to accurately describe how crucial this interstate connection is. I-5 runs from Canada to Mexico within the U.S. and touches almost every single major city on the west coast. It's a vital corridor not only commuters but also for freight traffic — 12 percent of the daily traffic on this bridge was truck traffic. And this is the main route from Seattle up to Vancouver, certainly a direction that many Seattle region residents might have been planning to travel for the long holiday weekend starting this afternoon.
Those plans are surely on hold, and the ripple effect for freight and other travel up and down the west coast will be felt for some time to come as Washington authorities decide how to handle this painful gap in their transportation network.
We will be back later this morning with a short statement, and follow us along on twitter at @t4america for other news and developments.
PS, here's the cover of the Seattle Times this morning.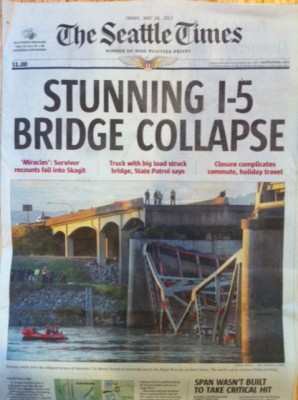 Update: this post incorrectly said the bridge 63 years old at first publication. That has been corrected.