USDOT is in the midst of a new initiative to address some of damage created by interstates driven through the heart of urban areas. Last week a group of experts traveled to Nashville to discuss ways to repair the damage inflicted upon a part of North Nashville by a segment of Interstate 40.
More than a half-century ago, the new Interstate Highway System connected millions of Americans, creating new, valuable economic connections between cities and speeding the movement of goods and people across the country in a new network of roads that were the envy of the world. But the social costs weren't shared equitably, and inside many urban areas, interstates were most frequently constructed through communities of color, disrupting, disconnecting, and displacing them.
Acknowledging this unfortunate reality, Secretary Foxx and the US Department of Transportation announced the Every Place Counts Design Challenge in May, which "seeks to raise awareness and identify innovative community design solutions that bridge the infrastructure divide and reconnect people to opportunity," according to USDOT. Through an open competition, USDOT selected Spokane, Minneapolis-Saint Paul, Philadelphia, and Nashville to receive pro bono design guidance to mitigate the disastrous effects of urban highways in each city.
On July 11th and 12th, a team with representatives from Transportation for America, USDOT, The Congress for The New Urbanism, Toole Design Group, and others participated in Nashville's design challenge, focusing on North Nashville's Jefferson Street corridor and its two intersections (one overpass, one underpass) with Interstate 40.
North Nashville, and especially Jefferson Street, has been the cultural and educational heart of black Nashville, and is still home to three historically black colleges and universities (Meharry, Fisk, and Tennessee State University). Though more than a dozen music venues once called the corridor home, all but one have been demolished — some by the construction of I-40, and some from the later decline aided by it. (Some of the historic venues were also torn down before Interstate 40 was built.)
Today, Jefferson Street suffers from a relatively high rate of vacancy, a lack of adequate sidewalks and connections across I-40, and property owners holding on to buildings with the hope that property values will increase, rather than selling or developing. Despite this, the corridor is also home to a collection of small cultural institutions, including the Art History Class Lounge and Gallery, Woodcuts Gallery, and the nearby Norf Walls street art project. In Nashville's hot real estate market, the very real physical barrier of I-40 encircling downtown here has contributed to slowing development in North Nashville — much to the relief of renters and the chagrin of many property owners.
It was in this context that the design team met with stakeholders representing local, state, and federal government agencies, local residents and business owners, anchor institutions, and design professionals for two days of visioning exercises. Ideas generated included everything from widening sidewalks and removing right turn lanes, to decking over I-40 and building aerial parks à la downtown Dallas.
Thaxton Abshalom Waters, founder of the Art History Class Lounge, asked the designers and experts to "focus on tapping back into the same sources that made the neighborhood a beautiful and culturally rich landscape in the first place." It's a reasonable request: much of the positive momentum on Jefferson Street today comes, as it did before I-40, from artists and performers, building community through cultural production, art walks, and creative resuse of structures and spaces along Jefferson Street.
Long before the term was coined, Jefferson Street has benefited from creative placemaking, an approach to community development that acknowledges the integral role that arts, culture, and creativity play in community development and in ensuring that communities better reflect and celebrate local culture, heritage and values.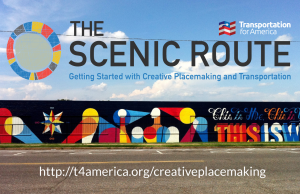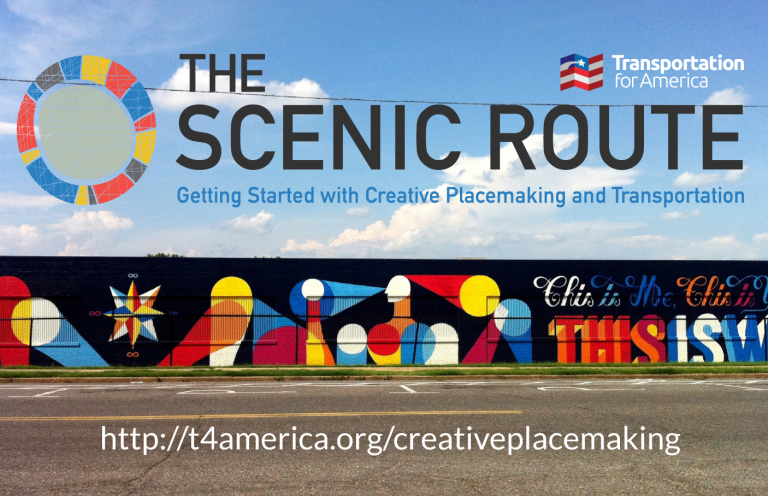 Creative Placemaking 
To learn more about the ways in which corridor revitalization and transportation projects benefit from the arts, explore T4A's guide to creative placemaking, the Scenic Route.
The design interventions generated by the two-day charrette are a good start, but on their own, they won't be enough to produce the kind of positive change sought by the local leaders and residents who've been fighting an uphill battle to see some of the pride and glory restored to their neighborhood. But the process proved to be a great organizing tool for bringing together leadership from the neighborhood, government, business community, and transportation planners and engineers.
USDOT, with assistance from The Congress for the New Urbanism and Toole Design Group, will release a report summarizing findings and suggestions from the two-day event in the fall.