While many people think of public transit as a big city service, transit also serves scores of residents in small towns and rural areas across the country. New transit service in the small city of Paris, TX (pop.  25,000) offers the first reliable public transportation option that residents can use to travel to work, classes, and job training.
Share your rural or small city transit story here
The Ark-Tex Council of Governments Rural Transit District (TRAX) serves a 10-county area in the northeast corner of Texas, including one county in Arkansas, along the border with Oklahoma (about 100 miles northeast of Dallas). Given the vast area TRAX serves, their regional transit service is operated on-demand, with reservations made 24 hours in advance.
Although this on-demand service provides a vital lifeline for residents making critical trips to reach health care or reach a grocery store, the advance notice required, the limited availability of rides, and small fleet presents some very real limitations on the service's ability to meet daily and emerging transportation needs.
According to former Paris, TX Councilman Edwin Pickle, city leaders realized that the region's meager transit options were a barrier for residents, and that they needed to help find a solution.
"We started realizing transportation was a bigger problem because people couldn't get to their medical needs, couldn't get to their grocery stores, they couldn't get anywhere," Pickle said on T4America's webinar.
With support from the city and several local partners, TRAX launched new fixed-route bus service running on a regular schedule in 2016. The service consists of four routes in Paris, TX known as the Paris Metro. Buses run hourly between 6:30 a.m. and 6:00 p.m., Monday through Friday.
The "Paris Metro"
According to TRAX transportation manager Nancy Hoehn, the new routes "have gone a long way towards meeting the community's needs for jobs access."
"We have heard from a lot of the social service agencies in Paris that work with a target population of lower-income and transit-dependent people. When they would go to interview in the past and were asked if they had reliable transportation, the answer was no. Well, now the answer can be yes. Just that, in itself, has been huge for the community at large."
Hoehn credits community involvement during the research and planning stages with developing a bus service that supports all members of the community. Community organizations like New Hope Center of Paris, which works with individuals and families experiencing homelessness, helped the agency identify crucial points of origin and destinations for riders. Now, the Paris Metro stops on the corner directly outside the New Hope facility, giving residents access to medical treatment, social services, and education.
Procuring funding for the new service depended on a combination of public and private partners. Local sponsors include the Paris Regional Medical Center, United Way of Lamar County, Paris Junior College, the City of Paris, The Results Company, Texas Oncology, and local private foundations.
Along with local funding partners, federal funds were critical for launching the service.
"We would not exist if it were not for the federal funds that come through TxDOT," said Hoehn. "In the local counties we serve, the income levels are low and the counties are strapped just to fund the things they are responsible for. That's why we've tried to be creative with our match money to come from other sources."
Serving all residents and engaging the community
The Paris Metro was tailored to meet the specific transportation needs of each sponsoring partner.
For example, the Paris Regional Medical Center, the largest employer in the city, is located outside the city center and was previously inaccessible by transit. While dependable transportation was important for employees getting to work, hospital management knew that lack of reliable transportation was also a major impediment to quality health care. Patients discharged from the hospital were often unable to reach necessary follow-up care, like physical therapy, and were winding up back in the hospital as a result. Now, the Paris Metro allows residents to reach scheduled appointments rather than coming in through the emergency room.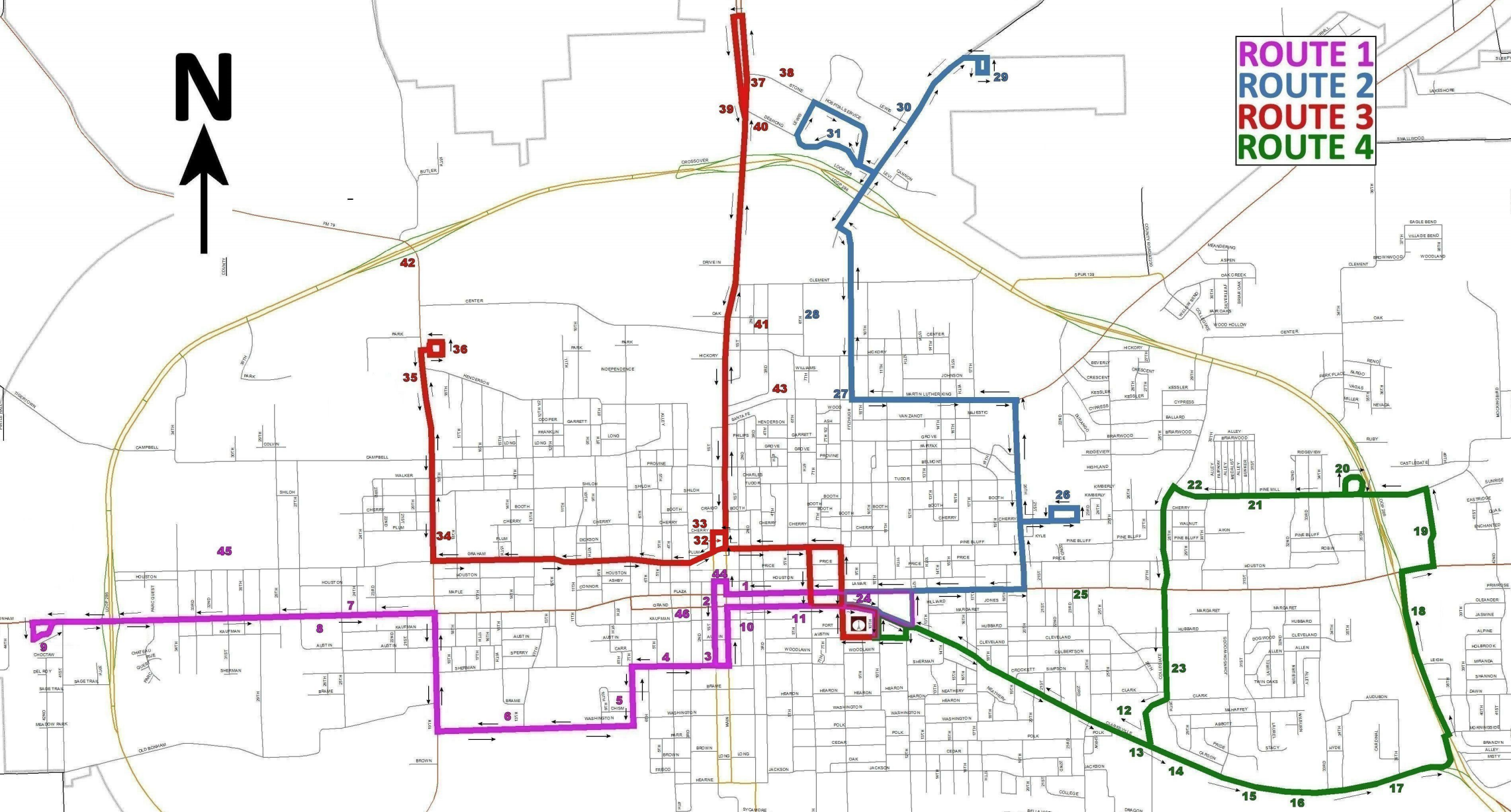 Map of the four Paris Metro routes.
The medical center not only made financial contributions to launch the new Paris Metro fixed route service, but also donated office space to manage it. The exterior of this donated space has become a new bus station for the city and is now served by Greyhound and rural transit, as well as the Metro.
Similar adjustments in service were made for other sponsoring partners. Texas Oncology's patients need door-to-door service, so the route loops through the clinic's parking lot. The clinic installed a signal light on the street to alert bus drivers when there are riders to pick up. Paris Junior College has students with disabilities who had trouble reaching classes because they lacked reliable transportation to school. To help their students reach classes and other daily needs, TRAX and the college created a discounted semester pass for students subsidized by Pell grant funds. Reliable, affordable transit allows students to enroll.
Fulfilling an unmet need
The new fixed route Paris Metro service has been a success, providing 50,000 rides in its first year. The Texas Transit Association recognized it with an award for "Innovative Project of the Year," and TRAX is adding larger buses to accommodate the demand for rides.
Greg Wilson, member of the Executive Board of the Lamar County Chamber of Commerce and President of Lamar National Bank, which has branches in Paris, said that the bus service fulfills what was once an unmet need. "The impact of our bus system has exceeded all expectations when it comes to the impact on the local business community. I see people getting off the bus downtown to shop, visit our bank branches, and access medical care."
For many households the new transit service provides freedom and flexibility, allowing parents to reach a job and giving young adults access to get to summer jobs, after school activities, or other programs. For these households, transit means added stability.
As the Metro enters its third year in operation, the city is looking forward to expanding the service in order to better serve the needs of the community.
Do you work for an operator of a rural transit system? Are you someone who rides it frequently? We want to hear from you.
Share your rural or small city transit story here