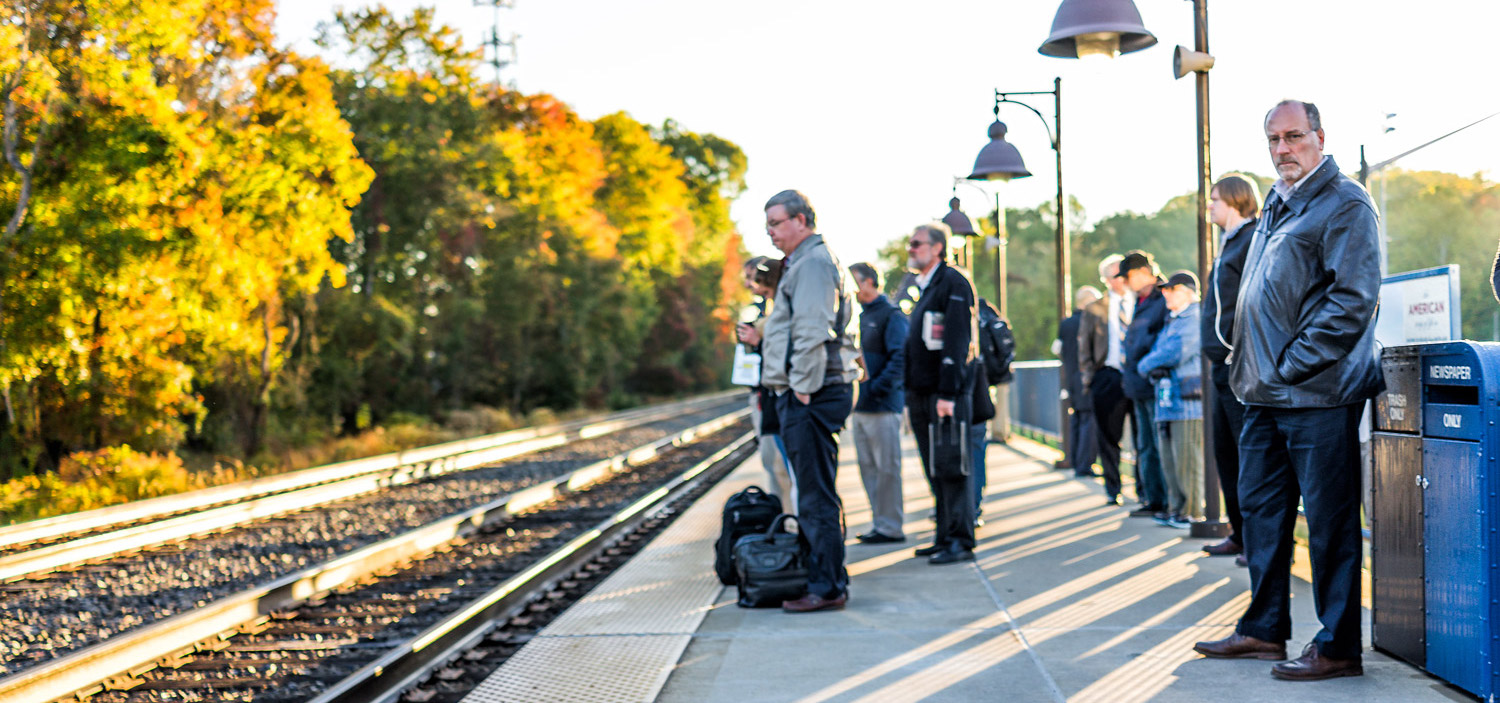 How long will the Trump administration sit on transit funding? Click to view Stuck in the Station, a new resource tracking the unnecessary and costly delays in transit funding.
Last March, Congress provided the Federal Transit Administration (FTA) with about $1.4 billion to help build and expand transit systems across the country. 142 days later and counting, FTA has obligated almost none of these funds to new transit projects. A new Transportation for America resource—Stuck in the Station—will continue tracking exactly how long FTA has been declining to do their job, how much money has been committed, and which communities are paying a hefty price in avoidable delays.
For 142 days and counting, Trump's FTA has declined to distribute virtually all of the $1.4 billion appropriated by Congress in 2018 for 17 transit projects in 14 communities that were expecting to receive it sometime this year. Other than one small grant to Indianapolis for their Red Line all-electric bus rapid transit project, the pipeline of new transit projects has effectively ground to a halt.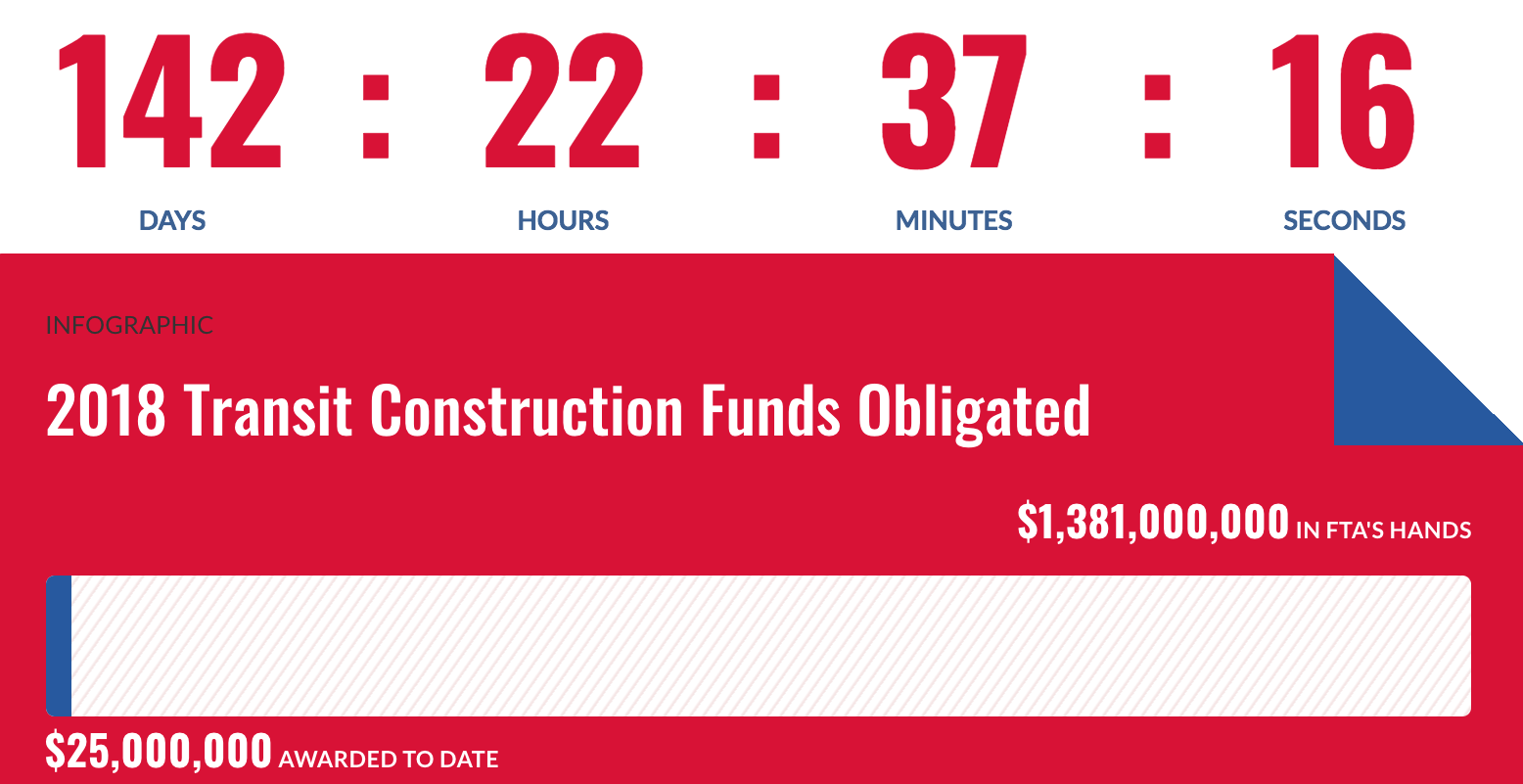 As a result, bulldozers and heavy machinery are sitting idle. Steel and other materials are getting more expensive by the day. Potential construction workers are waiting to hear about a job that should have materialized yesterday. And everyday travelers counting on improved transit service are left wondering when FTA will do their job and get these projects moving.
"When it comes to funding for infrastructure, this administration has repeatedly made it clear they expect states and cities to pick up part of the tab," said Beth Osborne, Transportation for America senior policy advisor. "Yet these communities are doing exactly what the administration has asked for by committing their own dollars to fund these transit projects—in some cases, going to the ballot box to raise their own taxes—and yet still the administration does nothing."
Fourteen communities in total are waiting on this funding appropriated by Congress—and approved by the president—earlier in 2018.
Dallas is waiting on more than $74 million to lengthen platforms at 28 DART stations in order to accommodate longer trains and increase the system capacity. In Reno, NV, the transit provider is waiting on $40 million to extend their bus rapid transit system from downtown to the university and provide upgrades to the existing line. Minneapolis/St. Paul is waiting on three different grants totaling an estimated $274 million to help extend two existing light rail lines (including new park & ride stations and additional trains) to reach surrounding towns and build a new bus rapid transit line. Twelve other projects, most of them brand new rail and bus lines, are also waiting for grants ranging from $23 million to $177 million.
President Trump's stated ambitions to make a big investment in infrastructure have largely been thwarted by his and Congress' inability to find or approve any new sources of funding. Yet right now, the administration has $1.4 billion for infrastructure sitting idle in the bank for transit, money that could be used to buy materials that are getting more expensive by the day, fire up the heavy equipment, and fill new jobs with construction workers helping to bring new bus or rail service to everyday commuters who are counting on it.
So how much money did Congress put in the Trump administration's hands, and how much has the FTA actually distributed to these ready-to-go transit projects? Which communities are paying the price in expensive but entirely avoidable delays?
Browse Stuck in the Station, Transportation for America's new resource for tracking how much money has been obligated to transit projects in the pipeline.
View Stuck in the Station and take action
In this case "obligating" means simply having the FTA (acting) administrator sign a grant contract for a project that's already been in the federal pipeline for years. To be clear, FTA has already identified the projects that will receive grants, Congress has approved overall funding levels, and local projects have accounted for this federal money in their budgets. Local communities are just waiting on Secretary Elaine Chao and the acting administrator of the FTA to put pen to paper and actually deliver the money they've been promised.
It's time for FTA to fulfill its promises and get these projects moving.