Update, 4/17: Our friends at TransitCenter are leading a sign-on letter to the White House Coronavirus Task Force requesting personal protective equipment for transit workers. If you represent an organization, please sign TransitCenter's letter by end of day Monday, April 20th.
With costs rising to protect transit personnel from the pandemic and revenue streams simultaneously coming to a halt, public transportation likely needs more emergency funding than the $25 billion passed three weeks ago. Transit agencies have a responsibility to communicate their needs—and the major steps they're taking to save lives—to their Congressional delegations.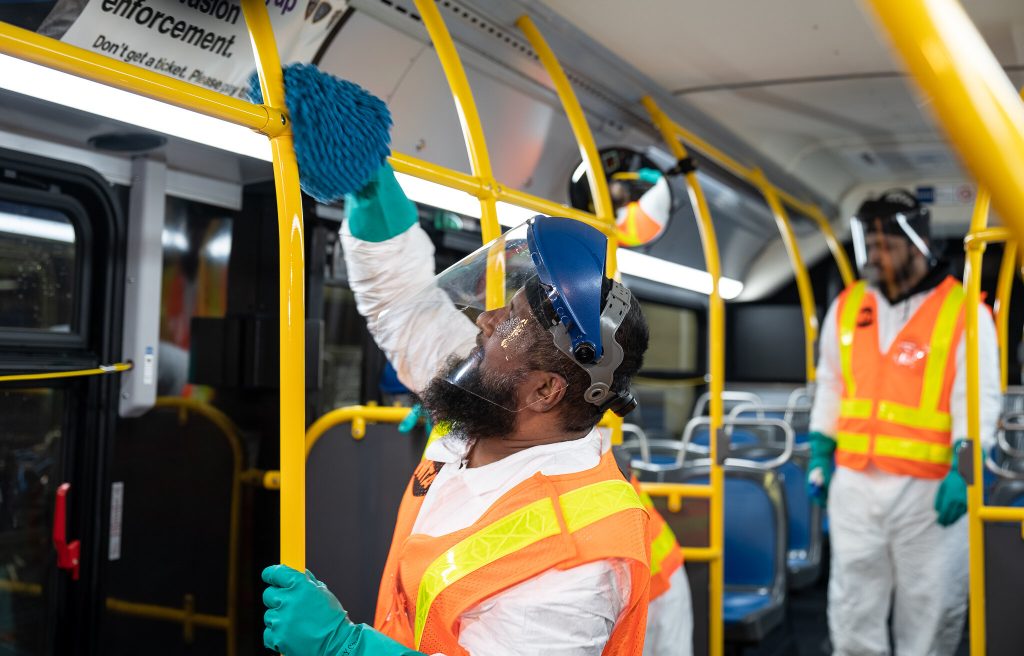 Transit workers—the bus operators, train operators, station managers, and other personnel that make public transportation thrive—are on the frontline of the COVID-19 pandemic. Without them, scores of essential personnel wouldn't be able to get to work; at least 35 percent of riders during regular times work in healthcare, grocery, and other essential industries. 
But with revenue screeching to a halt, transit agencies don't have the tools to protect their employees from this pandemic, let alone return to normal service after this crisis ends. The $25 billion in emergency assistance for transit provided by the federal government is a great start, but it's almost certainly not enough—especially with TransitCenter estimating losses between $26-$38 billion. 
The best way to ensure that Congress provides transit with additional emergency assistance is for agencies to communicate these needs with their Congressional delegations. As an essential industry on the frontline of the pandemic, transit agencies are some of the only entities that can give Congress accurate and detailed accounts of how COVID-19 is impacting public services and hurting their personnel. And as recipients of federal funding, transit agencies have a responsibility to communicate that their ability to connect essential workers to jobs is shrinking due to dwindling resources. 
Congress hears from airlines. Congress hears from automakers. Congress hears from state DOTs. They don't hear from transit agencies as frequently. Congress's minimal understanding of transit agencies' needs might partially explain why the American Recovery and Reinvestment Act of 2009 only provided transit agencies with capital funding, meaning that they could use that money for maintenance or constructing new infrastructure, but not for the costs of actually running transit service. The lack of operating support meant that transit agencies across the country had to cut service—at a time when Americans needed an affordable, convenient, and safe connection to jobs the most. 
Transit agencies need funding to protect personnel from COVID-19
Nobody should die doing their job—which is why transit agencies are pouring resources into efforts to keep personnel safe. Transit agencies all over the country are suspending fare collection to minimize riders' interactions with operators, allowing rear-door boarding, and distributing thousands of masks and gloves every single day—all incredibly costly but necessary measures. 
But without robust funding, transit agencies can't do enough to protect employees. Over 1,500 employees of New York City's transit agency, the Metropolitan Transportation Authority (MTA), have tested positive for COVID-19—and 41 have tragically died from the disease. With 5,000 employees quarantined, maintaining already-reduced service for essential workers even more difficult. "If you have 10 people on a [transit] line and three of them are sick, you are going to have a schedule that's not working and leads to overcrowding," a spokesperson for the Transport Workers Union (TWU) told The Chief. 
It's not just New York that's struggling. According to the TWU, transit workers have also died from COVID-19 in Detroit, New Orleans, Philadelphia, Boston, Washington, DC, Rocky Hill, CT and Everett, WA. (The Centers for Disease Control and Prevention released guidance for transit agencies on keeping personnel safe, but they know more guidance is needed—which is why they have invited transit agencies to submit feedback on improving these safety protocols.) 
The $25 billion in federal emergency assistance for transit agencies will certainly help agencies weather this unprecedented crisis, but with TransitCenter estimating that COVID-19 will cost public transportation between $26-$38 billion, agencies will almost certainly need more. A lot more. 
Transit agencies, please tell your Congressional delegation what COVID-19 is costing you. Tell them if funding from the CARES Act is or isn't enough to get you through this crisis. Tell them about staff illness and quarantines, and what you need to get essential workers to jobs. Tell them what you're doing to protect employees and the public, and what you need to keep them safe. Tell them that frankly, you don't know what COVID-19 means for your agency. Just talk to Congress. They need to hear from you. 
If you're not a transit agency but still want to tell Congress that transit is important, send Congress a thank you message for providing transit agencies with $25 billion in emergency assistance—and a reminder that more is needed.