Gulf Coast passenger rail is closer than ever to returning. With state and federal funds already secured to make capital investments required to bring new and drastically improved passenger rail service back between New Orleans and Mobile, AL, a second vital federal grant to help operate the new service completes the other biggest part of the funding puzzle.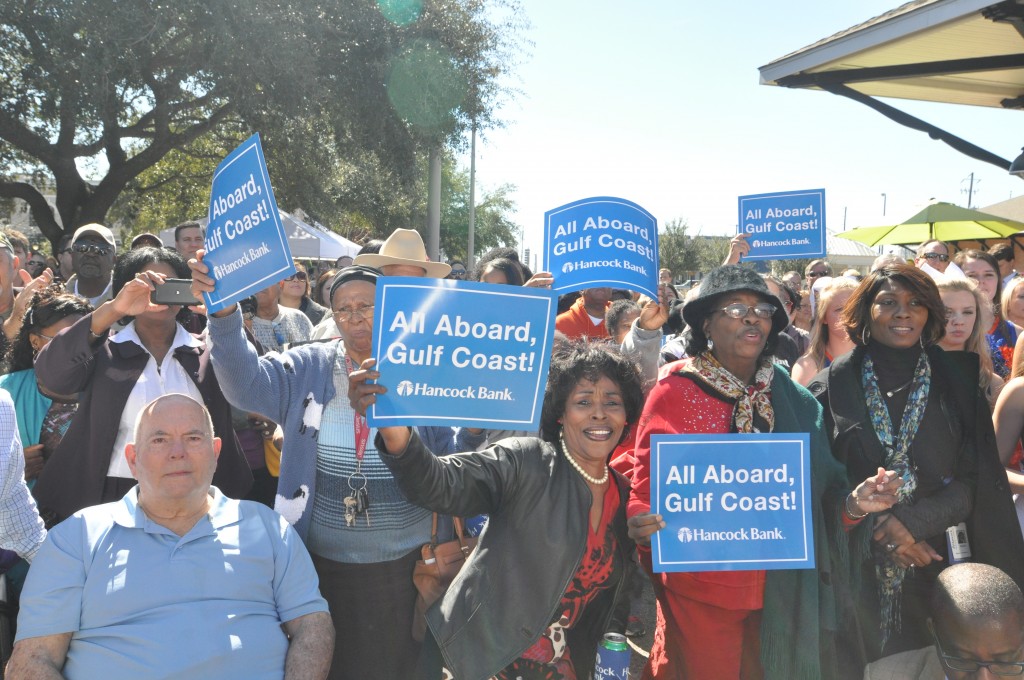 Just before the end of August, Secretary of Transportation Elaine Chao announced a $4.36 million grant to fund operating expenses for the first year of passenger rail service along the new line, leveraging $1.4 million already committed by the states of Louisiana and Mississippi.
This award follows a much more significant $33 million federal grant to complete major infrastructure and capital improvements necessary for restoring (and radically improving) the service wiped out by Hurricane Katrina back in 2005. We wrote about that bigger award earlier this summer:
With this week's announcement of a $33 million federal grant, communities across the coast can make the capital improvements necessary for running passenger trains throughout the corridor owned by CSX. The grant will be matched with commitments from the state of Mississippi, the Mississippi Department of Transportation, Amtrak, and private partners, and is paired with priority investments from the state of Louisiana. When it does start up, this new service will be like an iPhone compared to a 2000s-era flip phone. Cities along the route can expect business friendly service on four trains a day, running in daytime hours and on time, with food, drink and hospitality designed to reflect the unique culture of the region.

Thanks to this historic award, the thousands of residents who turned up in force to show their support for passenger rail could be less than 24 months from being able to finally hear "Y'all Aboard!!"
This project has made it this close to finish line due to the hard work of the Southern Rail Commission, a tri-state compact created by Congress with members appointed by the governors of Louisiana, Mississippi, and Alabama to support Southeast rail initiatives, with Transportation for America supporting them every step of the way. Just as vital has been the continued vocal support of many of their state and congressional leaders, including Governors John Bel Edwards (LA) and Phil Bryant (MS), and Senators Roger Wicker, Cindy Hyde-Smith, and the late Thad Cochran.
And perhaps most important has been the residents of the Gulf Coast who have let their elected leaders know at every turn that they're clamoring to see passenger rail return to their cities and region, giving those leaders confidence in expecting strong ridership.
For now, because the project lacks a full financial commitment from Alabama, the new service isn't fully funded to reach downtown Mobile—the most convenient point for travelers to disembark. As the SRC wrote in their press release, that's where the last remaining question marks lie, and Alabama still has some work to do:
The SRC hopes the state of Alabama will support passenger rail restoration by providing matching funds for the next grant cycle so service can be extended to downtown Mobile. Wiley Blankenship, SRC Commissioner from Mobile, AL noted, "Alabama's Southern Rail Commissioners welcome this positive affirmation for the restoration of passenger rail service between New Orleans and my home of Mobile. I look forward to working with my fellow commissioners and Alabama state leadership to provide the necessary support to leverage additional federal operating funds to make Gulf Coast rail a reality."
They've got the funding in hand and they've got all of their influential decision-makers on board. Amtrak and the local partners are committed to having trains rolling down America's beautiful Gulf Coast in the summer of 2021.
It's been a long road to this point, but the residents of the Gulf Coast who have long been dreaming of once again seeing trains connecting the hearts of their towns and cities to one another will get to see that dream become reality.