Almost 14 years since Hurricane Katrina wiped it out, passenger rail service along the Gulf Coast is closer than ever to returning after a vital federal grant was awarded to help fund the capital investments required to bring new and drastically improved passenger rail service back between New Orleans and Mobile, AL, and Transportation for America played a major role.
"We've got the top brass, we've got the local leaders, and we're gonna make this work for Mississippi and for the taxpayers," Mississippi Senator Roger Wicker told a crowd of a thousand or more fired-up Gulfport residents over three years ago in front of the city's historic train depot in the middle of town. And Senator Wicker has kept his promise.
That crowd—and more than a dozen just like it in communities from New Orleans to Jacksonville—turned out in massive numbers in February 2016 to see an Amtrak passenger train roll through for the first time since Katrina darkened those shores in August 2005. They also showed up to send a clear and powerful message to their elected leaders. As I wrote back in 2016 from the train, "Rich people, poor people, black people, white people, young people, old people — all asking their elected leaders for the same thing: We want passenger rail back on the Gulf Coast."
With this week's announcement of a $33 million federal grant, communities across the coast can make the capital improvements necessary for running passenger trains throughout the corridor owned by CSX. The grant will be matched with commitments from the state of Mississippi, the Mississippi Department of Transportation, Amtrak, and private partners, and is paired with priority investments from the state of Louisiana. When it does start up, this new service will be like an iPhone compared to a 2000s-era flip phone. Cities along the route can expect business friendly service on four trains a day, running in daytime hours and on time, with food, drink and hospitality designed to reflect the unique culture of the region.
Thanks to this historic award, the thousands of residents who turned up in force to show their support for passenger rail could be less than 24 months from being able to finally hear "Y'all Aboard!!"
A bipartisan coalition of local leaders, mayors, business people, governors, and their representatives in Congress are close to creating what would be the first new long-distance passenger rail service in the U.S. in more than half a century—and it's in the Deep South. How did this happen, and what should it mean for other similar corridors across the country?
New passenger rail service in the Deep South — how did it happen?
It never would have happened without the day-in, day-out work of the Southern Rail Commission, a Congressionally established tri-state rail compact—the only one of its kind—with members appointed by the governors of Louisiana, Alabama and Mississippi. Essentially inactive and idle a decade ago, the SRC was reconstituted and has been the driving force, bringing together local mayors along the line, building support amongst business leaders in the region, and garnering the support of their governors and elected leaders in Congress.1
With the SRC driving the project forward with the public and within the states, they needed a champion in Congress, and they found one in Senator Roger Wicker, who has done everything possible to keep his promise made in Gulfport that day in 2016. With the help of Senator Cory Booker, the Senators drafted a provision (included in the FAST Act) that created the Gulf Coast Working Group to study the restoration of passenger rail service. Later that year, those Senators, with incredible support from the late Mississippi Senator Thad Cochran, ensured that the omnibus budget bill provided the funding to start the working group. And Senators Cochran, Richard Shelby (AL), and Cindy Hyde-Smith (MS) were also instrumental in appropriating funding for the new federal programs to make capital and operations grants to help expand passenger rail service.
"Everyone needed to see a train again"
For 11 years after Katrina, even after a mammoth five-month rebuilding effort along the CSX-owned freight rail line to restore freight service, no passenger trains ran east of New Orleans. With even the vague memory of the previous subpar and regularly delayed passenger service receding into distant memory for many residents, everyone needed to see a train again.
So back in 2016, the SRC partnered with Amtrak to run a special inspection train from New Orleans to Jacksonville, Florida. While there were some technical necessities for this trip—Amtrak inspected the tracks and stations to determine what physical needs there were along the line—the most important function was filling that train with elected, civic and other local leaders from the Gulf Coast and providing a visible sign for residents to rally around.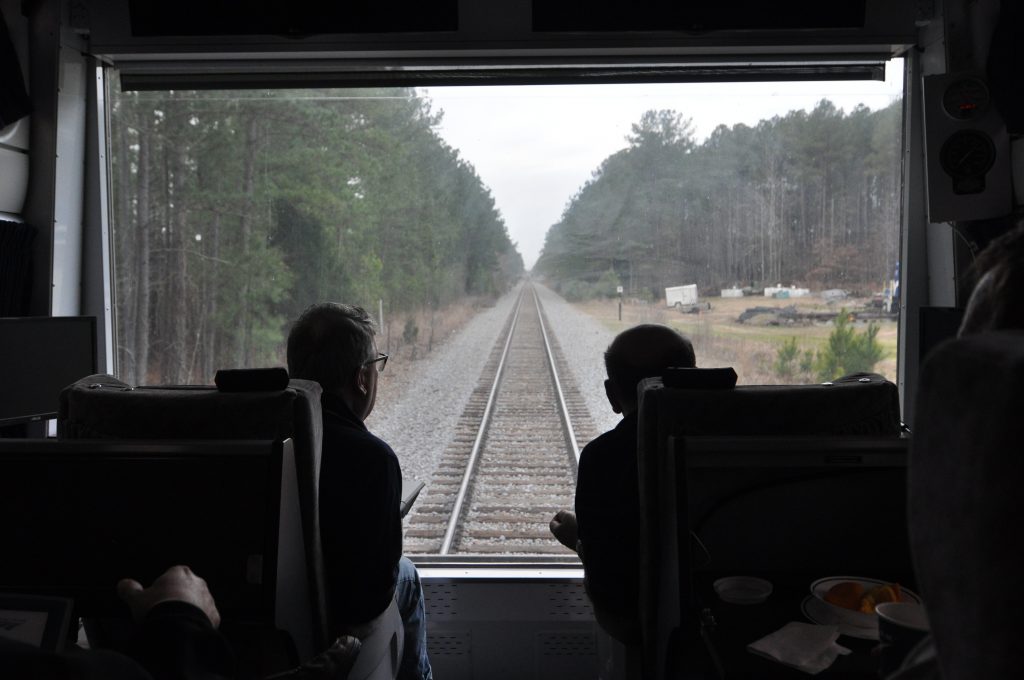 I was on that train, and I will never forget the moment we rolled into Bay St. Louis, MS for the first stop after departing New Orleans. Conversations halted immediately on the train as we were taken aback by the overwhelming sights and sounds of Bay St. Louis. Schools were closed, bands were playing, costumes were donned, and it seemed like the entire city had turned out to see the first passenger train in 11 years.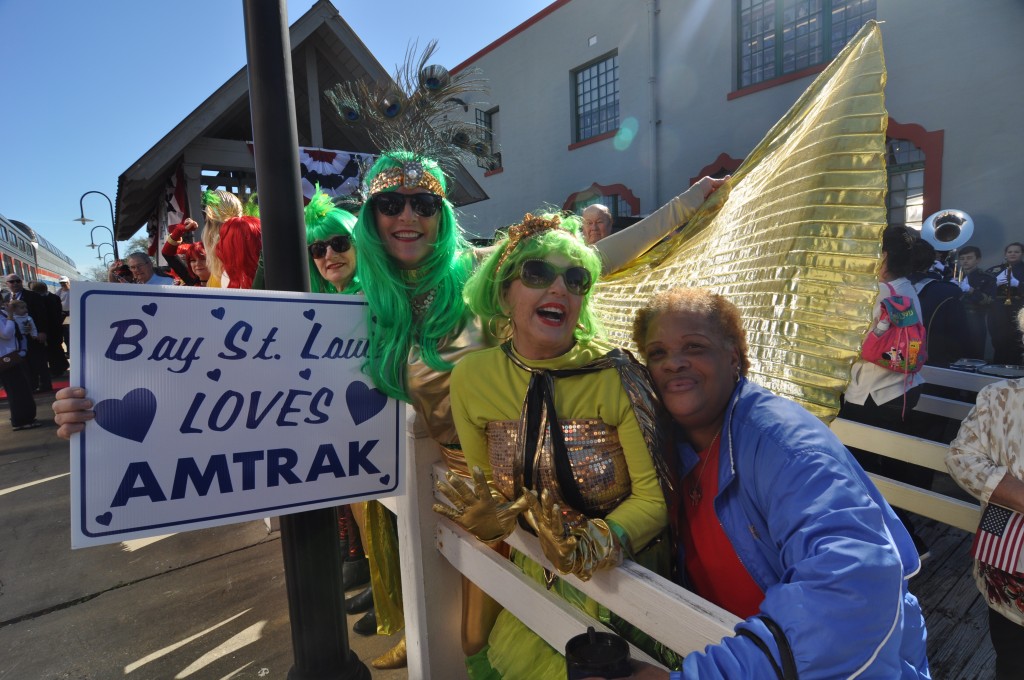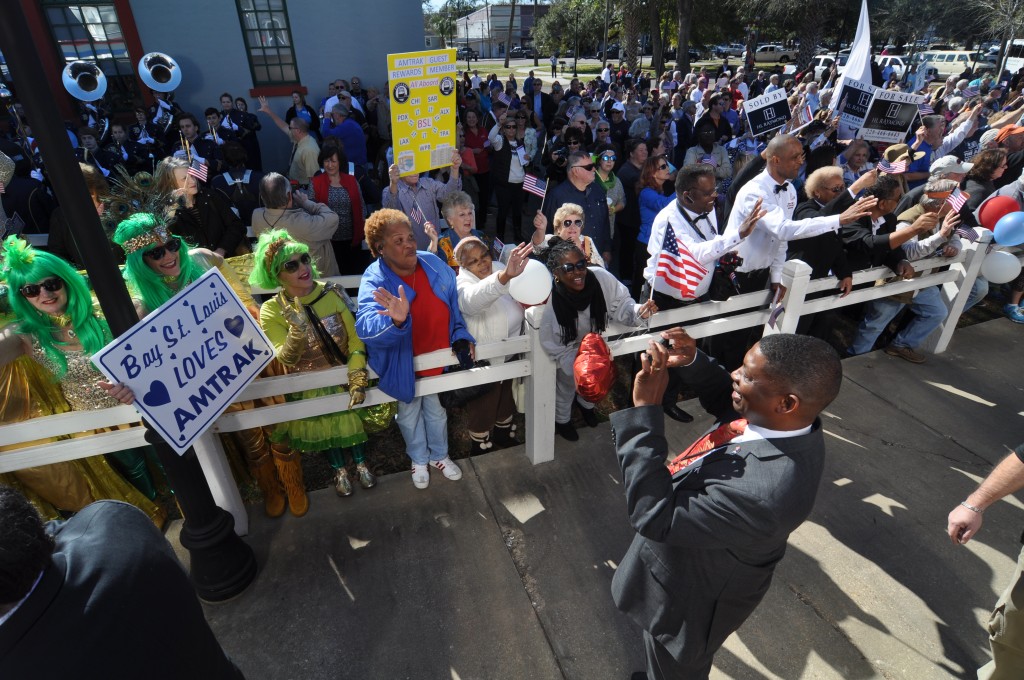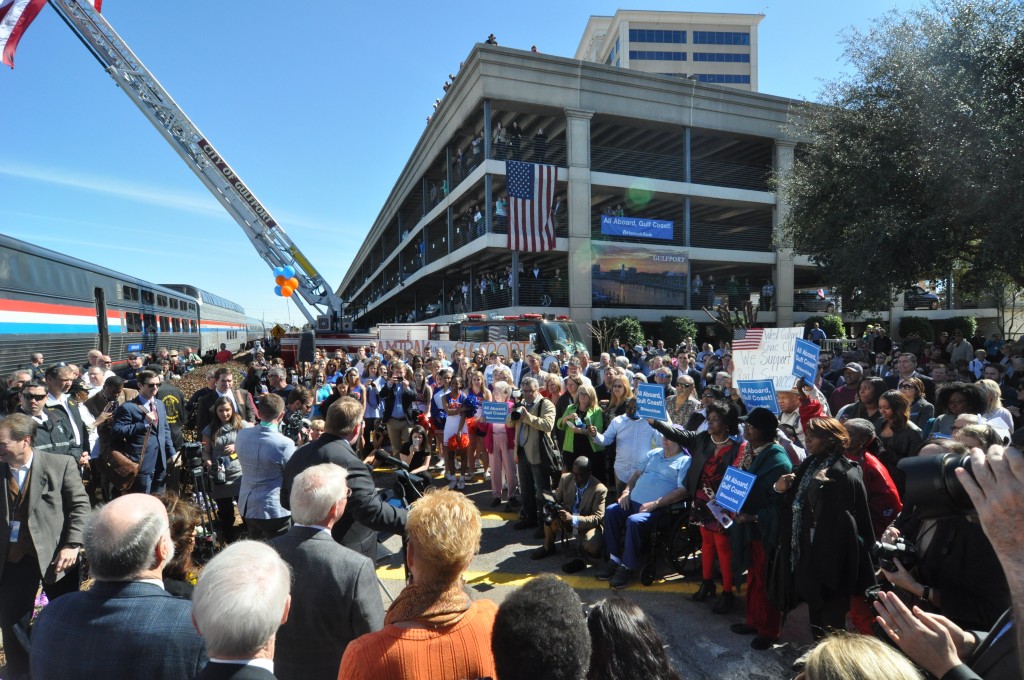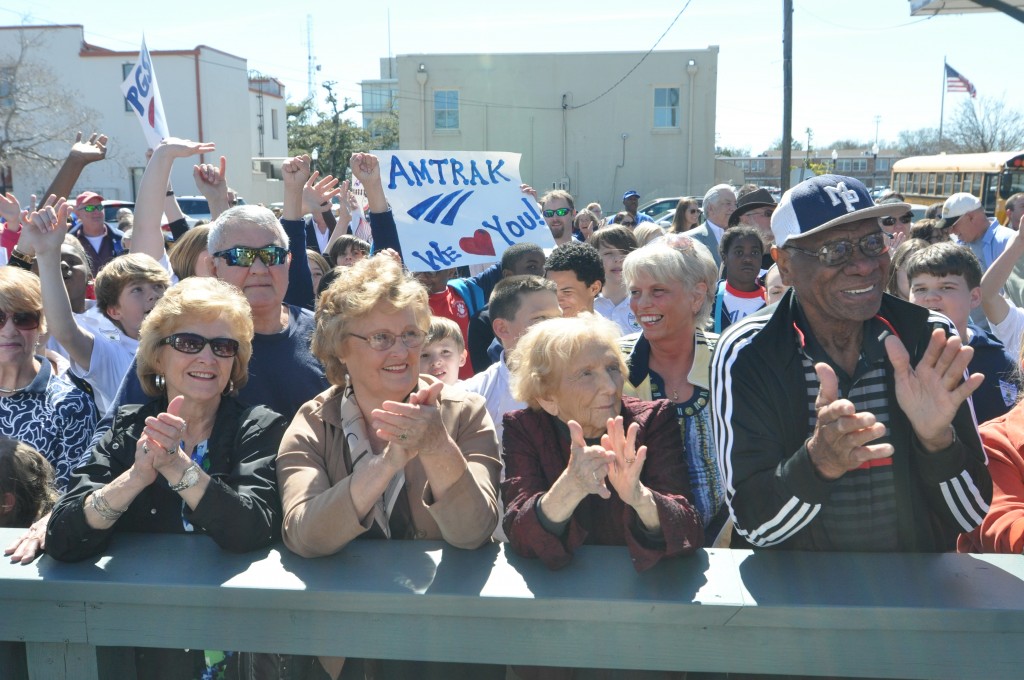 John Sharp, writing for AL.com, summed things up well, describing the arrival of that train as an incredibly cathartic moment for a city that was devastated by Hurricane Katrina and had fought for years to bounce back. Bay St. Louis wasn't an outlier, though. That scene was repeated in town after town, whether in Mississippi's second largest city of Gulfport, or tiny little Atmore, AL:
It was an incredible sight to see, and it had a palpable, powerful effect on the elected officials and VIPs from Washington on board. None of them will be able to go back to work in their government offices without thinking of the faces of the people they saw on this trip and how excited they were about the prospect of seeing this vital connection restored.
That's precisely what happened, and the evidence can be found in the state money that Louisiana Gov. John Bel Edwards and Mississippi Gov. Phil Bryant (with the full backing and support of the Mississippi DOT and commissioner Dick Hall) committed to the project before they had a dime of federal money in hand.
Watch our short video chronicling the two-day Gulf Coast inspection train in 2016.
What's the next step to get trains running again?
With this $33 million federal grant from the Consolidated Rail and Infrastructure Safety Improvements program (CRISI) in hand, work should begin quickly on the capital upgrades to rails, ties, stations, and the other infrastructure required to run reliable passenger trains in the corridor. Amtrak and the SRC are committed to bringing back new, reliable, regular, daytime passenger service within 24 months from now—service that will be far better than what was eliminated in 2005.
Amtrak will also begin negotiations with CSX for use of the right-of-way which CSX must allow by federal law. T4America and SRC are anticipating productive negotiations with the private railroad, but a landmark Supreme Court decision just last week upholds last year's decision to allow the Federal Railroad Administration (FRA) and Amtrak to set on-time performance standards, a crucial measure to increase the reliability of passenger rail service; a decision that will also strengthen their position in negotiations.
"This ruling opens the door to fixing one of the main issues with our passenger rail system," said John Spain, Chairman of the Southern Rail Commission. "Increasing on-time performance will increase the reliability of and trust in the system, and now Amtrak can finally take steps to do this.
This story shouldn't end on the Gulf Coast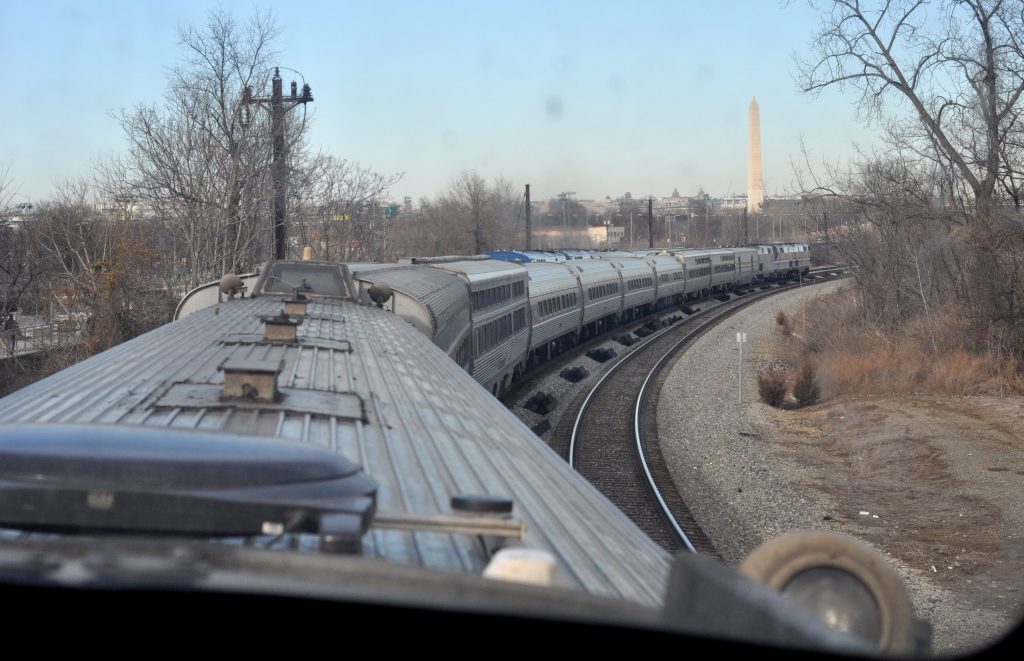 While Transportation for America is delighted to see the progress toward returning passenger rail service to the Gulf Coast, new trains running between beautiful Gulf Coast cities should be the blueprint for other corridors to do the same all across the country.
"All of this should also send a powerful message to Congress and to Amtrak's board that this country absolutely needs a thriving system of long-distance and shorter-corridor passenger rail service that works together to form a national network," said T4America chair Mayor John Robert Smith, former board chairman of Amtrak, who was also responsible for building the first new multi-modal station in the south during his long tenure as Mayor of Meridian, MS.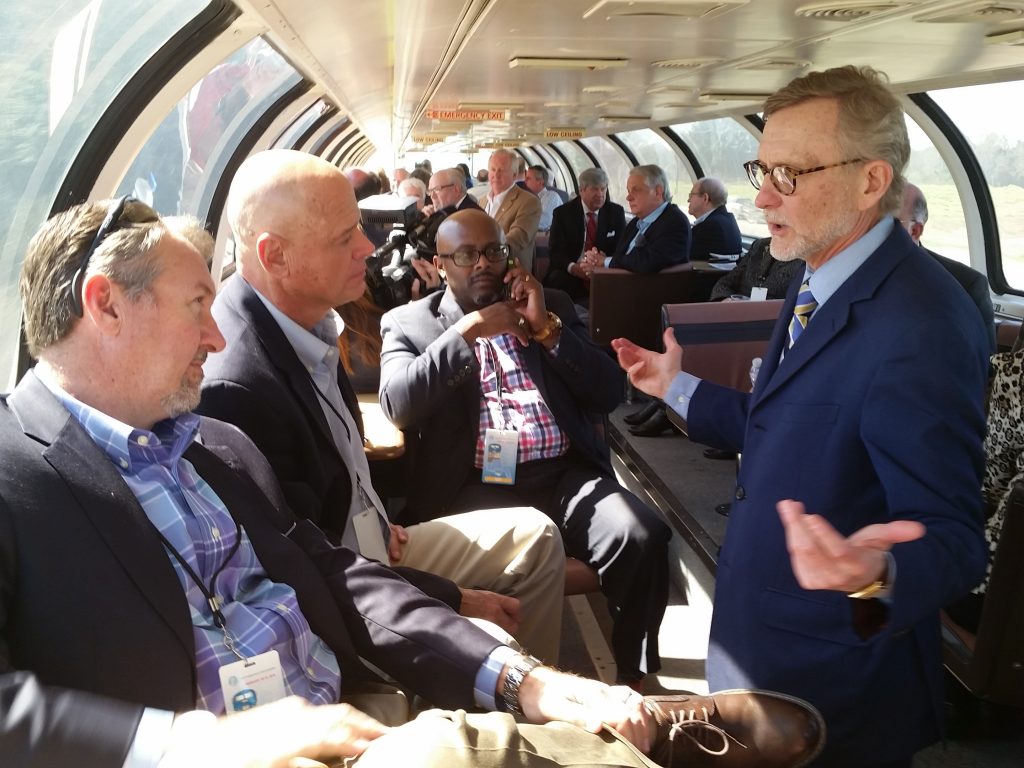 There's already movement afoot to start new service between the twin economic centers of Baton Rouge and New Orleans in Louisiana, and along the I-20 corridor between Meridian, MS and Shreveport, LA. This comes in addition to longstanding conversations to protect and expand service in the Midwest, the Mountain West, the Pacific Northwest, and across the country.
I spent three days on this train interviewing and chatting with local elected officials from communities all along the coast who explained to me how it was essential to their economic development and quality-of-life efforts to bring passenger rail service back.
One of my favorite characters I met was Mayor Knox Ross, the mayor of Pelahatchie, MS and an SRC Commissioner. A few days after the trip, he came up to Washington to share his story with the Senate Commerce Committee and explain how this passenger rail connection would be a powerful economic development tool for these Gulf Coast cities, small and large:
"We invested in the national interstate system years ago and saw tremendous economic development, but now we're having to put more money than ever into it with diminishing returns as we add lanes. Every modest investment in passenger trains across this country can create large economic development opportunities in all these cities. …We saw an amazing outpouring of support in every city. …They just want an opportunity. Every city turned out. They're looking for a hand up and saw Amtrak service as that opportunity."
We're proud to celebrate this monumental event for the Gulf Coast and will continue counting down the days until those thousands of people we met there can hop a train and travel the Gulf Coast with a reliable new mode of travel.
"Y'all Aboard!"
All photos by Stephen Lee Davis / Transportation for America