A massive show of support yesterday from the people of the Gulf Coast welcomed the first passenger rail train east of New Orleans since Katrina, with thousands of residents in scores of communities from New Orleans to Atmore, Alabama turning out to send a clear message to their elected leaders that they want passenger rail service back.
This week's Gulf Coast inspection train, run by Amtrak in partnership with the Southern Rail Commission (SRC), is touring a potential route and examining the CSX tracks. It's the product of years of work by local residents and elected leaders at almost all levels to restore the passenger rail service wiped out by Katrina over ten years ago. Read our first post for the backstory. Note: Transportation for America serves in an official capacity as policy advisors for SRC. -Ed.
#YallAboard
Although everyone involved with this trip had heard there were festivities planned in each stop along the way, no one seemed to be ready for what awaited us in Bay St. Louis, Mississippi. People in conversation on the train stopped cold as they heard a band playing and a crowd cheering before the doors even opened on the train. Elected officials were clearly overwhelmed by the show of support as they stepped off the train to take a champagne toast to the first passenger train to stop in the city since Katrina.
The people of Bay St. Louis are a little excited about getting passenger rail service back. #YallAboard pic.twitter.com/OsRUkIZv6P

— Transport. 4 America (@T4America) February 18, 2016
Administrator Sara Feinberg of the Federal Railroad Administration was clearly taken aback as she stepped off the train, shaking hands with excited residents lining the train platform and pulling out her phone to take pictures of her own. Louisiana Department of Transportation and Development Secretary Shawn Wilson posed for pictures with smiling and yelling residents like he was a rock star.
As John Sharp wrote in AL.com after riding from New Orleans to Mobile, it felt like a cathartic moment for this city that was devastated by Hurricane Katrina and has fought for years to bounce back. Schools were closed yesterday morning, costumes were donned, signs were made, songs were played, and the small community of Bay St. Louis made a powerful, moving display of support for restoring passenger rail to the city, bringing tourists to their beautiful city and giving residents a new option for getting back and forth along the coast to wherever they'd like to go.
Rich people, poor people, black people, white people, young people, old people — all asking their elected leaders for the same thing: We want passenger rail back on the Gulf Coast.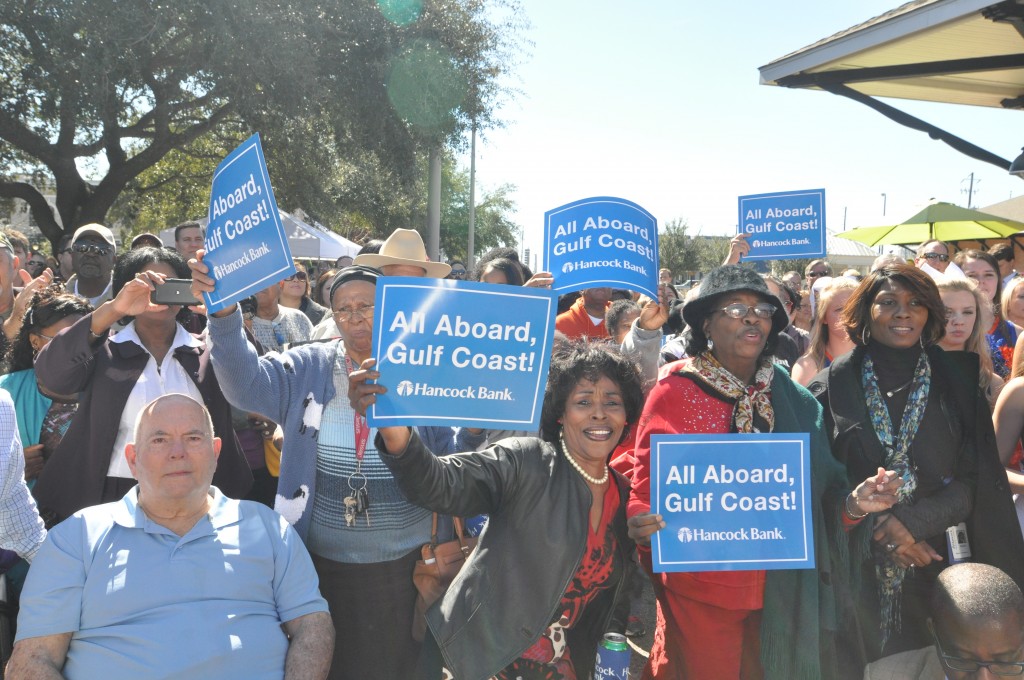 This moving scene was repeated again and again at each stop in Gulfport, Biloxi, and Pascagoula, Mississippi, and Mobile and Atmore, Alabama. In Gulfport, the second biggest city in the state, the crowd was so huge squeezed between the depot and a parking garage, you could hardly see a spot without people.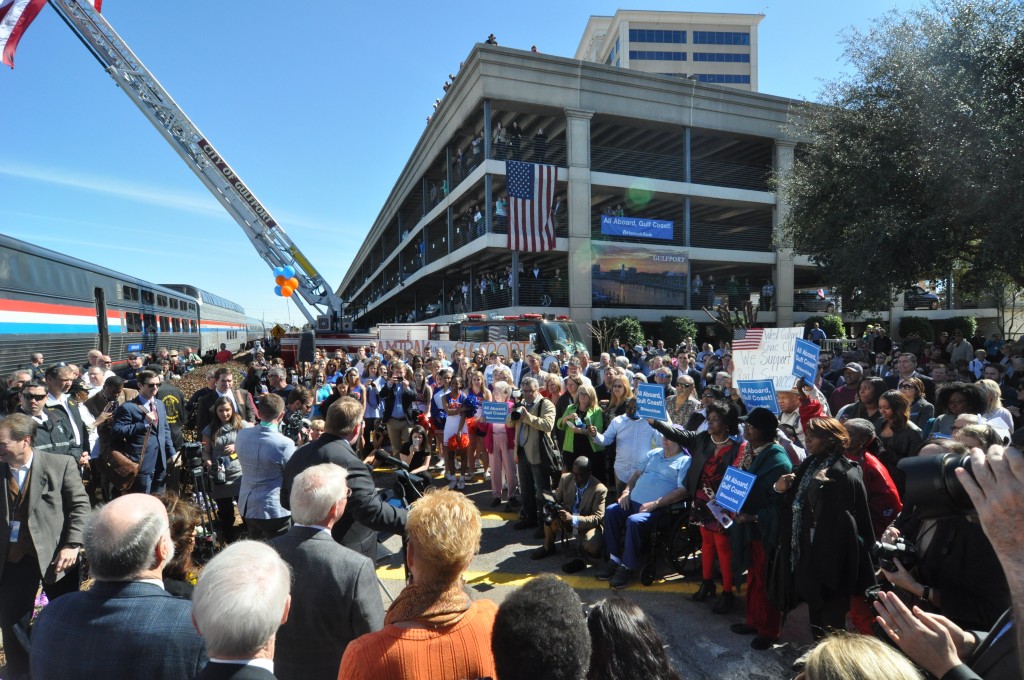 Giant American flags were hung from fire department ladder trucks in almost every city. And not once did we leave the train without being accompanied by a band — including the historic Excelsior Band in Mobile. There was visible support even in communities along the way without a stop, like Ocean Springs, Mississippi, where children lined the fence by the tracks and waved at every crossing.
It was an incredible sight to see, and it had a palpable, powerful effect on the elected officials and VIPs from Washington on board. None of them will be able to go back to work in their government offices without thinking of the faces of the people they saw on this trip and how excited they were about the prospect of seeing this vital connection restored.
We'll have more later on from some of the mayors and other local leaders we've talked to this week. Each one we spoke to zeroed in on the economic potential of having this connection restored. All spoke eloquently about how passenger rail is a piece of the puzzle for staying competitive and helping move their people. And elected leaders from the cities, states and Congress all spoke passionately about how they're working to make this service happen in a way that's a good deal for taxpayers. We'll get to their inspiring speeches too.
But it would be a mistake to start a look back on the trip anywhere other than with the amazing and inspiring people of the Gulf Coast who turned up yesterday — in the middle of a workday no less — to show their support for what their elected leaders are working hard to accomplish for them. They don't appear to care a lick about the political or philosophical debate over transportation modes or funding that dominates conversations in Washington.
They just want to have another way to get where they want to go.
Y'all aboard.
Continue following along with the trip on Twitter with #YallAboard and @t4america
Update: Find links to all of our posts and photos from the trip as well as a short video we produced on the trip here in this short recap post.