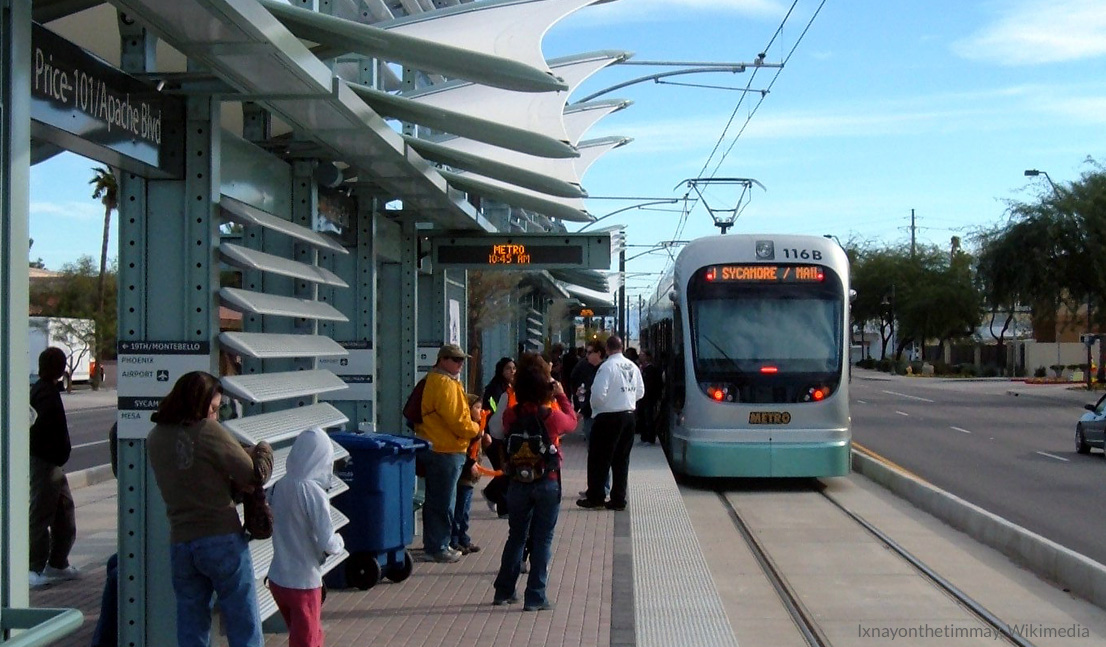 Later this month, Phoenix voters will decide whether to ban all future rail transit investment, putting an abrupt end to light rail expansions and dealing a major blow to the city's and region's efforts to create a sense of place, attract talent, and grow the economy.
Proposition 105 on Phoenix's August 27 ballot, if passed, will prohibit the city from spending money on development, construction, expansion, or improvement of light rail transit or other fixed rail transit. Local light rail funding would be diverted to other (auto-centric) transportation projects.
In the near-term the measure's passage would immediately halt two light rail projects that the region plans to start constructing in the coming year, not to mention the impacts on long-term plans approved by voters in 2015.
The two near-term projects on the chopping block, the South Central extension and the Phase II Northwest extension, would connect major employment and recreation destinations to the region's light rail system while connecting more residents to high-quality transit. Both projects are scheduled to be completed in 2023.
A radical vision
As with other anti-transit election efforts around the country, this one has financial and logistical backing from the Koch brothers' Americans for Prosperity. But unlike previous Koch-backed attempts to disrupt local transit funding, Prop 105 takes the fight against transit to new extremes. If approved, the measure would not only cancel all current plans to expand light rail (which voters have repeatedly approved at the ballot box on three separate occasions), but it would also prohibit any future efforts to expand or improve the network.
City leaders are clearly concerned about the potential impacts of the measure. The mayor and all but one city councilors have staked out positions opposing Prop 105. The Greater Phoenix Chamber and many other politically active organizations are also working against the measure.
"The Greater Phoenix Chamber has been a long-time supporter of investing in multimodal regional transit plans that move our city forward by connecting people to their community and to work opportunities," said Todd Sanders, president of the chamber in a published statement. "The passage of Prop 105 would hinder our city's progress and our region's attractiveness as a thriving, modern place to work, live, and play."
Opposition from business leaders is understandable and hardly surprising. As Phoenix diversifies its economy in knowledge sectors like financial and professional services, public transit is a critical tool to create walkable, vibrant neighborhoods and attract and retain a talented workforce. That's why cities like Indianapolis, Reno, El Paso, and Albuquerque are investing heavily in new, high-capacity transit systems. It's a sharp contrast to the future that Prop 105 would create for Phoenix.
Expansion of the light rail system also delivers a more convenient and affordable transportation option for residents who don't have a car, whether by choice or necessity. It gives low-income residents, people with disabilities, older Americans who can no longer drive, children who can't yet drive, and everyone else better transportation options.
In addition, investment in rail transit is important to Phoenix's efforts to change its sprawling land use. Sprawl has big fiscal implications, particularly for this desert metropolis. In order to conserve water and balance the city's maintenance and infrastructure obligations, city and regional plans have focused on shifting more development toward mixed-use, walkable neighborhoods. Rail transit is a key tool to facilitate that while improving quality of life.
If Phoenix does ban light rail expansion, the region will lose out on billions in federal transit funding. The Federal Transit Administration has already announced its intention to fund the South Central extension, but other cities are waiting in the queue should Phoenix abandon its own transit projects.
Whether Phoenicians are aware of it or not, they are in a race to remain an economically competitive city. By the end of this month, we'll find out if they're still on the racecourse.