With generous support from the Kresge Foundation, Transportation for America is helping three communities across the country use arts & culture as a vehicle to shape local transportation investments. So what has been happening in Dothan, AL; Indianapolis, IN; and Los Angeles, CA over the last few months?
Many of us are used to thinking about arts and culture as a dance performance at a theater, a museum exhibition, or mural across a building's side. But arts and culture can extend far beyond the performance or physical structures we typically recognize as art. These three cities in Alabama, California, and Indiana are engaging with community members, building local capacity for civic engagement, and helping build bridges of collaboration by using arts and culture in transportation projects.
Dothan, Alabama
Dothan has been working to shift its culture of planning, transportation, and community engagement towards one that focuses on infrastructure for mobility and walkability. Bob Wilkerson, the city's long-range planner, has been spearheading efforts to change the physical, cultural, and social landscape of Dothan, particularly along Highway 84, which connects Alabama College of Osteopathic Medicine, Southeast Alabama Medical Center, and Dothan's historic downtown.
Highway 84 is a suburban arterial road focused on moving cars as fast as possible, and lacks sidewalks, bike lanes, and crosswalks. The highway is an important corridor, yet it lacks even basic infrastructure that would allow people to walk or bike safely along the highway. In an effort to change the traditionally technocratic and top-down planning process, T4America supported Dothan's first interactive community workshop this year in hopes of soliciting the input of residents that are typically left out of the planning process.
Dothan held their landmark community planning meeting at the Wiregrass Museum of Art (WMA)—a natural choice for the meeting's location, as it's been a welcoming place for people of all ages and backgrounds due to its signature educational programs for visitors from across the state. But WMA became more than just a meeting place; after the first community planning meeting, the City of Dothan and the museum formed an official partnership to pioneer a new culture in Dothan's planning practices where the city prioritizes safety, accessibility, and the community's unique character over just concrete and pavement.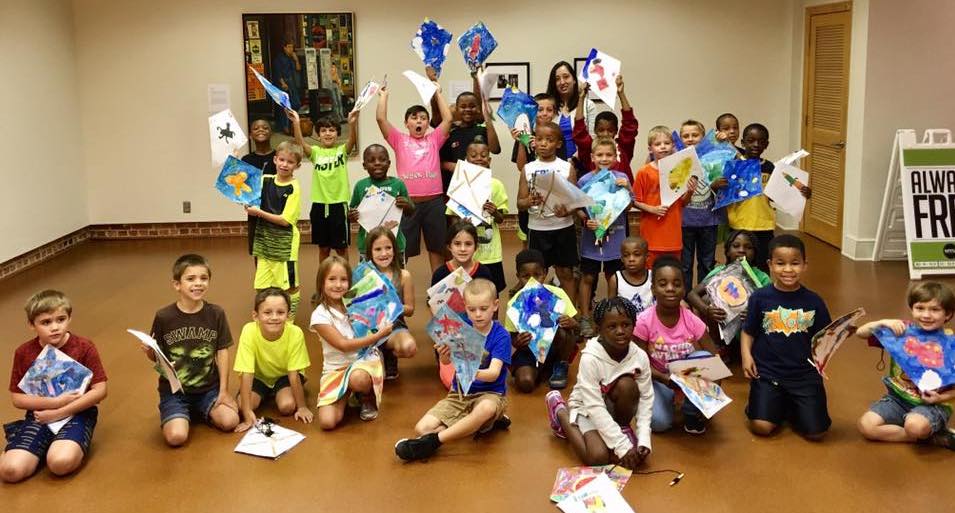 Students from the Boys and Girls Club gather after a tour and art making class at the Wiregrass Museum of Art.
With T4America's support, Dothan and WMA recently launched an artist-in-residence program and selected Cosby Hayes as their resident artist. Hayes will work closely with Dothan's low-income communities to ensure their voices are included in city-led planning processes. Hayes will focus on using art as a means for social engagement and community building with the aim of building long-term and trusting relationships between Dothan and its lower-income communities. According to Wilkerson, "the formalization of a partnership between the city and WMA is a positive step forward in the development of a new approach to community building. Such partnerships will serve as strong and valuable assets in the future arena of funding procurement for public infrastructure."
Los Angeles, California
T4America has partnered with LA Commons to support creative placemaking projects in Hyde Park, a 97 percent non-white neighborhood in southern Los Angeles known for its jazz, hip hop, and black cinema scene. By 2019, Hyde Park will be home to a stop on the Crenshaw/LAX light rail, which will connect Hyde Park to the city's growing light rail system and the Los Angeles International Airport. Light rail will hopefully bring long-term benefits to Hyde Park residents, but in the meantime, the at-grade construction has brought loud and disruptive noises, unsightly messes, and led to the destruction of roads and sidewalks, which all pose threats to the community's economic, physical, and emotional vitality. This construction has been especially disheartening to Hyde Park residents, as many in the community opposed the at-grade light rail construction and favored an underground alignment instead (which would have been less intrusive, but far more expensive).
In light of the disruptive construction, LA Commons is using arts & culture to foster ownership and pride among longtime residents, as well as a long-term economic development strategy for local businesses. As Karen Mack of LA Commons explains, "every neighborhood is fantastic and we just need artists to unleash the stories within them."
Community leaders first began by collaboratively selecting artists to engage with the community. Despite the fact that artists from around the world applied for the position, the panel chose local artists from Hyde Park who could personally relate to and understand the community.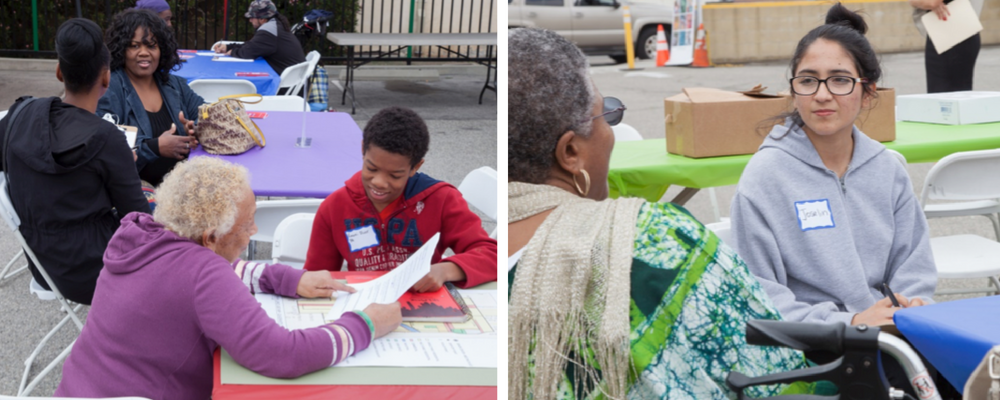 Hyde Park residents gathered at "The Heart of Hyde Park" free event to tell stories, write, and eat together to celebrate the existing community living in the neighborhood, share stories about the neighborhood, and to brainstorm ideas of what a better future for Hyde could look like.
Artists Moses Ball and Dezmond Crockett facilitated the Stories Summit where Hyde Park residents shared their experiences living, working, and growing up in the community. Mack says that the Summit helped "fill a hole in the heart of the community that needs to be healed." The artists initially collaborated with youth, mentors, and other community members to create non-visual and temporary art, but the projects gained so much enthusiasm that the community is determined on creating permanent visual art pieces, too.
Permanent creative placemaking projects that are currently in the works include light pole medallions and a mural, as well as an ambitious 1.1-mile long installation called Destination Crenshaw, led by Councilmember Marqueece Harris-Dawson, the architectural firm of Perkins + Will, LA Commons, and other community organizations. The project will culminate in an outdoor museum adjacent to the Crenshaw/LAX Line that will celebrate Hyde  Park's rich Black identity.
Check out this video of youth working on the Hyde Park Mural from LA Commons.
Indianapolis
When it comes to transit, Indianapolis has had some inspiring recent successes—from passing a local transit ballot referendum in 2016, to securing $75 million in grant funding from the Federal Transit Administration (FTA), to starting construction on an all-electric bus rapid transit (BRT) line through the city and county.
Today, a coalition of nonprofits and public agencies is working to ensure that all of Indy's residents—independent of zip code—get the most out of the city's investments in transit. With Indianapolis ranked as one of the most economically immobile metro areas in the country, there's a strong desire to see BRT and improved bus service help address residents' poor access to jobs, grocery stores, and community institutions.
An important component of improving access is the creative placemaking that was included in the Marion County Transit Plan. Building off of the city's intensive outreach that led to successfully passing that transit plan, a cohort of artists have partnered with Transit Drives Indy and the Arts Council of Indianapolis to work with communities along the planned bus routes. The artists are primarily focused on using art to build excitement for and familiarity with IndyGo's future Red and Purple BRT routes.
In order to create a culture of public transit ridership, the artists are working to engage communities along the planned Red and Purple lines through a multi-year creative placemaking program in advance of the routes' construction, which starts this summer. Through storytelling, videography, signage, and other creative mediums, artists are working to promote public transit in even the most isolated and auto-dependent communities.
Each of the artists bring their own unique skills and experiences to each project. Big Car Collaborative is using wayfinding to highlight destinations, like schools, pharmacies, recreation centers, and grocery stores within a mile of the four Southside transit stops. Sapphire Theater Company (STC) is using visual and performance techniques to help people imagine themselves in alternative scenarios—since many of Indy's residents have never ridden public transportation before. STC is using theatre to help residents act through the initial fear of sitting next to a stranger on the bus or being lost and not knowing if you're heading in the right direction.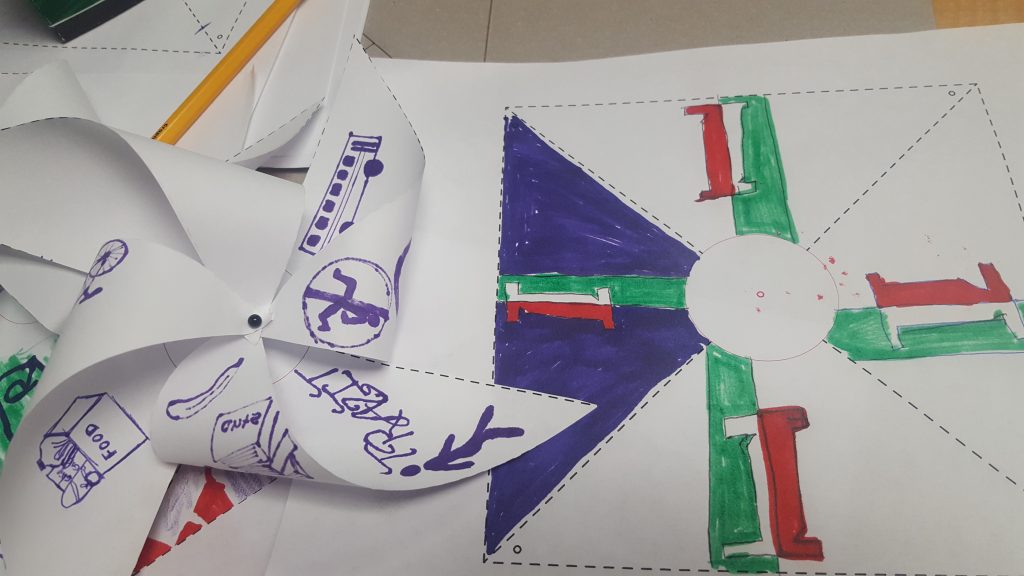 Purple Line artist, Wil Marquez of w/ Purpose, leads a workshop to make pinwheels as a tool to help communities think about how the upgraded transit system will improve their access to necessities and opportunities.
Julia Muney Moore, Director of Public Art at Indy's Arts Council, notes that the selected artists all have diverse creative mediums and started out with varying degrees of experience in community-based arts. The artists met regularly during the development phase of their projects, which helped the artists learn from each other and build their capacity to work at the intersection of civic engagement, arts, and transportation.
Read more about what the artists are doing around the soon-to-be bus stops here.
Curious about what creative placemaking looks like 'big-picture'?
This is not the first time that T4America has worked directly with cities interested in using art to produce better transportation projects. Three years ago, T4America teamed up with several other cities, as well as a Portland-based non-profit, the Asian Pacific American Network of Oregon (APANO), to help build arts-based engagement in the Jade and Division-Midway districts of Portland.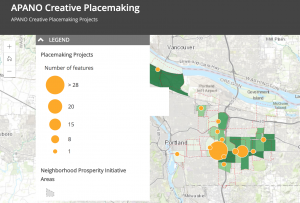 Over a two-year period, more than 20 creative placemaking projects—focusing on issues like transportation, anti-displacement, economic development, and social justice—covered 23 neighborhoods in North, Northeast, and Southeast Portland. Check out this interactive placemaking map that was created in partnership with the Portland State University Geography Department.