Many of the 24 cities in our Smart Cities Collaborative are currently knee-deep in pilot projects or a flood of new mobility services. Their direct and ongoing experiences helped shift the conversation from theory to practice during a two-day meeting of the Collaborative in Seattle last week.

It's only been three months since we were in the same room together, but the rapid introduction of new mobility services has continued rapidly across the country. A whole new batch of cities—including Atlanta, Austin, and Minneapolis within the Collaborative—have been managing the introduction of dockless bikeshare systems and electric scooters. Cities like New York and Washington, DC have introduced new ways to regulate transportation network companies (TNCs) like Uber and Lyft, and others—like West Sacramento—have launched microtransit pilots.
During this meeting at the Seattle Central Library in downtown Seattle, it quickly became clear that the tone, pace, and feel of this year's Collaborative is much different than last year's. In part because of the size of this group—over 75 participants from 45 agencies representing 24 different communities—and in part because of the diversity of their projects and because of where each city is in their process. During our first year, many cities were still wrapping their heads around these new mobility options and trying to better understand emerging technologies.
This year, almost every participant, agency, and city has at least one project, policy, or permitting process they're managing, developing, or have recently passed. This direct experience has helped moved the conversation from theory to practice with more in-depth, detailed discussions on performance metrics, data sharing, street design, pricing, and more.
Getting the ball rolling with data
Los Angeles Department of Transportation (LADOT) kicked things off in Seattle with a session about their Transportation Happiness metrics, a new process they're piloting in an effort to measure user experience across the city's transportation network and help them bring a human-centered focus to their decision-making process. LADOT released draft metrics last month and used this meeting to host small group discussions with other cities to review their goals and guiding principles, refine their proposed metrics, and help them brainstorm additional sources of data that would speak to each metric.
The Seattle Department of Transportation (SDOT) is in the midst of reevaluating its own data processes. Benjie de la Peña, SDOT's Chief of Strategy and Innovation, explained how they are starting with a thorough accounting of all the information that's flowing in and out of the department, and using that to inform where and how it needs to evolve or adapt for new mobility services.
This conversation spurred an important and necessary discussion about developing data-sharing standards for new mobility services. These services—like TNCs, scooters, and automated vehicles—often launch and scale rapidly, affecting everything from congestion to safety to equity. But, local governments often aren't receiving the right data (or any data) from private mobility providers, resulting in a lack of information and insight into how these modes are truly impacting the community.
One of our goals during this meeting was to help cities identify data these modes are generating and then articulate which data would be most useful for cities to better understand their impacts. To start, we broke participants off into small groups and identified a comprehensive list of data being generated by each service, determined which data is most important to collect, and which metrics these data apply to in order to better decipher the impacts of these services.
Over the course of the next few weeks, T4America will compile this information, identify the consistencies across each service, and codify a set of shared data standards that any city can use with public and private mobility providers as they operate, procure, or permit mobility services.
Like the Denver meeting, we're continuing to prioritize equity in every project
While new mobility services have the potential to make cities more equitable and improve accessibility for everyone (as we explored in this post), if cities aren't careful, they could instead make matters far worse.
To learn more about proactively harnessing the positive potential of new mobility platforms, we were fortunate to have Naomi Doerner, Seattle Department of Transportation's (SDOT) Transportation Equity Strategist, along with two members of our own team, Emiko Atherton, the Director of the National Complete Streets Coalition and Ben Stone, Smart Growth America's Director of Arts & Culture, to lead a conversation on equity strategies in transportation.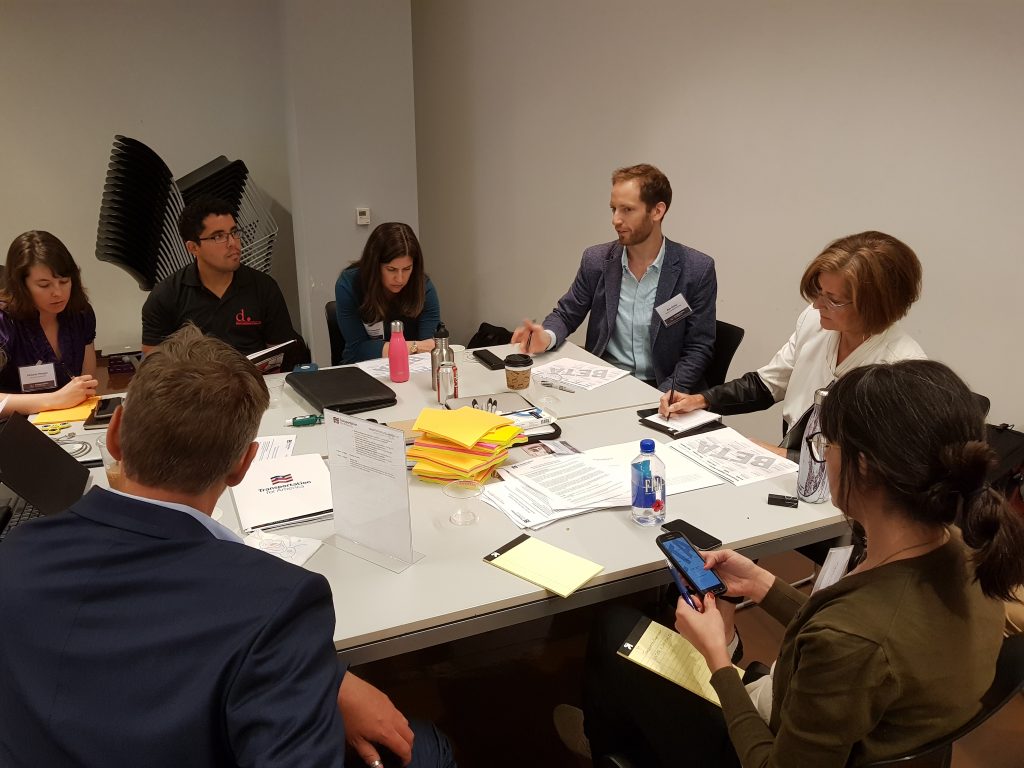 Ben and Emiko spoke about the importance of engaging the community at every step of the planning and implementation process, and challenged participants to think about how their communities think about equity and what they could be doing better. Naomi provided an overview of Seattle's Transportation Equity Program, which conducts outreach on how the city can provide affordable and accessible options to communities that need it most, provides discounted carshare, and helps residents access transit through discounted fare cards.
Closing it out with street design and pricing
The morning of our second day focused on the impacts of new mobility services on street design. We heard about how cities around the country are updating their processes to account for all the new demands on the right-of-way. Participants from Santa Monica, Boulder, and Pittsburgh shared how they are implementing new street designs, how they're handling community engagement, and what to do when a street, arterial, or corridor doesn't easily fit into these traditional categories.
It was a good lesson in how important it is to engage the community, understand their desires and concerns, and involve them in the hard choices necessary when redesigning the street. Adding to this discussion, Dongho Chang, Seattle's Chief Traffic Engineer, detailed the work he's led over the past decade and shared specific examples of how they've used new street designs to increase safety, reduce accidents and fatalities, and increase transit and other mobility options. (Check out his twitter feed, by the way, it's superb!)
We wrapped up by talking about pricing, facilitated by a number of experts with experience leading projects that utilize dynamic pricing models. They shared the political, technological, and operational challenges each pricing program has faced throughout their development and operation.
Next stop, Pittsburgh
Seattle proved a perfect backdrop for the meeting—myriad new mobility services operating alongside a heavy commitment and investment to high-capacity transit, and cutting edge street design. And this meeting showed why the work of the Collaborative is urgently necessary: so many cities are knee deep in pilot projects or scaling up new services and the pace of change is continuing to accelerate. But these leaders from 24 cities are clearly ready to continue tackling these challenges and are committed to working together to do so.
Based on the enthusiasm they have shown during the first two meetings, we have no doubt it will be the same when we meet next in Pittsburgh this September where we'll dive even deeper into these topics once again.