Though we'll be waiting to see where the federal chips land with President-elect Donald Trump's incoming administration and the congressional committee changes, Tuesday night's biggest transportation news was the fact that local voters across the country approved scores of ballot measures that raise new local money for transportation improvements.

View the results on the slate of measures we were tracking here.
Representing more than $150 billion of the more than $200 billion in local transportation measures on Tuesday's ballots, residents of Los Angeles and Seattle approved measures that will make enormous decades-long expansions in local and regional transit. In L.A.'s case, an overwhelming number of voters (nearly 70 percent) said "YES" to investing more of their tax dollars in public transit, approving Measure M to add a half-cent to the sales tax and extending 2009's Measure R half-cent transit tax for perpetuity.
In an election where President-elect Trump played heavily to economic concerns, the residents of Indianapolis — enabled by legislation actually signed by VP-elect Pence — voted to increase their income taxes to improve and expand their historically subpar bus service.
Indy's plan will create new connections and dramatically improve service for current customers, while also starting the buildout of an impressive bus rapid transit network to connect yet more neighborhoods and people to opportunity. In Raleigh (Wake County), voters approved a half-cent sales tax for building out the regional transit network. Planned service, including 20 miles of new bus rapid transit routes and new commuter rail, is expected to quadruple transit ridership in the county in the next ten years.
It's worth noting that local leaders from both Indy and Raleigh spent a year in the Transportation Innovation Academy we conducted with TransitCenter back in 2015, laying much of the groundwork for these successful campaigns.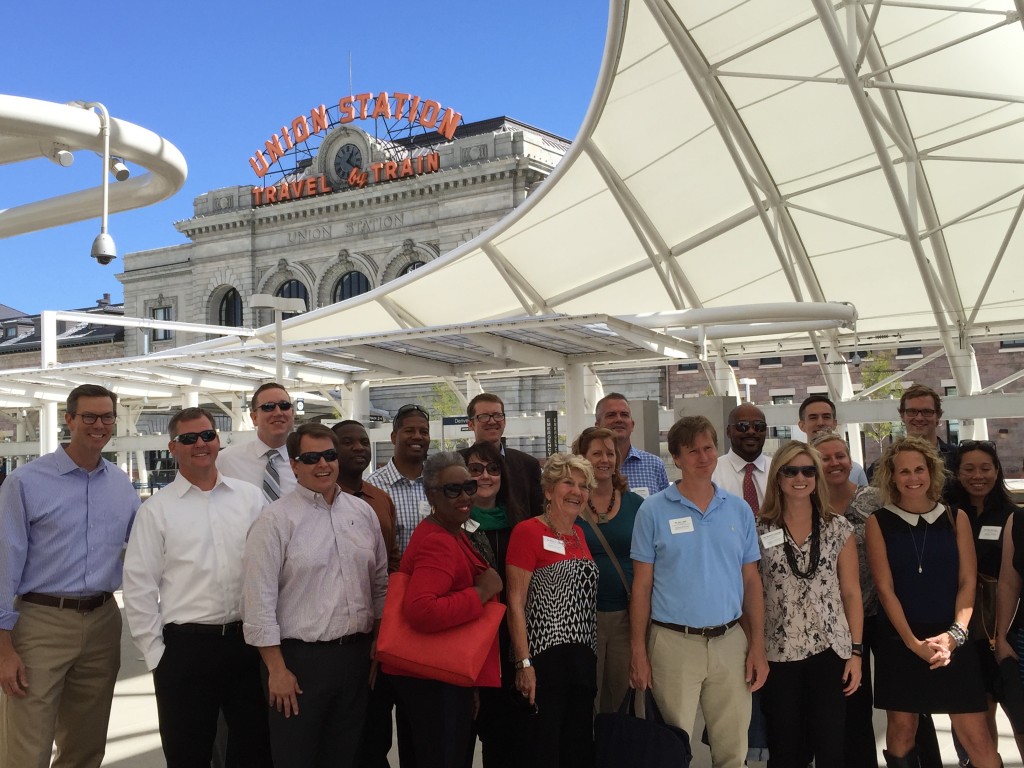 2015's Transportation Innovation Academy class of Raleigh, Indy and Nashville.
In Atlanta, the city residents within Fulton County approved a half-cent tax for MARTA, their transit system, to raise $2.5 billion to fund subway extensions, hefty improvements in bus service, new light rail on the Beltline project which will eventually encircle the city with transit, a walking/biking trail and linear parks, and improvements to bike and pedestrian connections near stations and bus stops.
The federal level
As for the incoming presidential administration, President-elect Trump's 100-day plan includes an infrastructure push, which "leverages public-private partnerships, and private investments through tax incentives, to spur $1 trillion in infrastructure investment over ten years. It is revenue neutral." In his acceptance speech last night, he said, "We are going to fix our inner cities and rebuild our highways, bridges, tunnels, airports, schools, hospitals. We're going to rebuild our infrastructure, which will become, by the way, second to none. And we will put millions of our people to work as we rebuild it."
There's no clear roadmap of what's to come in January 2017, or what any Trump-backed infrastructure package would look like. According to this piece in Yahoo News, there's an indication that "Trump's plan would rely heavily on private funding, with the government encouraging investment through a tax credit that would raise the return to investors and lower the cost of borrowing to states and municipalities that would oversee the projects."
Stay tuned for more information over the next few weeks, and don't miss Thursday's livestream discussion at 12 p.m. Central time on Facebook Live. If you weren't able to tune in, you can view the full video of the livestream here: https://www.facebook.com/transportationforamerica/videos/10157670655470117/
11/11 Addendum: Here's the Director's Note from T4America Director James Corless in our post-election newsletter:
Without a doubt, the outcome of Tuesday's presidential race was a surprise. But there are similarly surprising — and encouraging — trends in Tuesday's local elections that illustrate part of the path forward for cities and towns eager to continue making smart transportation investments.
Indianapolis, covered above, is a great example.
Deep in the heart of a state that went solidly for President-elect Trump and also contributed the Vice President-elect to the ticket, the residents of a large county that includes a wide spectrum of incomes voted to increase their own taxes for transit. And the improved and expanded transit service will pay dividends first and foremost to the lower-income Marion County residents that depend on the current service or would benefit the most from better connections to jobs and opportunity.
As we move forward and look for ways to build bridges and unify our communities after an unusually divisive national election, it's important to find common ground and ways to work together to make our communities the best they can be. Indy's strong local coalition included the Indy Chamber and numerous faith-based groups and churches. That's a good roadmap for coming together to make the investments we need to build prosperous local economies and ensure that everyone can connect to opportunity.