Delegations of city leaders from Nashville, Raleigh and Indianapolis wrapped up the latest two-day Transportation Innovation Academy workshop in Denver last week, where they learned firsthand about the years of hard work that went into Denver's economic development plan to vastly expand the city's transportation options, including new buses, light rail and commuter rail.
The Transportation Innovation Academy is a joint project of Transportation for America and TransitCenter.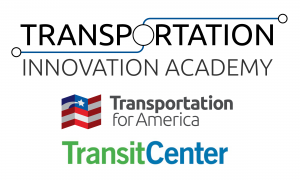 The three delegations saw the tangible fruit of Denver's successful transit investments first laid out by their FasTracks plan in the early 2000s, and they learned how Denver went about the monumental task of building support and raising the funding required to make it all happen.
Analyzing Denver's success so closely provided participants an opportunity to evaluate their own ongoing city and/or regional campaign efforts, and all were clearly struck by just how much work is plowed into the earth before you taste the fruits of success. It's do-able and the benefits are sizable, but the task is not easy or quick. The participants know they have a challenge on their hands, but they were encouraged to see how Denver made it all happen and are taking imminently practical lessons back home to help build their coalitions and engage supporters back home.
From the very first discussion, the academy participants learned about the unique factors in Denver's success. One factor was education — Denver succeeded in their ballot campaign by throwing out assumptions about who would and would not support transit. Polling and focus groups revealed who support Denver's efforts and why. Women over 60 and suburban drivers — groups often assumed to be neutral to or against transit — became key supporters. On the other hand, it could not be assumed that transit riders would support the plan.
In the end, leaders from these three cities saw the possibilities of reaching out to key constituencies who haven't been engaged in their efforts so far.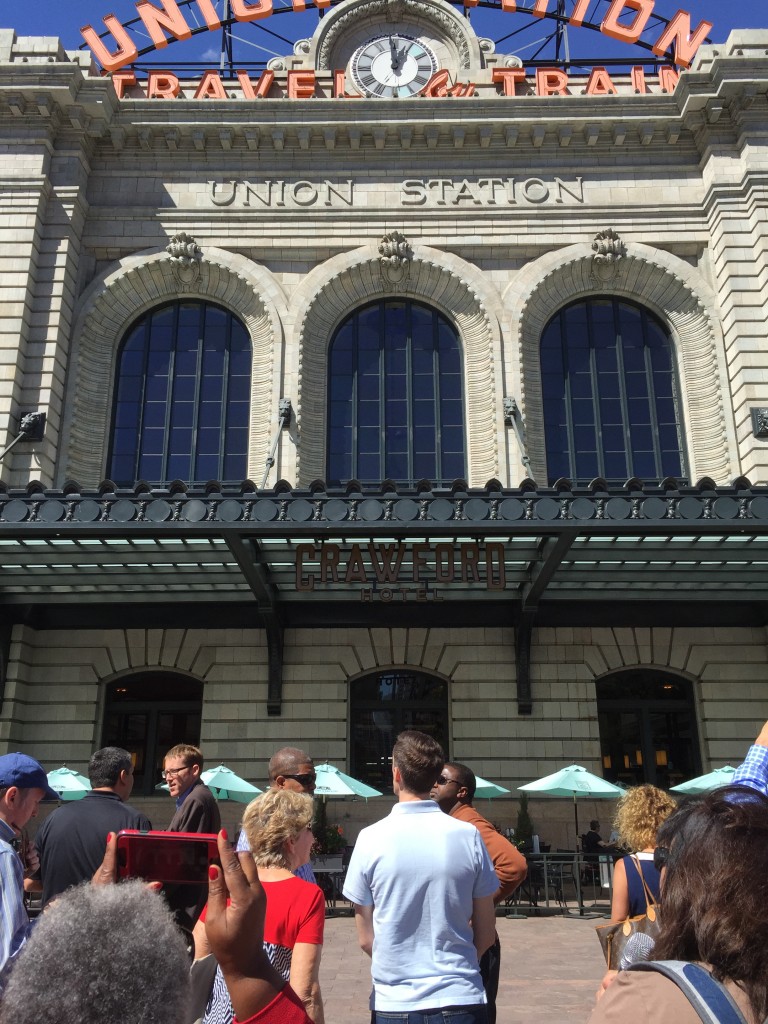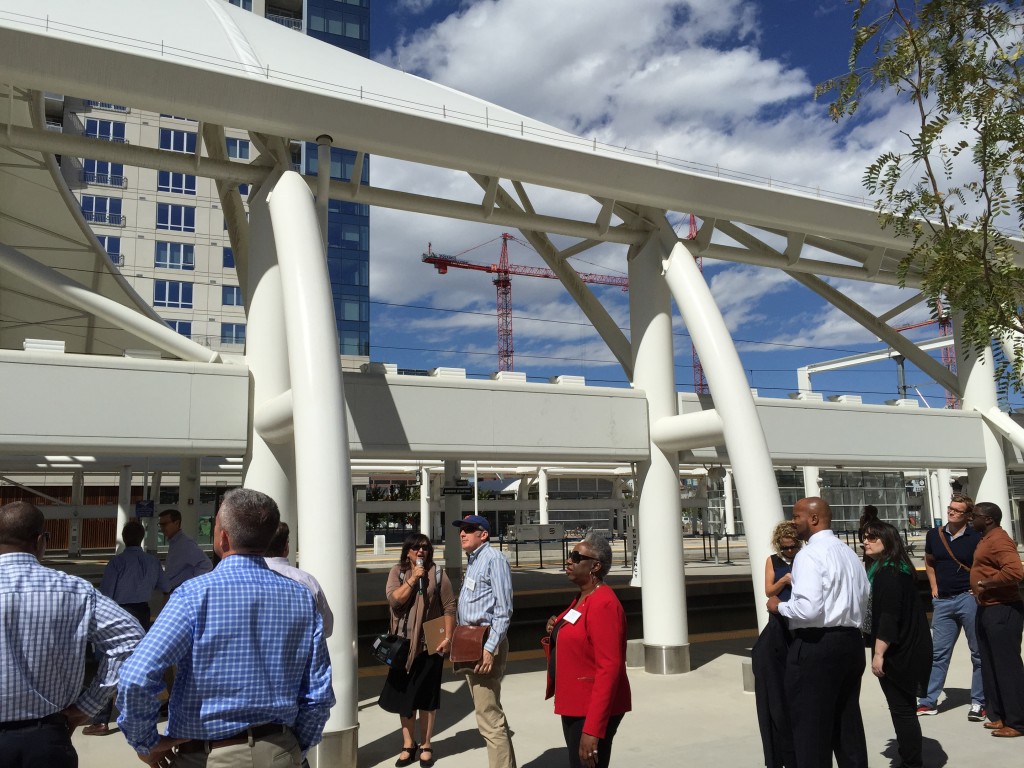 With years of actual construction behind them at this point, participants also experienced Denver's story in a tangible way. They ooh'ed and aah'ed inside the jewel of the new system — the redeveloped Union Station in downtown — took a ride along a new light rail line, and toured a mixed income housing development constructed by MetroWest Housing Solutions — the former city public housing authority which the City of Lakewood has reimagined and reconstituted as an opportunistic community developer. That project and the surrounding 40W Arts District are using arts and creative design to engage the community and build support for new projects. The delegates learned that one of the most vocal opponents to the arts district and development quickly changed his tune when the city sponsored a mural on his industrial building.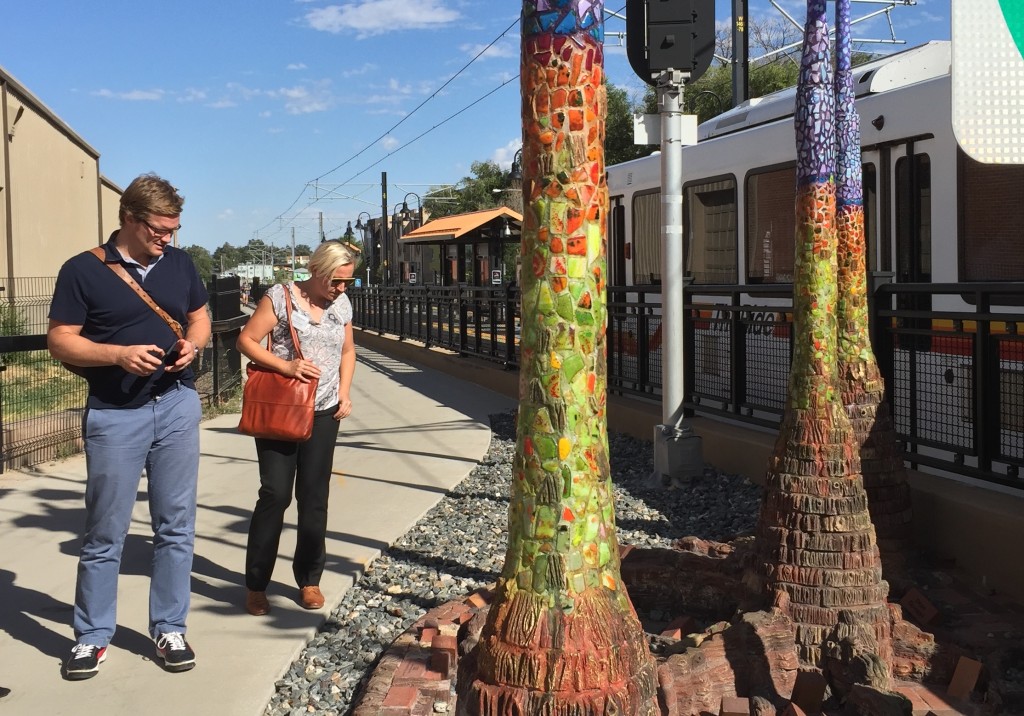 A key to all of this success is the way Denver's regional leaders stayed together as a region throughout the first failed ballot measure for transit, the successful FasTracks ballot measure and the subsequent drop in anticipated revenues brought on by the recession that made implementation a challenge.
Mayor Bob Murphy, mayor of the suburban city of Lakewood and past chair of the Metro Mayors Caucus, showed how that cooperative forum among mayors — from Denver, major suburbs, and even towns as small as 500 in population — builds cohesion. Cities in the region don't try to poach jobs and industries from neighboring cities, but work collectively at economic development across the region. "Sometimes we are competitors," Murphy said, "but we are [ultimately] colleagues."
The leaders from Indy, Nashville and Raleigh will meet in Nashville for the last session of this year's Academy in December, where they'll build their own action plans for campaigns in their regions, while also learning more about Nashville's growth and development, its challenges in building bus rapid transit and how they're moving forward despite a few setbacks.
While only these three regions are participating this year, they're emblematic of a burgeoning group of mid-sized U.S. cities that are either in the midst of or planning new transit service to meet the demand and help them stay competitive in the race for talent.
This post was written by Michael Russell with contributions from Dan Levine and Stephen Lee Davis.