The success of Uptown Normal's (IL) multimodal station as a catalyst for redevelopment was center stage as Normal Mayor Chris Koos testified before the House Oversight Committee last week.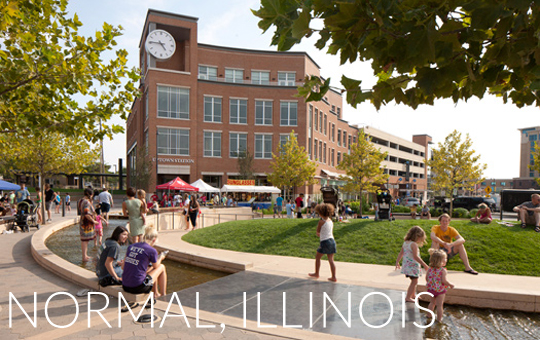 The Town of Normal is located on the 284-mile Chicago-to-St. Louis passenger rail corridor, which received federal support to increase service, reliability and speed (up to 110 miles per hour). Additional federal support was paired with state and local resources to build a brand new multimodal station to replace an old, dilapidated Amtrak station in downtown (they call it "Uptown") Normal, Illinois.
That new multimodal station has been the anchor of a new economic boom in Uptown Normal. (Read T4America's more detailed profile of Normal's can-do aspirations and the multimodal station here.)
While years of tireless work by local officials to make the station a reality were fundamental for success, it wouldn't have happened without support from federal transportation programs.
That support primarily came through the U.S. Department of Transportation's TIGER grant program. The House Committee on Oversight's Subcommittee on Transportation and Public Assets, in its role as overseer of the federal government, held a hearing on July 14th titled Lagging Behind: the State of High Speed Rail in the United States to cover the success and failures of the federal high-speed passenger rail program.
Mayor Koos joined the witness bench alongside Federal Railroad Administrator Sarah Feinberg, and others. While there were a range of opinions about the overall success of the federal government's high-speed rail program, everyone in the room made it clear that our nation's passenger rail system is an important asset for this country and we should do more to improve and expand the network where appropriate.
The "only Normal mayor in America" was greeted with friendly introductions led by his hometown Representative Rodney Davis (R-IL) and the ranking member of the subcommittee, Tammy Duckworth (D-IL). Rep. Davis has firsthand knowledge of the success of Uptown Normal station and its surrounding development, as his congressional district office is located in the Uptown Normal government building.
Transportation-oriented development has been integral for Normal as the city "has experienced growth, but a lot of that growth has been centered around the infrastructure," cited Rep. Davis.
None of this would have been possible without a $22 million TIGER grant received in 2010. The previous station was inadequate and ill-equipped for the ridership demand, leading to the station's unfortunate moniker of "Amshack" that was bestowed upon it by many residents over the years.
This all changed with the completion of Normal Illinois' Uptown multimodal station in 2012. All told, the $49.5 million project received $22 million from TIGER, $10.6 million in additional federal funding and more than $13 million in state and local contributions.
The public funding has spurred significant private investment in the Uptown Station area.
"Thus far, public investment of approximately $85 million in federal, state, and local monies in the transportation arena has generated over $150 million in private investment in the Uptown district," Mayor Koos told the subcommittee last week. An additional $45 million in private investment is planned.
"Uptown Normal is now a vibrant neighborhood with residential, commercial, and entertainment opportunities. Local transit ridership is up 34 percent and transit oriented development continues to abound," Mayor Koos said.
Normal's success doesn't have to be so rare.
Predictable funding for TIGER and passenger rail programs provide great economic benefit for cities large and small. The FAST Act took great strides by including the passenger rail title in the transportation authorization for the first time. Yet, because these programs are entirely discretionary, their funding is in question every year during the annual appropriations fight.
Mayor Koos provided the House Oversight Committee a glimpse into what is possible with a strong federal, state, local and private partnership, and we hope the members of the committee will work across the aisle to provide more communities the opportunity to follow in the transportation footsteps of Normal.