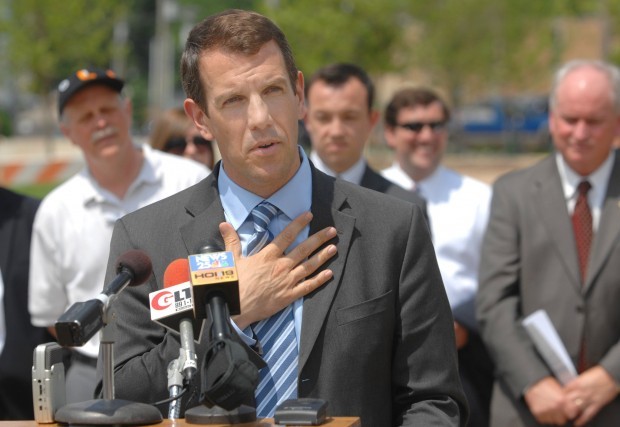 T4 Director James Corless speaks in Normal, Illinois on the site of the new multi-modal transportation hub. Photo courtesy of the Bloomington Pantagraph.
Last week, Transportation for America Director James Corless (right) was in Normal, Illinois, a town of 45,000 and recipient of a $22 million grant for a new city transportation hub, touting the project as a model for smarter federal transportation spending in the next six-year transportation bill.
The TIGER grant program, created in the American Recovery and Reinvestment Act of 2009, doled out merit-based federal funding for projects that merge transportation with economic development, the environment and other criteria. This new multimodal transportation center in Normal received a $22 million grant from the first round of TIGER grants earlier this year, helping to bring Amtrak trains, city buses, regional buses and taxis all in one centrally located building.
Normal Mayor Chris Koos said making uptown accessible for walking, biking and public transit was a key goal of the redevelopment effort, allowing more residents a place where they could live, eat and shop. The project also played a crucial role in attracting the Marriott Hotel and conference center, both walking distance from the site.
Other elected officials were just as effusive, with State Representative Dan Brady, a Bloomington Republican, calling the project a "shot in the arm for the economy."
James joined 25 local stakeholders, including Representative Brady and Mayor Koos, at a press conference last week to demonstrate local support for the transportation hub. Attendees included local labor leaders and representatives from the McLean County Chamber of Commerce, Amtrak and the Bloomington Normal Economic Development Council. Staff members for Illinois Governor Pat Quinn and local Congresswoman Debbie Halvorson were also on hand.
"We think the transportation bill needs momentum and vision," Corless told the participants. "The reason we are here today is because we think that what Normal is doing is exactly that type of vision and kind of momentum that will give the transportation bill the kick in the pants it really needs."
Normal should be the new "norm" for smaller cities, a example of livable and sustainable development resulting in real job creation and investment from businesses both large and small. Mayor Koos himself has been owner and operator of Vitesse Cycle Shop/Often Running in Uptown Normal since 1979. Normal's leadership demonstrates to smaller cities that focusing on increased transportation options, investing in their town and city cores and expanding biking and walking can improve quality of life.
"We celebrate this type of spending," said Brian Imus, state director of Illinois PIRG. "The multimodal center is an example of how to invest in a smart way."
He added, "the next federal (transportation reauthorization) bill should encourage similar projects." Transportation for America agrees, and is working toward a new bill that makes these types of transit hubs more easily funded and ready to move.
If projects like Normal's can truly become the norm, that would be progress indeed.
A number of local media covered this event, including the Bloomington Pantagraph, WMBD and TV10 at Illinois State University.
UPDATED: We have some photos from the event on our Flickr page, and you can watch this short video of James Corless' remarks at the event. Apologies for the quality of the audio, which is fairly quiet.