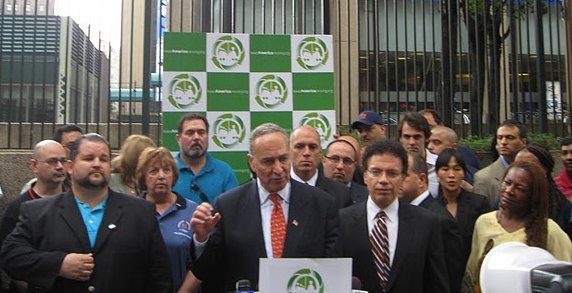 Sen. Chuck Schumer was joined by TWU Local 100 President John Samuelsen on the left and Councilman James Vacca on the right.
Last week, New York Senator Chuck Schumer, a top Democrat in Washington and influential policy player, spoke out forcefully in favor of the Public Transportation Preservation Act, a $2 billion lifeline for the nation's transit agencies.
The Act would provide emergency operating aid for buses, subways and other systems throughout the country and would give a significant boost to the tri-state region – hundreds of millions  of dollars would reach the Metropolitan Transportation Authority in New York, New Jersey Transit and neighboring systems. Schumer is joined by his fellow Senators from the tri-state area – Kirsten Gillibrand of New York, Frank Lautenberg and Robert Menendez of New Jersey and Chris Dodd of Connecticut – in supporting this crucial legislation.
Schumer joined union members and transit advocates at New York City's Penn Station last Friday, June 11, declaring that "mass-transit is the life-blood of our city." The Act is gaining co-sponsors by the day, including Alaska Senator Mark Begich and Oregon Senator Ron Wyden.
See Steven Higashide's write-up at the Tri-State Transportation Campaign for more information and a run-down of the unions and advocacy groups participating.
And if you haven't already, tell your Senator to support the Act today and join as a co-sponsor.