Voters in Pinellas County, Florida, which includes St. Petersburg and borders Tampa, have the chance to approve a one percent sales tax next week that will raise $130 million per year. The money will kickstart a 24-mile light rail system, improve and expand their bus system by 65 percent, build bus rapid transit lines, and increase important regional connections.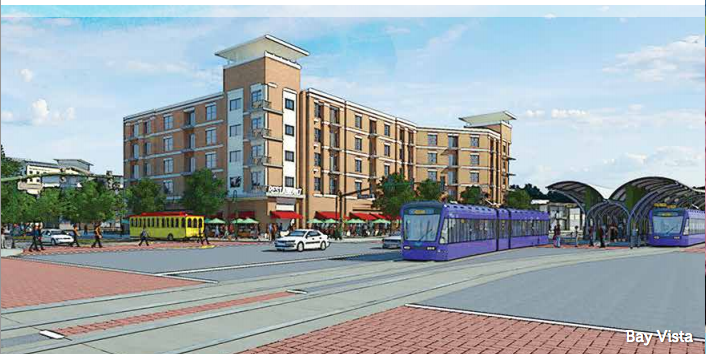 Passage would be a major step forward for St. Petersburg and the Tampa Bay region, coming four years after a similar measure in neighboring Hillsborough County narrowly failed.
The plan, known as Greenlight Pinellas, would make a key change to the county's current funding mechanism for their bus system, erasing the transit millage on property taxes and replacing it with a one percent sales tax. That's a key change, as it shifts the burden of paying for transit from property owners only, to one that's shared by the large numbers of tourists and visitors visiting the region. As much as a third of the revenue would eventually come from tourists, according to Greenlight.
The Tampa Tribune endorsed the measure, especially the aspect to shift the funding burden away from solely Pinellas property owners. "Tourism is at record levels as the recession fades. It's time the county adopted a comprehensive mass transit vision reflecting that dynamic growth."
The plan would almost immediately improve bus service and increase frequency, and will eventually expand service by about 65 percent, adding new weekend and night service, as well as more frequent service to job centers like Tampa International Airport and downtown St. Pete and Tampa to better connect employees to jobs.
Rapid bus and BRT service will be added on six of the busiest, most productive corridors, and work will begin on a 24-mile light rail line that runs across the county, from Clearwater in the northwest, to downtown St. Pete in the southeast. (Pinellas will still have to assemble other local, state and federal funding to complete the $1.6 billion rail project, but importantly, this measure would also raise enough money to cover the operations of that line once it is up and running.)
The business community has been full-throated in its support of the measure. As of October 10th, supporters had raised over $1 million to support the campaign. The Tampa Bay Partnership, the St. Petersburg Chamber of Commerce, Sykes Enterprises, Bright House Networks, TransAmerica Insurance and Derby Lane, the Tampa Bay Rays and Lightning, and numerous other local small businesses are supporting the measure.
Michael Kalt, a senior vice president with the Tampa Bay Rays baseball team, told Greenlight that, "Transit is really the linchpin to economic success and improving the quality of life in any major metropolitan area."
The Tampa Bay Times supported the measure in a strong op-ed. "Tampa Bay is the largest metropolitan area without a viable transportation system that includes bus service and some form of rail." This project, if approved, will be the first step in "correcting a weakness" of the Tampa Bay region, the editorial continued. Their columnist Joe Henderson also argues for the passage asking his readers, "How much longer does it take you to get from Point A to B now than it did five years ago? You think an extra penny in sales tax is expensive? Try measuring the loss when businesses take their new jobs elsewhere because of the congestion."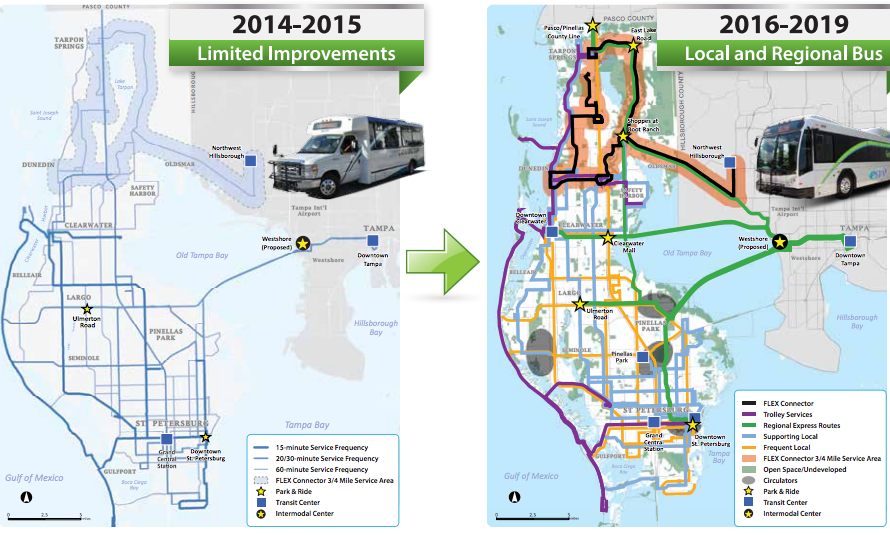 The project has major political support in addition to the private support, with endorsements from the mayors of the four largest cities and Representative Kathy Castor (D-FL), who said, "This is an active community; this is a community on the go, but we need better transportation options." Encouraging her constituents to vote yes, she said, "When you do that, you will be making an investment in yourself."
The organized opposition, No Tax for Tracks, worries about the burden of increasing the sales tax one cent, bringing it to a total of eight percent. They are also concerned about low ridership, though Pinellas Suncoast Transit Authority has reported record boardings the last few years on its buses.
Perhaps no one will be watching this measure more closely than their counterparts across Tampa Bay.
It's no coincidence that some of the strongest support has been coming from leaders there in Tampa and Hillsborough County: They have high hopes for a referendum of their own to expand existing transit service, build new light rail and some new regional connections, especially after seeing a measure fail four years ago. This new light rail line from Clearwater to downtown St. Petersburg could be the beginning of so much more.
"Perhaps, the rail line represents what could be the start of a regional system across the Howard Frankland Bridge that might one day link the airport, the University of South Florida, the commercial hubs in Gateway, West Shore and downtown Tampa," said the Times editorial.
Stay tuned next week to hear the results of the voting.
—
Pinellas County is one of a handful of state and local measures to raise revenue to invest transportation. For more information on the measures we're keeping a close eye on next week, make sure to check out our full Transportation Vote 2014 page.

To better serve the states and localities that are currently campaigning (or hope to campaign) for smart transportation investments, we are hosting the Capital Ideas Conference in Denver on November 13-14th. There's still time to register, so learn more today.
If you want to know more about ballot measures related specifically to transit, turn to the Center for Transportation Excellence, who tracks all of those measures and aggregates numbers on results nationwide on an ongoing basis.