Before a packed room on Capitol Hill, local leaders from three very different communities shared one very specific message with a handful of Congressmen and at least four dozen staffers: If Congress doesn't act to shore up the nation's transportation fund before it goes insolvent later this year, their cities and communities would bear the brunt of the pain.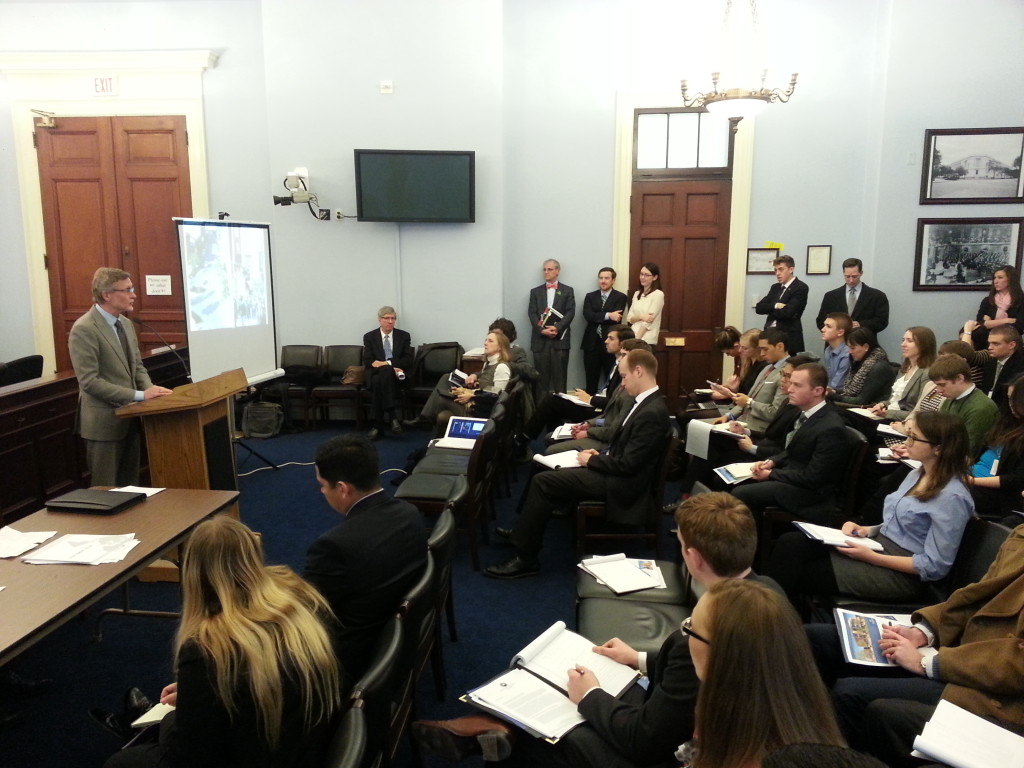 Along with Reps. Richard Hanna (R-NY) and Earl Blumenauer (D-OR), Transportation for America helped to bring local leaders to Washington to talk about what the looming insolvency of the Highway Trust Fund means for their communities. As we've noted here, states and local governments stand to lose nearly all access to federal transportation support next year if Congress doesn't act to shore up the nation's transportation fund sometime before the end of the summer. (The details of which were explored at length in a presentation by the day's last panelist, Sarah Puro, Principal Analyst at the Congressional Budget Office.)
In between appearances by Reps. Blumenauer and Hanna, as well as comments from Rep. Jim McDermott of Washington and Rep. Rodney Davis of Illinois, three local officials painted pictures of their ambitious transportation plans, and what the lack of federal investment would mean for them.
Normal, IL, Mayor Chris Koos shared the story of how city leaders revitalized their town's core — and how federal support was the only way they could make it a reality. (Read that full story here.) He noted that the private sector has since followed through with millions in new investments, but that they were unwilling to invest in Uptown Normal until they knew the public sector was truly committed.
Rep. Rodney Davis, a Republican from the 13th District that includes Normal, came up and offered his support for Normal Mayor Chris Koos and expressed pride in this project in his district — a model for how the federal government could support a smart local vision that also had strong local and state funding and support.
While Mayor Koos was speaking in one hearing room, Transportation for America director James Corless was telling a different group of more than 20 members of Congress the same story from Normal, Illinois.
He was testifying alongside many of the transportation industry groups in an invitation-only congressional roundtable hosted by the House Committee on Transportation and Infrastructure to discuss the next transportation bill. He told the 20-plus members of Congress there, along with transportation lobbyists and advocacy groups, that because local economies are the heart of the American economy, the federal program should support more local initiatives like Normal's.
"Normal should be "normal," not the exception," Corless said.
While Normal is a small college town, Nashville, Tennessee is a much larger, booming metropolis. They've been adding jobs and people over the last ten years, and are expected to add a million more in another 20-plus years.
Marc Hill, Chief Policy Officer of the Nashville Area Chamber of Commerce, explained how the business community and the chamber got together years ago and recognized that congestion threatens that economic prosperity.
"Six years ago, the Chamber began focusing on transit as a top priority — second only to improving public education."
Why? They've certainly been inspired by watching and learning from some of their neighbors' mistakes. "We don't want to be another Atlanta. We don't want to start working on transit 10 years after we're in gridlock," he said.
The business community is leading the way for making bus-rapid transit a reality in Nashville — and they hope that The Amp's first line through the center of town is just the first component of what could be a wide-ranging regional bus-rapid transit system, the first of its kind in the South.
But, "there's simply no way a local community can pull off something like this without a federal partnership," he said. If the trust fund goes belly up and the federal contribution is curtailed for next year, Tennessee could be out $900 million and Nashville would lose $40 million.
Down in Florida, Tampa Bay is home to the 15th largest port in the nation and the closest to the Panama Canal in sea-miles. Charlie Hunsicker, director of the Manatee County Parks and Natural Resources Dept and also speaking on behalf of the Manatee Chamber of Commerce, urged the Ways and Means members to consider freight as they mull how to rescue the trust fund from insolvency.
"Ports constitute the most important first mile, or last mile, in world trade," he said.
The recurring theme today was clear: No matter how motivated and inspired, the American public and business community cannot do this alone.
Nashville is working on their local funding sources for The Amp, and hoping for the feds to support this region that's "an economic driver, not just in Tennessee, but for the mid-South," as Marc Hill put it. "There's no lack of will locally to invest to be a full partner, a majority partner, but we absolutely can't do it without that federal support."
Messages and stories like these will continue to flow into Washington, DC from cities and towns and counties and districts all across the country.
But the ball is in Congress' court, and especially the Ways and Means Committee that's responsible for funding a transportation bill. Without a solution to the funding crisis, writing great new transportation policies will be like crafting a beautiful saddle without the horse.
These local leaders are counting on Congress to come through for them.
—
Photos from the event