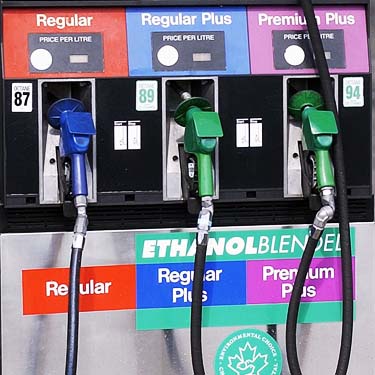 The higher gas prices become, the more likely people are to start looking for alternatives. And the shift has already begun.
Demand for mass transit is surging everywhere — from Nashville, Tennessee to Eau Claire, Wisconsin; Terre Haute, Indiana to Pasadena, California. Virginia Governor Bob McDonnell is encouraging his constituents to bike, walk or carpool at least once every two weeks. And, residents in Peoria and central Illinois started coordinating ridesharing schedules online.
In that same vein, the Las Cruces Sun-News, one of the largest newspapers in New Mexico, encouraged readers to consider new options in an editorial this week, opining:
The economic decision to choose public transportation over one's personal vehicle could turn into a positive for all concerned.

People who've never tried it may actually like it. And if a bus is going where they're going? Yes, they'll be more likely to continue using that mode of transportation. It beats paying almost $4 a gallon for gasoline, especially when the personal vehicle gets about 15 miles per almost $4.
Gas prices at or above $4 a gallon generate the need for 670 million additional passenger trips on transit systems, resulting in more than 10.8 billion trips per year, according to the American Public Transportation Association.
Bicycling has become a popular alternative, with new riders benefiting from recent investment in bike facilities and programs. Mirroring the increased demand for transit in 2008, biking increased 15 percent nationwide and 23 percent in the 31 largest bike-friendly cities that year, with a similar uptick occurring today, according to Peopleforbikes.org.
Last time gas prices topped $4 and demand for transit surged, cities with well-established public transit systems like New York and Boston saw increases in transit usage of 5 percent of more, while some of the biggest increases in demand came in areas less associated with transit, like the Southwest. But these are many of the same communities that lack the capacity for a large surge in ridership.
Often lost in the discussion is the fact that many people are stuck without realistic alternatives to pain at the pump: streets too dangerous to walk or bike, destinations too far away, no available transit service, no easy options.
Most of the talk in Washington has focused on the supply side of the gas prices equation — speculation, domestic drilling and the like. But a real-world shift in demand is happening right before our eyes. With the nation's comprehensive surface transportation bill overdue for renewal, this ought to lend greater urgency to the need for robust investment in an array of options to ensure no one gets stranded or left behind.