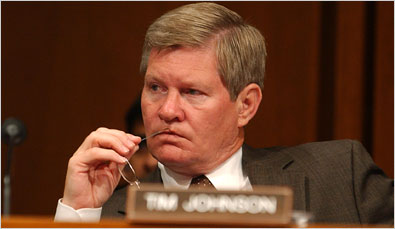 Gas prices in the U.S. continue to escalate and could hit $4.25 by Memorial Day, according to some projections. These spikes tend to hit smaller communities and rural areas particularly hard, as residents and businesses must travel farther and use more energy during daily activities.
While too much of the talk in Washington emphasizes gimmicks like grand jury investigations and "drill, baby, drill," some leaders have engaged with constituents on increasing transportation options, one of the most important steps we can take to relieve pain at the pump.
Senator Tim Johnson, a Democrat from South Dakota, recently conferred with the Brookings Area Transit Authority, which seeks additional funding and capacity to operate its 21 vehicles. Brookings has a population of 22,000 and is home to South Dakota State University.
Senator Johnson, who is currently serving as chairman of the Senate Banking Committee, noted that investment in transit systems is a vital economic development tool for many South Dakota communities. The system in Brookings faces the dual challenge of an aging population demanding more services and rising prices due to the spike in energy costs.
Brenda Schweitzer, the authority director, "noted that rising gas prices have increased BATA fuel bills by $2,000 just within the past month," according to the Brookings Register. The Register also reported that "the organization's out-of-pocket match for fuel is at $5,000 per month right now."
Johnson assured Schweitzer and other participants in a recent panel that he would use his clout in the Senate to push for a transportation bill that meets the needs of South Dakotans and sparse communities across the country.
"With reliable transit systems, we can strengthen our economic development by connecting people to medical services, schools, family and jobs," Johnson said on his website. "Meeting with people on the ground who deal with rural transit issues every day helps me as I work to ensure that the needs of rural communities are met."
The Banking Committee has particular jurisdiction over the transit elements of the next bill, which has been overdue for renewal since late 2009.
Photo: Roll Call