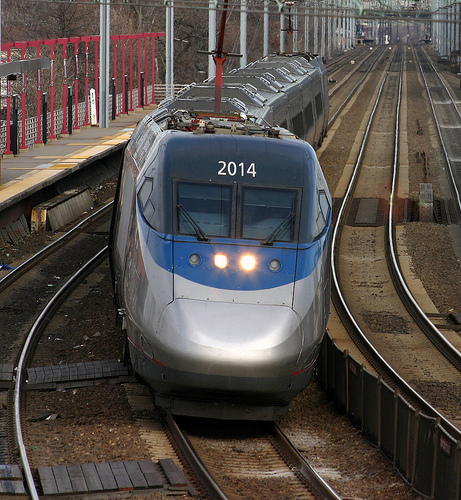 Originally uploaded by pgengler to Flickr.
The New York Times resolutely defended high-speed rail in an editorial this morning, characterizing the elimination of remaining funds for the program this fiscal year as "harebrained."
The budget deal reached by the White House and Congress zeroed-out the $1 billion allocated for high-speed rail in fiscal year 2011 and rescinded an additional $400 million that had been returned by Florida Governor Rick Scott. A previous agreement to keep the government running for an additional week had already included $1.5 billion in cuts.
Governor Scott weathered heavy criticism for rejecting the funds, including from fellow Republicans, and his administration has since acknowledged getting key facts about the project wrong in a presentation to the state Supreme Court.
The Times strongly opposed Scott's decision, but noted that his action has enabled other interested governors, including 11 Republicans, to put in bids. Transportation Secretary Ray LaHood has 90 proposals from 24 states to choose from, with a total price tag of $10 billion, and a total of $2.4 billion to distribute. The Times wrote:
Two areas stand out on that list: the Northeast corridor from Boston to Washington; and California, which has ambitions to build a high-speed rail system from San Francisco and Sacramento to San Diego. California voters have approved almost $10 billion in bonds for the project (which has an ultimate price tag of some $45 billion), but the state wants the $2 billion for an extension.
While supportive of California's efforts, the Times would like to see Amtrak's application for an upgrade to the Northeast corridor's Acela line receive top priority. Their $1.3 billion request would boost Acela's speed from 135 miles per hour to 160 miles per hour between Philadelphia and New York City, one of the busiest and most popular stretches in the country. And, New York submitted an application to clear a path for Acela through New York City's Penn Station, which more than 750 trains pass through daily.
USDOT has not yet announced when recipients will be selected.