Stories tagged with
detroit
Click on a story title to read that post. Posts are ordered chronologically from newest to oldest.
From state to town, Michigan takes strong steps toward a better transportation future
December 17, 2012
By Stephen Lee Davis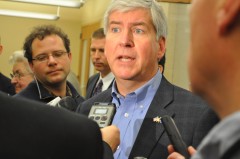 Perhaps no place illustrates the national positive trends in transportation at the ballot box (and state legislatures) better than Michigan, where citizens voted to raise taxes for transportation investments in cities and counties across the state, at least one anti-transit elected official was ousted, a Republican governor led the charge for regional transit investment in the state's biggest metro and when given a chance to bail in the name of "cost savings," voters doubled down on their existing transit systems.
Detroit Got Its Bailout
October 6, 2008
By Andrew Bielak
The New York Times editorial board wonders if Detroit's big three automakers will put their $25 billion loan from the federal government to good use by investing in fuel-efficient vehicles.
House passes $25-billion loan package for auto industry
September 25, 2008
By Andrew Bielak
Amidst the high-profile discussion over a massive bailout of the financial industry, the U.S. House quietly approves a $25 billion loan guarantee to help Detroit automakers build more fuel-efficient cars. (Los Angeles Times — Richard Simon)
Regional bus, rail proposal unveiled
September 25, 2008
By Andrew Bielak
Detroit residents get their first look at an ambitious plan to connect the city and its suburbs over the next few decades with a network of light rail, commuter rail, and hybrid buses. (Detroit News — Tanveer Ali)
Federal Aid to Detroit Seems Likely
September 18, 2008
By Andrew Bielak
Democrats and Republicans in Congress — along with both presidential candidates — are supporting a plan to provide $25 billion in loan guarantees to struggling American auto manufacturers. (New York Times — David Herszenhorn)
Woodward transit line takes step to reality
September 12, 2008
By Andrew Bielak
With more details rising to the surface about a proposal to build a light-rail line through downtown Detroit, it's looking like the motor city could soon become a whole lot friendlier to its car-less residents. (Detroit Free Press — Editorial Board)