Washington State – building a successful vanpool operation in rural Washington to connect workers to employers
In the largely rural southeast part of Washington State is their fourth largest vanpool operation; it is a program with immense popularity, with continual waiting lists for slots that cost on average $70 a month – far less than the cost of fuel and maintenance for a car traveling the long commutes common in the region. Employment centers are spread across large distances and many workers endure long commutes. Key to Ben Franklin Transit's successful vanpool operation is their desire to engage employers in the region and give workers the best possible access to transportation services.
Ben Franklin Transit operates fixed-route and demand-response service in a 615-square mile area of Benton and Franklin Counties that together have a population of 200,000 people. The fixed route service mainly operates in the area's largest cities: Kennewick, Pasco, and Richland. The vanpool services fill a significant gap in that fixed-route coverage and nearly double the agency's operational area into two states, eight counties, and 12 cities.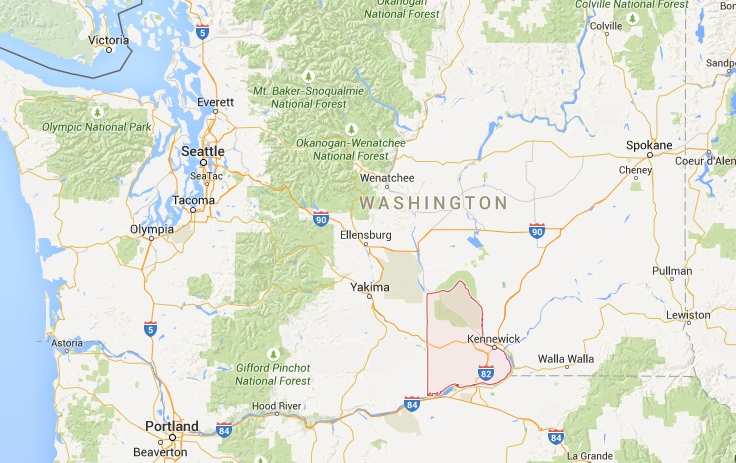 Benton County is outlined in red. Franklin County is immediately adjacent to the east.
Vanpools are an arrangement where commuters coordinate trips to work in shared vans. Vanpools are smaller, more flexible in their operations, and cost-effective compared to other forms of transit — making them highly successful in this region. Given the dispersed nature of businesses and major employment sites within a 150-mile radius, having a robust vanpool program proves ideal. For the average vanpool rider the total costs come to $70 per month, before any employer or customer subsidies are taken into account, whereas for a typical car commute, the costs incurred are far more in just gas costs alone.
How vanpools got started in SE Washington
The move toward vanpools began with Washington State Department of Transportation (WSDOT) in 1982, when the agency started providing seed funding for vanpool programs around the state.
The Benton-Franklin Council of Governments was part of a two-year demonstration project running two 15-passenger vans between the Tri-Cities area and the U.S. Department of Energy (DOE) Hanford site, a weapons-grade plutonium-producing plant that employed 20,000 people at its peak during the 1980's. (Hanford is now an EPA Superfund site employing 11,000 people in cleanup.) The vanpool service supplemented U.S. DOE–funded bus service in the same area.
Back in 1983, Ed Frost, Ben Franklin Transit's manager of transit development, readily embraced the opportunity offered by Washington State to have a vanpool program. There was initial resistance internally within the transit agency to including vanpools as another part of the transit service there, in addition to fixed-route and demand-response transit service, based on the needs and demands of competing operations within the agency. That was overcome by the belief that they should be in the business of moving people without bias to the type of mode. In the end, the decision to include a vanpool operation proved strategic.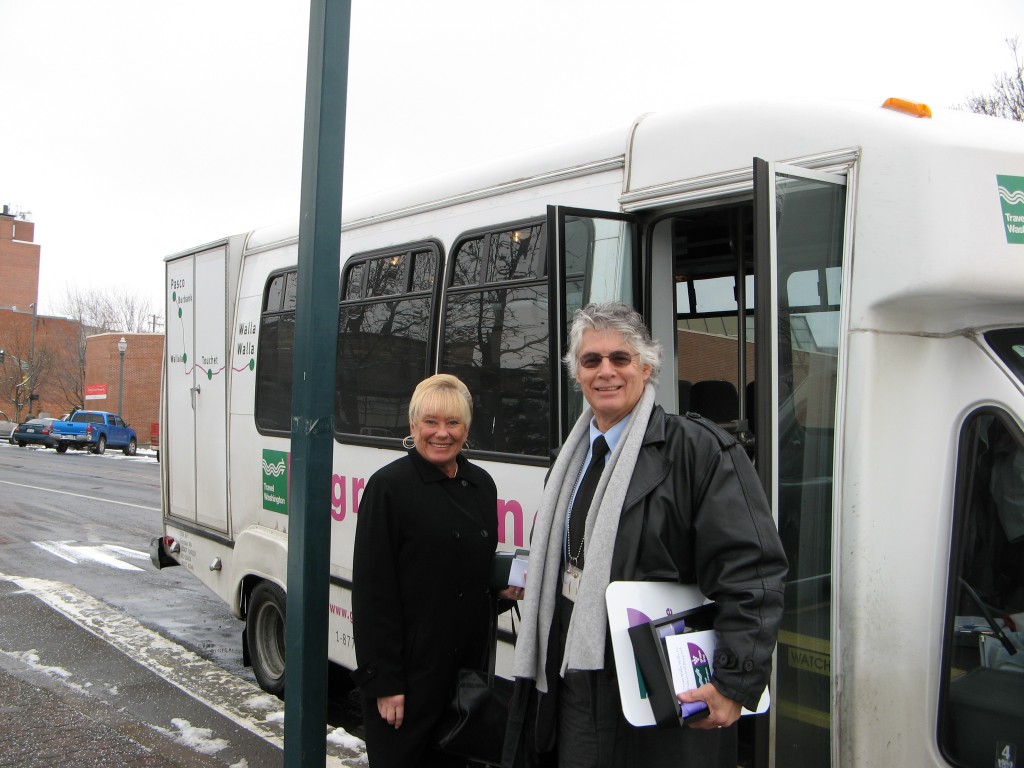 Ed Frost, right, and Christy Watts with Ben Franklin Transit. Flickr photo by WSDOT https://www.flickr.com/photos/wsdot/2110930865/
Taking advantage of state incentives for vanpooling
Ben Franklin Transit built their vanpool service over time by taking advantage of state vanpooling programs directed at, but not restricted to, larger and more congested regions.
At the state level further progress occurred in 1991, when the Washington legislature incorporated the Commute Trip Reduction Law into its Clean Air Act through state legislation. For each county with more than 150,000 people, the workplaces with more than 100 employees traveling at peak hours must have an employee transportation coordinator on site. They survey employees twice a year and encourage employees to consider other commuting options by providing transit benefits and priority parking for vanpoolers and carpoolers.
In 2003, the state went further in implementing a 10-year transportation plan focused on doubling the number of vanpools within the decade. Through Washington's Vanpool Investment Program, $30 million was allocated by Washington State DOT (WSDOT) in grant funds for public transit agencies to support vanpool programs.

The range of transit services that Ben Franklin Transit offers. Image source: http://www.bft.org/
Funds are used for capital costs to put new vans on the road and for employer incentives to increase vanpool use among commuters. The state's commute trip reduction program is overseen by a board that administers the funds to help large transit agencies grow their vanpool programs. Ben Franklin Transit's current vanpools have received state funding from WSDOT.
Ben Franklin Transit does not have to conform to a vanpool requirement since it does not meet the threshold for congestion and population, and thus there is no employer requirement to offer this alternative form of transportation for workers. BFT, however, decided to take full advantage of the state incentives available to them for bringing a viable alternative commute option to area residents, and for engaging area employers to participate in the program.
Ben Franklin Transit's regional vanpool program has been in operation for over 25 years, providing 275 round trips per day with over 875,000 boardings per year. Their customers often travel long distances, many in excess of 120 miles daily, and save considerable amounts of money by vanpooling. The service appeals to riders with a wide range of incomes. According to a 2012 internal survey, 3 percent of respondents had household incomes between $20,000 and $30,000 per year, 35 percent had household incomes between $30,000 and $80,000 per year, 33 percent had household incomes between $80,000 and $120,000, and another 29 percent had household incomes above $120,000 per year.
The importance of collaborating with employers
The vanpool program started off with only two vehicles 25 years ago, and less than 3 years later grew to 32 vehicles, a full-time coordinator, and a staff person who devoted a portion of their time to the program. They experienced significant growth until August 2005 when Bechtel, a significant employer for the area, announced that for a short period it would have to reduce staff to perform seismic studies. All of a sudden, BFT was left with 45 vans without users (half of its total vanpool fleet).
BFT decided then and there that it needed to have a much deeper relationship with area employers. BFT staff went out to employers that were not already served by the vanpool program, visiting state prisons, wineries, farms, orchards, and other employer sites. As a result, by 2006 all the vanpools were filled; by 2007 there was a waiting list for a very robust rural vanpool program.
Growing into one of the largest vanpool networks in the state
Through this diversification Ben Franklin Transit's vanpool program became the fourth largest in the Washington State. By 2013, their vans traveled a total of 4.11 million miles and collected $2.33 million in fares. There continues to be a wait list given the popularity of the vanpooling program. Currently the wait list is 14 vans long, and that number is down from earlier this year.
The vanpools are popular given their ability to serve multiple people on flexible routes, and to meet the different needs of employees. Last year, a Northern Oregon chemical storage depot was going through demilitarization, and around 30 vanpools were operating on that route for the short period of the project. Many of those customers discovered a new option that they liked and looked to be part of another vanpool when they switched job locations.
Those in vanpools, realizing huge savings, often want to stay in them. They are popular across people of all income categories, from farm workers to those who work in highly technical jobs. The program also offers a guaranteed ride home through taxi service that is contracted out by BFT for days when unexpected events occur. Vanpool riders also can request a bike rack to be installed for those users who require it.
Fares cover the full cost of operations of the vans, but often the riders do not have to pay the full amount, as employers often subsidize the vanpools. Bechtel, for instance, offers a $300 subsidy for each vanpool, bringing the costs down to just $24 per rider per month on average — 90 vans travel to Bechtel's plant.
In a case of working with area employers, Ed Frost, then manager of the vanpool program, went to a local vineyard and orchard where seasonal workers were paying $10 a day to travel to work in gas costs. He sought and obtained a JARC (Job Access and Reverse Commute) grant from the FTA to subsidize the vans by half to employees, so it comes to $34 per month, and then to a 25 percent subsidy in the second year followed by no subsidy in the years after. The 15-passenger vans are serving roughly 40 employees each day in traveling the 20 to 70 miles to and from work each day.
The popularity of the vanpooling program is due, in part, to the great need and desire of workers of all wage levels to get to jobs that are spread across a largely rural region, and also in part due to Washington State's role in producing successful vanpool programs across the state.
Even in rural Washington where one might not think of transit service being in high demand, there was a great demand for other affordable commuting options. In one of Ben Franklin Transit's latest customer satisfaction surveys, 98 percent of vanpool users were satisfied and approved of the program. Its robustness and dedication to serving employers in the area has turned it into the largest vanpool network in South Central Washington. This successful program results in tangible benefits for employers, with vanpools helping reduce tardiness, saving money by reducing parking requirements and helping reduce congestion when multiple employers are participating — as is the case in Southeastern Washington State.
Major area employers served by vanpools (p.18 of pdf)
Bechtel
Hanford
Prosser School District
Boise Cascade
Ice Harbor Dam
St. Michelle Estate
Broetje Farms
Kadlec Medical Center
U.S. Army Corps of Engineers
Benton County
Lower Monument Dam
Walla Walla Penitentiary
Benton Rural Electric Association
McCain Foods
Washington River Protection Solutions
Canam Steel
McNary Dam
Washington State Penitentiary
Canoe Ridge Winery
Mercer Canyons Farm
Yakima Government Offices
Coyote Ridge Correctional Facility
Mission Support Alliance
Umatilla Army Depot
CH2M Hill
Moses Lake REC
Wahluke Schools
Columbia Crest Winery
North Franklin School District
Walla Walla Army Corps of Engineers
Connell Elementary
Priest Rapids Dam
Walla Walla City/County
---
To find out more about this specific vanpooling program and about other alternative transportation programs offered please visit www.bft.org or reach Terry DeJuan, Rideshare Manager, at Ben Franklin Transit: TDeJuan@bft.org; 509-734-5108