Chicago – Using company incentives to encourage a massive shift in commuting patterns
Set in a suburban office park 18 miles northwest of downtown Chicago and bounded by two interstates and Chicago O'Hare International Airport, Christopher B. Burke Engineering, Ltd. would seem an improbable destination for bicycle commuting. But thanks to the company's decision to start a bicycling program and offer incentives to employees to encourage them to commute by bike, CBBEL in 2014 achieved a platinum-level rating as a Bicycle Friendly Business from the League of American bicyclists. Today, an almost unbelievable one-third of their 200 employees commute by bike at least occasionally. Regular riders say they are more fit, have better morale and are saving considerable money on their commuting costs thanks to the program.
Christopher B. Burke Engineering has some 200 employees who commute from various parts of the Chicago metropolitan region to a suburban/industrial site where parking is plentiful. In 2006, two employees, Jonathan O'Connell and Mike Kerr, asked company president Christopher Burke to think about providing facilities for people to bike to work. The first investment came with the infrastructure that can help make bike commuting as practical as possible — bicycle lockers, showers, bicycle storage facilities. But over time the program grew to include far more support and incentives to use bicycling and other transportation options.
In the first year, six employees participated, riding a combined 3,000 miles per year. In 2007, that grew to 15 workers biking 7,000 miles. Then in 2008, those who were biking to work sat down with the owner of the company and came up with the idea to create additional incentives behind the program to expand participation to those on the fence about joining.
The company now offers a commuter benefit program that provides its employees 75 cents for each mile they travel by bike to work. The company provides locker and shower facilities, bicycle storage within the office, and pumps, bike tools, tubes, and other gear. Employees are offered discounts at local bike shops for parts and services, and there are annual and quarterly giveaways to encourage participation in the bicycle commuter incentive program. Giveaways include prizes such as vests, lights, and a grand prize – a brand new bike – for the most miles commuted by bike each year.
The per-mile incentive coupled with the other support for bicycle commuters helped grow the program to 68 employees riding 50,000 miles per year. Of those riders, 30 to 35 bike consistently in the summer and 10 to 15 in the winter. The share of employers commuting by bike fluctuates from 7.5 percent in winter up to 34 percent during Bike to Work Week. Nationally, just 0.6 percent of Americans commute regularly by bicycle.
The bike to work program is featured prominently in company newsletters and is ingrained in the corporate culture. The company hosts monthly commuter breakfasts to encourage people to be active participants in the program and there are also yearly educational presentations from the Active Transportation Alliance, a Chicago regional coalition working to make bicycle, walking, and transit options safe and convenient.
Since its creation, more than 180 employees have participated in the program, commuting a total of more than 254,000 miles by bike.  Employees have saved approximately $56,000 in gas money, burned over 12 million calories, and reduced carbon dioxide emissions by 493,000 pounds. The typical commute distance is between 12 and 15 miles by bike, with 68 trips per year on average. Each commuter participant logs roughly 37 miles per week by bike. All levels of staff participate, including the executive vice president.
The popularity of the bike program inspired company officials to look at ways to promote other commute options as well, according to Jonathan O'Connell, who manages the company's Bike to Work program.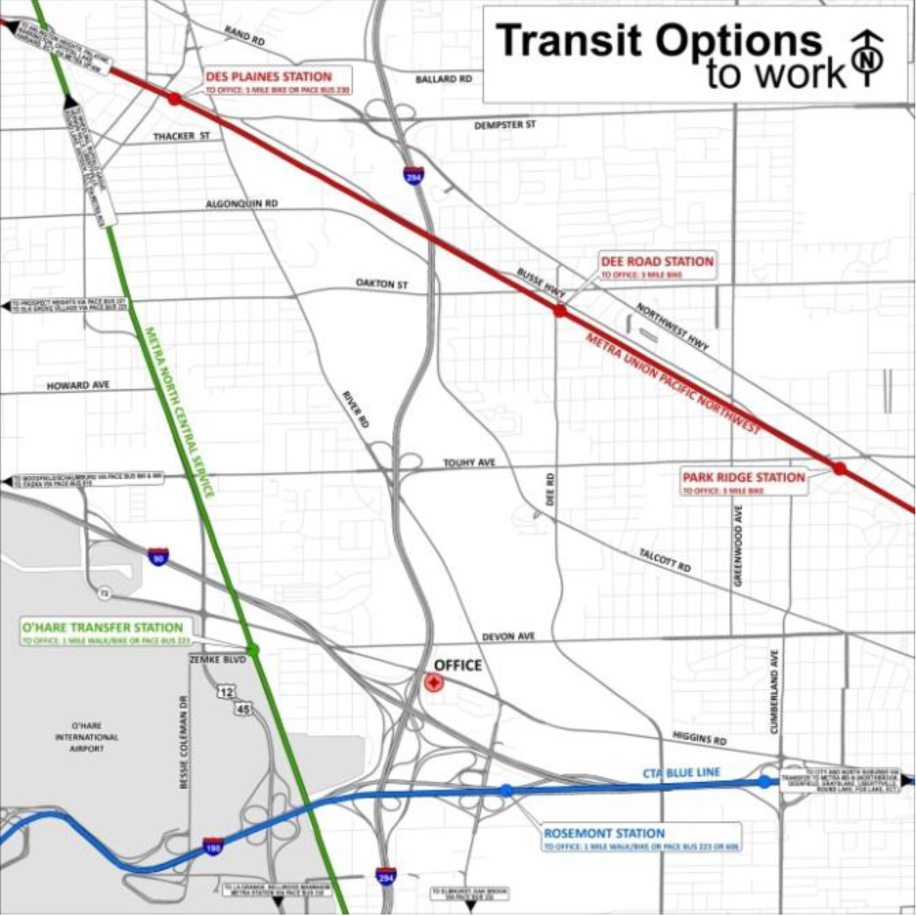 To encourage more employees to take transit and utilize the Metra commuter rail's Rosemont Station and the CTA Blue Line stop just a mile away, the company provides five bikes they can use for free to go to and from the station and other destinations. They also provide a car sharing service through a partnership with Enterprise CarShare to have five cars available for their employees to use, which also eliminated the need for 75 project managers to each have a company car.
"The decision to utilize shared vehicles through IGO was really a natural extension of our ethos," noted company president, Christopher Burke. "Having a big fleet of company cars, we realized, wasn't a sustainable expense. Now we have vehicles on our lot, at the doorstep, but we also have increased efficiencies."
CBBEL continues to overcome the challenge of getting their employees to a work site in a suburban-industrial location by supporting as many options as possible.
"We wish we started sooner, and brought more company-wide participation from the start," said Burke.
---
For more information on CBBEL's alternative commuting programs, contact Jonathan O'Connell, joconnell@cbbel.com, (847)-823-0500