Enabled by state legislation, a suburban Atlanta county votes to raise taxes and join Atlanta's regional transit system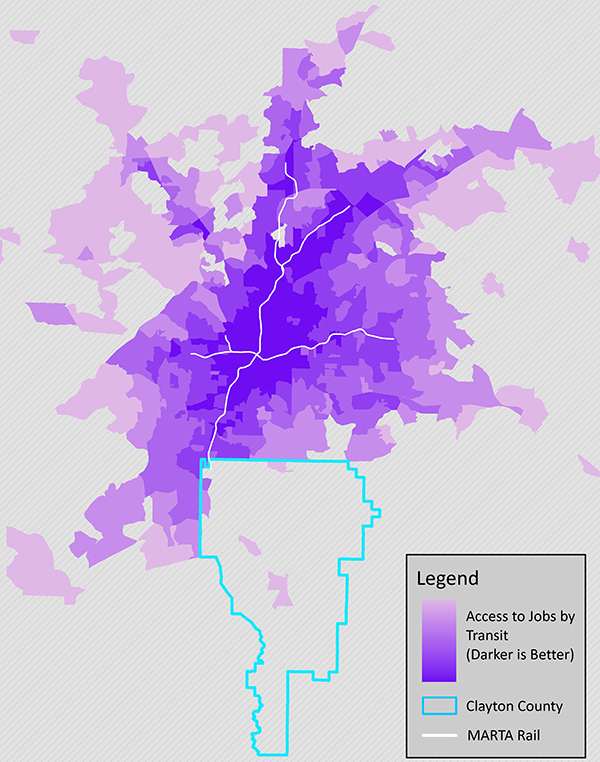 Directly south of Atlanta, Clayton County is home to a large swath of suburban development that emerged in the 1960s and '70s, as Hartsfield-Jackson International Airport boomed at the edge of the county. Today the population of 267,000 is majority African American. The median annual income of $42,569 in Clayton County is the lowest among the region's counties, and statistically Clayton County's population is among the most likely to use public transportation. (Data from the Census QuickFacts)
The county has a large population of low-wage workers, and both residents and employers depend on having affordable and reliable transportation. However, they have been without public transportation entirely since a county-run service dubbed C-Tran ceased operation four years ago with dramatic consequences for the community. The three routes that were operating in the county suddenly ceased due to the inability of the county to continue supporting the service out of general revenues.
The bus lines disappeared, but the needs of residents to get to work, students to get to schools and Clayton State, and the young and the old to get medical care did not. C-Tran was providing more than 2 million rides each year, helping many of its residents get to thousands of jobs in and around major employment centers, including the airport in the north end of the county, one of the world's busiest.
---
Read T4America's post from October 2014 explaining the backstory on C-Tran's cancellation, the enabling legislation, and the looming November vote.
---
A number of people had moved to Clayton County because there was a transit system, which connected them to major employers in the area. Others came to rely on the regular services to get them to school, medical care, and to the grocery store. When the bus service abruptly stopped, some people lost their jobs; suddenly, apartment complexes in areas that formerly had transit were facing 50 percent occupancy. Clayton County still continues to have one of the highest unemployment rates in the state despite having Atlanta airport at its doorstep, an economic engine generating 450,000 jobs in the Atlanta area.
The challenge in bringing transit service back to the county required a multi-year effort ­— first to get county officials to push transit to the top of the agenda and then to gain approval for a ballot measure from an indifferent state legislature up the street in Atlanta. The state "enabling legislation" was required for any countywide ballot measure to raise any new money. Though making the case that bringing improved service back was worth the additional money was the biggest battle in the campaign, advocates also had to confront the perception from a small slice of the population that restoring transit service would increase crime.
The hard fought and ultimately successful campaign provides great lessons on how a community can come together to recognize the importance of a service that benefits everyone, whether they depend on it or not.
Friends of Clayton Transit, formed in March of 2010 to bring transit options to Clayton County, led the advocacy campaign. The coalition is a diverse group representing residents, businesses, community organizations, bus and rail advocates, civil rights groups, environmental groups, political officials, and religious organizations. The coalition actively fought the legislative battle under the gold dome and led the campaign to convince voters to bring transit to Clayton County once again.
Transit supporters worked to elect a supportive county commission, who then sought state legislation that would let them ask voters whether the county should levy a one-cent sales tax for transit. That would allow the county to join MARTA, Atlanta's regional transit agency limited at the time to Fulton and Dekalb counties, or to contract for service. The state legislature gave approval in 2013 after a tough struggle, but restricted the county to joining MARTA, rather than contracting out as it had done in the past. A second bill would give Clayton County voting rights on the MARTA board if they chose to adopt the transit tax in the year that they had the option to take it to the ballot.
FRIENDS OF CLAYTON TRANSIT COALITION PARTNERS: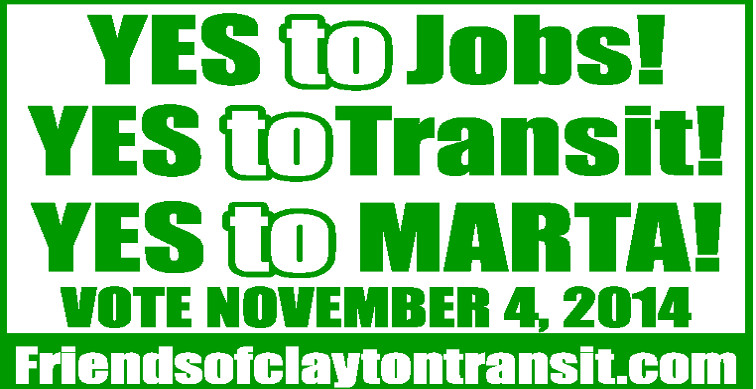 100 Black Men South Metro / AFL-CIO Constituency Group / Amalgamated Transit Union Local 732 / Association of Christian Ministers of Clayton County / AALAC/Angkor Resource Center / Atlanta Labor Council / A.D King Foundation / Caribbean-American Chamber of Commerce / Citizens for Progressive Transit / Clayton County NAACP / Coalition of Black Trade Unionist / Concerned Black Citizens of Clayton County / Disability Link / Georgia Assoc. of Black Constructors / Georgia Association of Black Elected Officials / Georgia Association of Latino Elected Officials / Georgia AFL-CIO / Georgia Coalition for the People's Agenda / Georgia State NAACP / Georgia Sierra Club / Georgia STAND-UP / Georgians for Stronger Communities / Georgians for Passenger Rails / GO Clayton / HICKS Evaluation Group (HEG LLC) / Metro Atlanta Community Enrichment Outreach / National Action Network (Clayton/Henry Network) / NNK Consulting / Rainbow PUSH / Raising Up Leaders / RDWSU International / Southern Christian Leadership Conference / Southern Environmental Law Center / Transportation Equity Coalition / Voter Empowerment Collaborative / Pro-Georgia / WIGO AM RADIO 
Successful passage of legislation at the state level in Georgia cleared the way for Clayton County to join MARTA.
Approving the ballot measure would allow for extensive new bus service options and put half of the revenues away (locked away in escrow) for planning or building some higher capacity transit like a heavy rail extension or commuter rail line in the years to come. If the measure failed, the status quo would continue with the same lack of transit service that was dragging the county down and cutting their residents off from jobs and opportunity.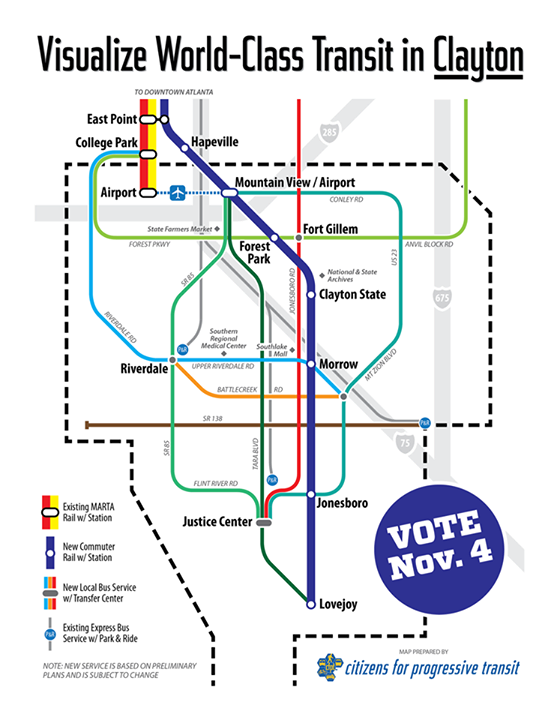 The Clayton County Commissioners signed a contract in July of 2014 to join MARTA and authorized the transit referendum to be placed on the ballot. In the months leading up to voters deciding the fate of a 1-cent sales tax increase to join MARTA (Atlanta's regional transit agency) in November 2014, the concerns and passions of those affected were high.
"I have people, students, young men that can't take jobs for the summer because we don't have transportation for them. And someone said earlier don't make it emotional — well let me just apologize now. I get emotional when I see little old women walking down Tara Boulevard in the ditch in the rain, and there's not even anywhere to pull over and pick her up."– State Representative Roberta Abdul Salaam
Friends of Clayton Transit rallied support for the ballot initiative and encouraged the people of Clayton County to head to the polls.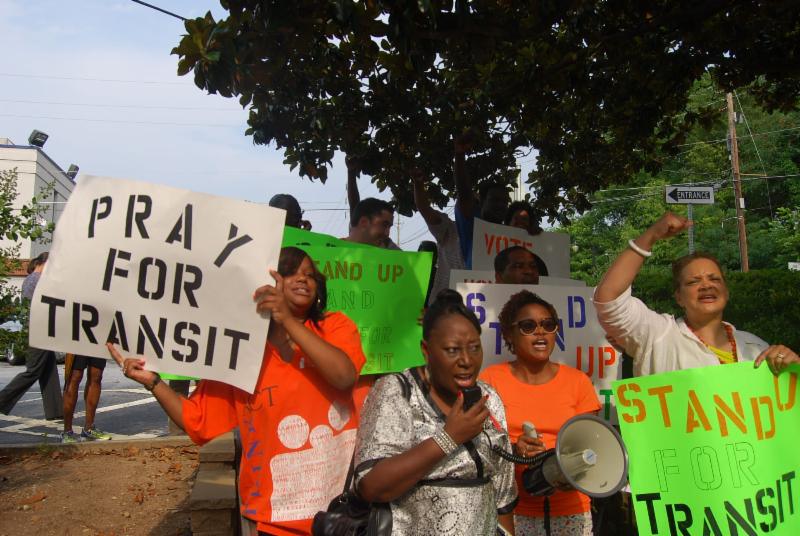 Elected officials like Commissioner Jeffrey Turner gave stern assessments to residents that bringing MARTA transit to the county was absolutely an economic necessity.
"The unemployment rate in Clayton County is 9.4 percent, one of the highest in the state… you look at economic development and the opportunities transit will bring us. I would say look at those, look at the options, and see that transit is a viable, positive thing for Clayton County." – Commissioner Jeffrey Turner
To reduce any possible concerns about safety, MARTA's police chief and the Clayton County Deputy Police chief gathered with local officials at meetings to assure residents that they should not feel any less safe with MARTA coming to town, nor should there be any expectation that the police department would not actively work to protect the citizens of Clayton County.
The measure passed overwhelmingly, with 74 percent of voters in Clayton County approving the measure to raise taxes to join MARTA and restore bus service. Instead of the three C-Tran bus lines that they once had, the new funds will bring them ten. Residents and businesses will also benefit in the next few years with another system expansion: a possible new commuter rail line or bus rapid transit line, with the last segment completed by 2025.
For Penny Sadre, a local resident of Clayton County, the new buses that came into Clayton County in March now save her a daily 30-minute walk to work. For Doris Colzie, who recently moved from Mobile, Alabama, the new bus service allowed her to get to a job interview the first day the MARTA service opened in Clayton County.
It's critical that these closer-in suburbs where poverty is often growing aren't left behind as more people with means return to cities and well-connected places. Though the residents in many places similar to Clayton County typically have more limited access to vehicles, the infrastructure was never designed for easy or safe walking, biking, or transit to daily needs; and the jobs are often scattered far and wide.
Clayton County recognized that their transit service is an essential component of giving their residents access to opportunity.