Heritage Community Initiatives – connecting residents of the Mon Valley to jobs
13 of the 15 poorest communities in Allegheny County, PA are located in the Monongahela Valley in Greater Pittsburgh, PA — known as the Mon Valley for short. After the rapid decline in the manufacturing economy that the Mon Valley depended on, the area faced severe economic challenges. With the disappearance of many Mon Valley jobs over the years, many area residents now live far from job centers and lack affordable and efficient transportation options. Heritage Community Initiatives, Inc., a non-profit organization, is providing a valuable service for these workers in geographically isolated and low-income areas to jobs by providing a fixed-route bus service that connects to Port Authority transportation routes.

Launched over ten years ago under the name WorkLink, the service received half of its funding from the former Job Access and Reverse Commute (JARC) program through the Federal Transit Administration, with the other half coming from the state of Pennsylvania.
The WorkLink service provided cost-effective, efficient service to residents in geographically isolated and low-income areas and experienced significant gains in ridership and growth. Many of Mon Valley's residents depended on WorkLink as a job lifeline, and ridership doubled after 2011 when the Port Authority cut service by 15 percent (and WorkLink service was temporarily increased to compensate in places). Around 3,900 riders became registered users of the service, logging over 820,000 rides to work and other destinations over the last decade. Because of the transit service, $132 million is added to the regional economy through job access, an improved tax base, and increased spending power.
The WorkLink service was provided until 2013 with the JARC federal funding. When that funding was eliminated, they had to cut service over that summer to make ends meet. There was huge uncertainty and significant drops in ridership from its heavily dependent user base.
Rescuing and resuscitating the service — with the help of the legislature
After losing the JARC funding, there were tremendous system-wide cuts system-wide. From having 3,875 registered riders they went down to 500 registered riders. For a time, The Commonwealth of Pennsylvania was providing funding in 2-week increments, creating massive amounts of uncertainty over whether or not the service would continue. The Port Authority had reinstated some previously canceled routes, but many of the users were, during this time period, enduring 4 to 7 miles of walking just to reach a Port Authority bus stop.
In 2013, the Pennsylvania legislature raised significant new revenues for transportation statewide through the passage of Act 89, which enabled the human services non-profit Heritage Community Initiatives to restore and operate the service, now known as Heritage Community Transportation. Heritage Community Initiatives is the only human services nonprofit in Pennsylvania designated as a provider of public transportation, in addition to their other work in childhood education and providing food access and clothing to those struggling to get ahead in the community.
Heritage began by restoring WorkLink routes to get their old customers back into the program. Thanks to the new state funding raised in 2013, Heritage is able to provide longer-term trips that are open to all residents, rather than restricted to only the riders eligible under the former JARC program. (JARC was technically eliminated in MAP-21, the surface transportation law passed in 2012.) Now, anyone can apply for a card, which is required to use the service.
Today, 70 percent of riders have returned to the service, even with many of their old routes discontinued or now run as Port Authority routes.
Serving those who need the service the most
"It says very clearly … there is a need," remarked Paula G. McWilliams, President and CEO of Heritage Community Services. "We can hit such a high percentage without even serving the majority of large businesses [since transfers are needed through Port Authority transit services to reach most of the area's major employers]. The people we serve are absolutely the working poor… They don't have access to a vehicle."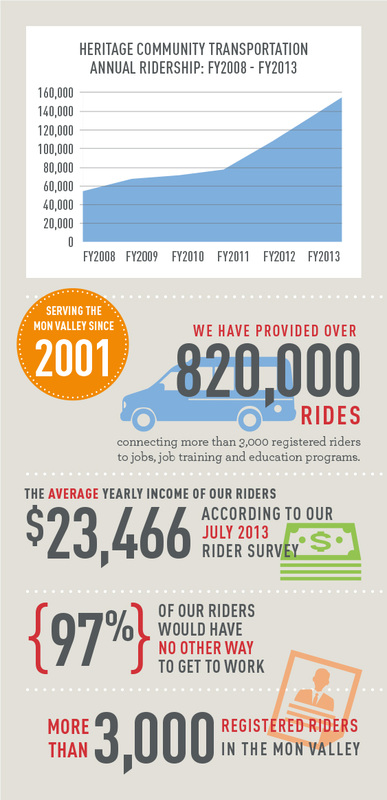 The vast majority of riders (69 percent) are using Heritage Community Transportation to get to work.
Fully 85 percent of riders are using Heritage to connect to the larger bus service provided by the Port Authority of Allegheny County, in order to reach employment, education opportunities and medical care.
Heritage Community Transportation service provides critical connections to key employers, including the University of Pittsburgh Medical Campus, Forbes Regional, and Allegheny County Community College. It also serves 11 of the communities in the Mon Valley. A July 2013 survey found that for 97 percent of the riders commuting on Heritage, the service was their only way to get to work. Ridership has increased rapidly, from around 80,000 in 2011 to more than 150,000 rides in 2013.
The service continues to provide needed connections to and from East McKeesport, East Pittsburgh, Liberty, McKeesport, Monroeville, North Versailles, Pitcairn, Port Vue, Turtle Creek, Wall, White Oak, and Wilmerding. With a Heritage Rider Card, residents have access to a free transportation service that connects them to employment, education, and regional transportation centers. The value it adds to residents is measurable, and demonstrates the importance of fixed-route transportation service as more than an option, but a necessity for many.
A snapshot of the riders:
The average age of a registered rider is 47.
63% of rider households live on less than $10,000 a year.
59% of riders are female.
69% of riders use HCT to get to work.
85% of riders connect between HCT and Port Authority routes.
Riders have remarked
"If it wasn't for Heritage Community Transportation, I would be unemployed. Thank you!"
"Heritage Community Transportation is a most valuable service in the eastern section. We in the Turtle Creek Valley would be lost without it."
"Overall the service is of great benefit to the communities and the only reason I myself am able to attend school."
"Heritage Community Transportation has made it possible or me to keep my job. I transfer from Heritage Community Transportation to Port Authority to get home."
---
For more information about this service visit: http://www.heritageserves.org/heritage-community-transportation.html