Last week's announcement of a $178 million federal grant to make track and infrastructure improvements along the Gulf Coast rail corridor represents the last major funding hurdle to restoring passenger rail service from New Orleans to Mobile, AL.
Residents of Mobile welcomed the Amtrak inspection train during a stop in February 2016. They are close to getting their wish.
It's been a long journey.
Seven years ago in February, a special Amtrak inspection train rolled along the Gulf Coast corridor to both preview the route and build support for restoring passenger service that was wiped out by Hurricane Katrina in 2005, nearly 11 years earlier. Making brief, 10-minute stops in Gulf Coast towns along the way, it was greeted by thousands of cheering residents clamoring for passenger rail to return. I was there in 2016, and—a little overwhelmed by the level of support—I wrote about seeing "rich people, poor people, black people, white people, young people, old people — all asking their elected leaders for the same thing: We want passenger rail back on the Gulf Coast."
The last major funding barrier has been breached. Mississippi Senator Roger Wicker last week announced a $178.4 million federal grant to make a litany of infrastructure investments in the corridor, including track, sidings, signals, new platforms, and other improvements. We're not quite at the end yet, but this grant caps off a decade of work by the Southern Rail Commission, local and state advocates, and Transportation for America.
These improvements will allow new passenger service to start up in the first quarter of 2024, hopefully in time for Mardi Gras. Once launched, there will be two trains daily between New Orleans and Mobile, with stops in:
Bay St. Louis…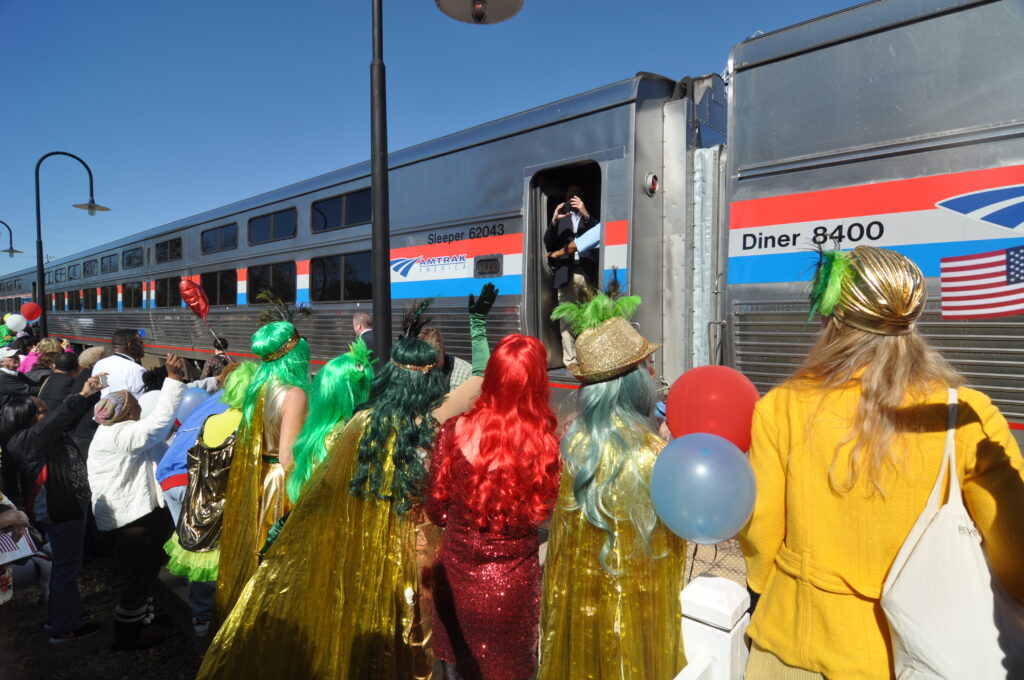 Gulfport…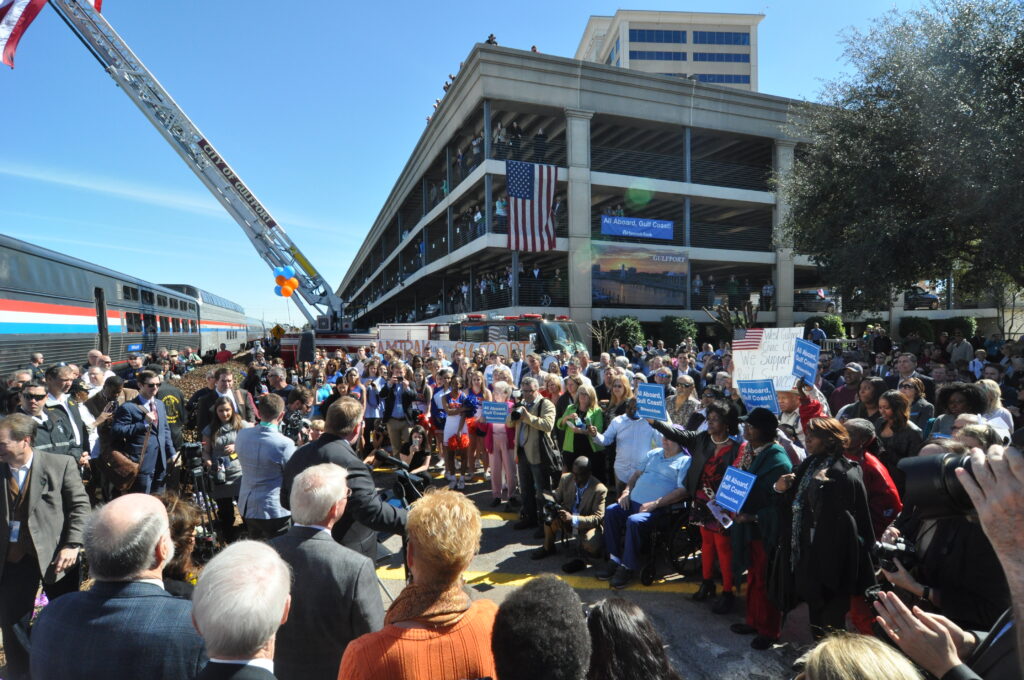 Biloxi…
and Pascagoula.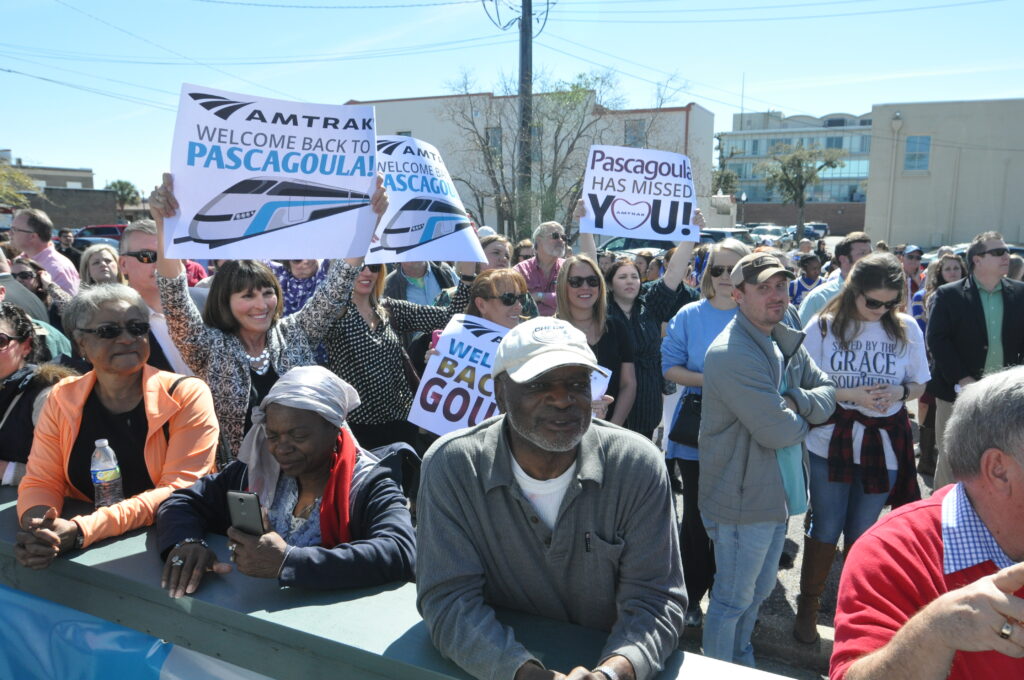 About the grant
The grant is from the Consolidated Rail Infrastructure and Safety Improvements (CRISI) grant program, which was created in the FAST Act (federal transportation authorization) in 2015. To secure federal funding for this specific project in a post-earmark world, T4America helped create a new national program to support it and other necessary infrastructure improvements for passenger service across the country. Washington state, California, Florida, and the District of Columbia also received CRISI grants in this batch.
The CRISI grant is the last major funding domino to fall, but everyone involved has committed resources along the way, which is perhaps the most important lesson from this story: The effort was both top-down and bottom-up. Partnerships across jurisdictions, state lines, and party lines made it possible. At the very center of that effort is our work with the Southern Rail Commission, a Congressionally established tri-state rail compact with members appointed by the governors of Louisiana, Alabama, and Mississippi.
Mississippi and Louisiana were out front early, committing state money to match these federal grants. Norfolk Southern, CSX, the Port of Mobile, and Amtrak also committed money to the CRISI application to complete the required match. Amtrak is training crew and preparing equipment for running the new service. This is actually not the first CRISI grant awarded to the project, and another federal grant received years ago will help cover start-up operations costs (from the Restoration and Enhancement grant program.)
What's next for Gulf Coast rail?
Most of this grant will go toward immediate construction on improving the right-of-way and sidings on trackage owned and used by CSX and Norfolk Southern freight railroads, improving on-time performance. Amtrak is paying for the ADA-accessible platform and siding in Mobile out of their own pocket, but if Mobile wants a proper station, they will either have to build it themselves or apply for one of the available grants for doing so. All the infrastructure work will have to be done in partnership with the freight railroads, so leaders in influential places will be leaning on them to get this vital work done as fast as possible.
These new infrastructure improvements are the last barrier standing in the way of people buying a ticket and riding the rails on the Gulf Coast once again. We expect to see trains running in spring 2024.
Win after win
The last eight years have been a tremendous success for new investments in passenger rail across the country. This effort in the Gulf Coast—and its champions like Senator Wicker—have created new opportunities and federal programs (like CRISI) that are having an impact all across the country.
We're looking forward to detailing the longer, full story of T4America's decades-long quest to restore Gulf Coast passenger rail in some future posts so other regions can learn from their example. There are numerous benefits to expanding and improving passenger rail service, which is precisely why T4America (and Smart Growth America) have focused on it over the years. It's a great way to better connect residents to opportunity, expand their economies, lower emissions and protect the climate, and provide another clean, efficient option for getting around—all things which are at the heart of our collective mission. 
All photos by Steve Davis / Transportation for America