Last week, Rep. Jared Huffman (CA-02) introduced a bill that would measure and reduce greenhouse gas emissions and vehicle miles traveled on our roadways. This would be transformative.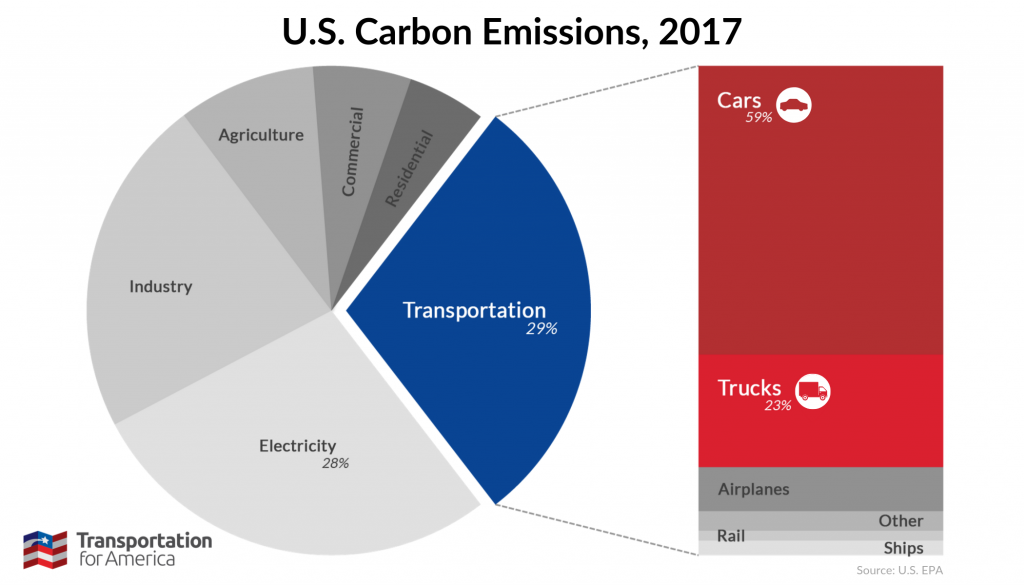 Transportation is the single largest source of greenhouse gases (GHG), contributing 29 percent of the United States' total GHG emissions. The majority of these emissions come from driving. But right now, we don't measure emissions on our roadways. Without measuring these emissions, we will never be able to reduce them. 
Rep. Huffman's new House bill—H.R. 5354, The Generating Resilient, Environmentally Exceptional National (GREEN) Streets Act—would change this. The bill, co-sponsored by Reps. Pocan (D-WI), Connelly (D-VA), Lowenthal (D-CA), Rep. Haaland (D-NM), and Blumenauer (D-OR), will create new performance measures and goals requiring that states measure and reduce vehicle miles traveled (VMT) and GHG in their transportation systems.
Senator Ed Markey (D-MA), along with Senators Carper (D-DE), Sanders (I-VT), and Durbin (D-IL), introduced companion legislation in the Senate earlier this year.  
"Tackling climate change is going to mean moving away from the current model of more highways and longer commutes to a model of safer, healthier, and more resilient communities," said Rep. Huffman, a member of the Transportation and Infrastructure Committee. "The GREEN Streets Act will be an essential component of this effort by transforming how we measure success in the federal transportation program and how we hold federal and state decision-makers accountable for reducing carbon pollution."
To reduce VMT and GHG, states would likely have to employ a variety of strategies, including better transportation options and smarter land use. These strategies come with a host of additional benefits: less congestion, lower household transportation costs, safer streets, more attractive communities, and improved public health. 
California has already taken steps to do something similar to what the GREEN Streets Act would require. California's law SB 743 required the Governor's Office of Planning and Research to identify new metrics for identifying and mitigating transportation impacts. For development projects, VMT is now the new metric for transportation analysis, replacing level-of-service.
We need new metrics to measure the success of our transportation system in a way that provides a more holistic, inclusive view of the system. The GREEN Streets Act is a huge step in the right direction, requiring states to begin measuring and reporting how far people are driving, the resulting emissions, and then working to reduce both. We need a new vision for our transportation system, and this legislation will help us get there.
TransportationCamp DC 2020 tickets are on sale! Join us at this "unconference" for transportation nerds on Saturday, January 11th at the Catholic University of America.