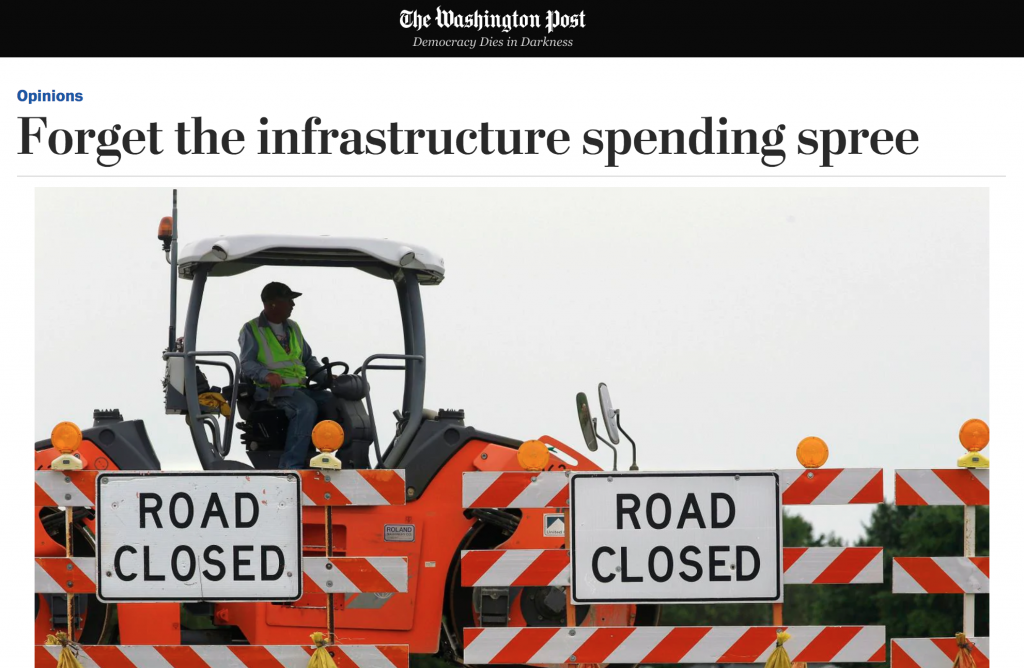 A new opinion piece in the Washington Post takes a contrarian view of all the talk about money during Infrastructure Week. Let's skip the infrastructure plan and focus on policy, because without good policy more spending could actually do more harm than good.
Yesterday, Repair Priorities 2019 showed how America desperately needs to change federal transportation policy that allows states to neglect their repair needs in favor of costly road expansions.
Today, a new piece in the Washington Post from Transportation for America Director Beth Osborne makes that clear with some pointed language:
At best, this infrastructure plan would throw more money into the same flawed system. At worst, Congress and the president would be signing a blank check with no sense of what the money is intended to accomplish, no clear system for accountability, no requirements for states to actually repair our "crumbling roads and bridges" and no guarantees that any of us would have an easier time getting from A to B when all that money has been spent.

What we need from Congress is an update to federal transportation policy for the next six years, which governs how we spend some $61 billion annually on highways and transit programs. And we need lawmakers to find more than $13 billion a year to cover shrinking gas-tax revenue.
Share on Twitter Share on Facebook
Agencies competing for limited federal funds to expand transit must prove they can also cover long-term maintenance and operations, something no road project ever has to do. When state highway departments can't cover their commitments because they've prioritized expansion over repair, they'll just ask for more money.

After all, there will always be another Infrastructure Week.
While decision makers are focused on infrastructure this week, so are we. Read the full op-ed  and then share Beth's message with your networks on Twitter and/or Facebook to help us spread the word!