We announced earlier today that Kelly Gregory and Mary Welcome have been selected to serve as artists-in-residence with the Washington State Department of Transportation (WSDOT) in a new fellowship program created by ArtPlace America and T4America, bringing a dose of creativity to the statewide transportation agency. Get to know this team of two artists with this brief Q&A.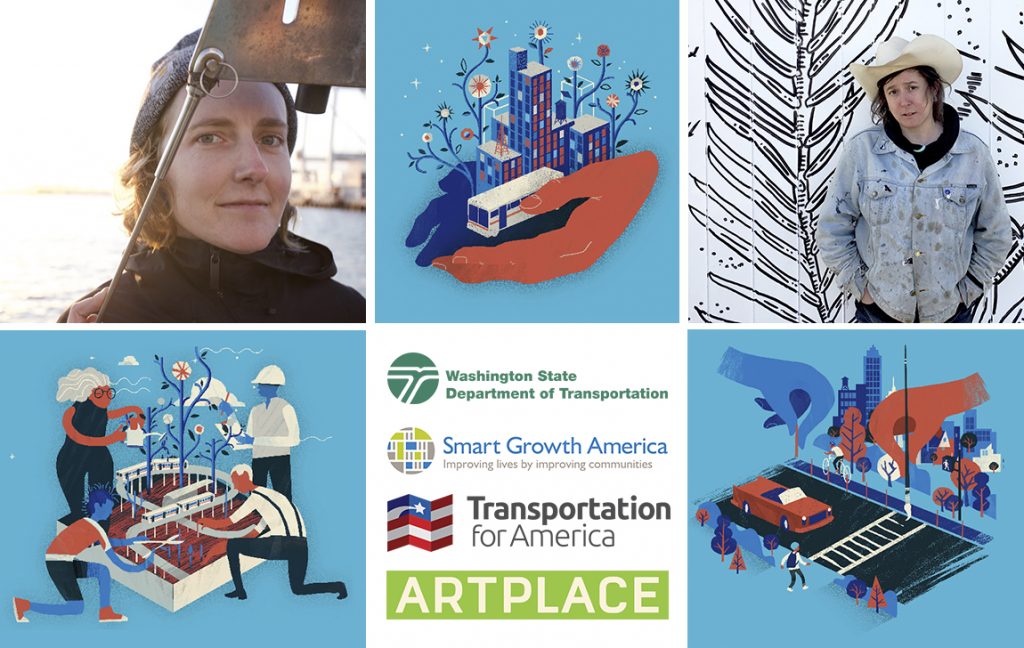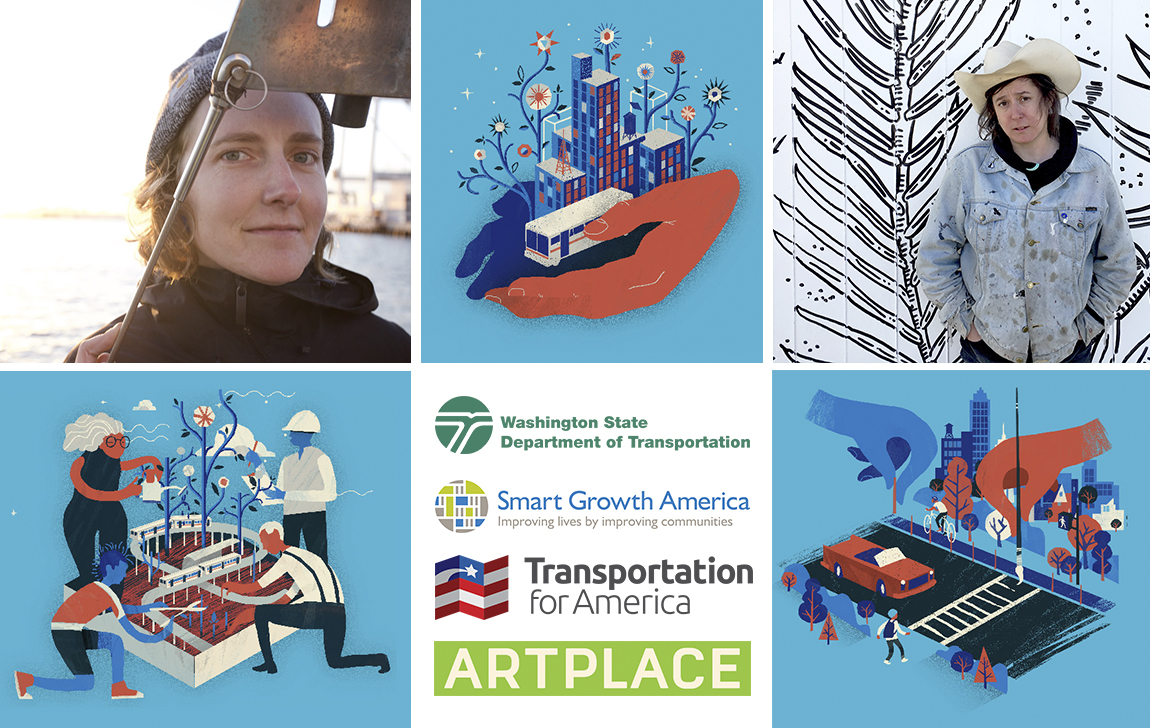 WSDOT is launching the country's first statewide artist-in-residence program, embedding this team of two artists within the agency for a year starting later this summer. Kelly Gregory (left, above photo) and Mary Welcome (right) will help develop new ways to achieve WSDOT's goals through a first-of-its-kind program. They took a few minutes to answer a few questions from Ben Stone, the director of arts and culture for Smart Growth America.
What was it about the WSDOT artist residency that inspired you both to apply? Now that you've been selected, what excites you most about the residency?
As artists and activists, we have a history of working in collaboration with non-arts communities and building relational bridges between fun and function. We are excited for the opportunity to shape what a statewide artist-in-residence can look like on a national level because we really believe in the power of artists to bring fresh perspectives and strengthen community connections. As a nationally recognized transportation agency, WSDOT addresses the needs of every resident and visitor of the state and we are excited to help build relationships with communities across the entire state. What an incredible opportunity—to study the communities of Washington based on how we move around.
While you'll have a lot of time to formulate project ideas once the residency starts, what are your initial thoughts on how you'll approach the residency?
We're especially interested in the statewide services and the many different people (from road crews to planners) and places (both rural and urban) that make up the WSDOT community. We think some of the best outreach is done on a conversational level, spending intentional time with folks outside of formal meetings and work hours (riding in a snow plow! hanging with the captain of a ferry!). During this residency we hope to develop meaningful, equitable, and impactful ideas into a long standing project that WSDOT can take ownership of in order to continue to be national leaders in the transportation sector.
Tell us about one of your recent projects that you feel is relevant to the residency.
Our collective Homeboat has spent the past three years working with the town of St. James, Minnesota with funding from an ArtPlace America grant. Using an extensive community research process, we collaborated with city employees and local leaders to create a Community Advocate Program that equips community members to connect neighbors, family members, and friends to critical resources, information, and opportunities. We also collaborated with the St. James community on a Healthy Housing Initiative that developed strategies for improving options for affordable, safe, housing to neighbors.
This kind of work is really relational, necessitating a lot of listening and grappling with the complex layers of what makes up a community in order to identify invisible barriers. We appreciate the added challenge of problem solving within our creative practice, but we're also pretty good at keeping it fun for everyone involved.
In our Arts, Culture, and Transportation Field Scan, we profiled seven roles that artists play in solving transportation challenges, from generating creative solutions to healing wounds and divisions. How would you describe your roles as artists working on transportation projects and how to do these roles match up with or expand beyond those seven roles?
The seven roles profiled are focused on equity—from planning and construction to collaboration and engagement. Equity is at the core of our work, and manifests in our practices by working toward equal access, collaborating with the spirit of a place, building hyperlocal, designing for shared stewardship, moving at the pace of trust, and including all community voices. It is critical that all of our transportation systems are equitable, safe, and inclusive for all people from rural to urban places.
How do our transportation systems shape the places we inhabit or experience? We feel especially close to role number five: Fostering Local Ownership. Local stewardship of valuable shared resources, like our streets, that serve as the country's connective tissue, are critical to more equitable, connected communities.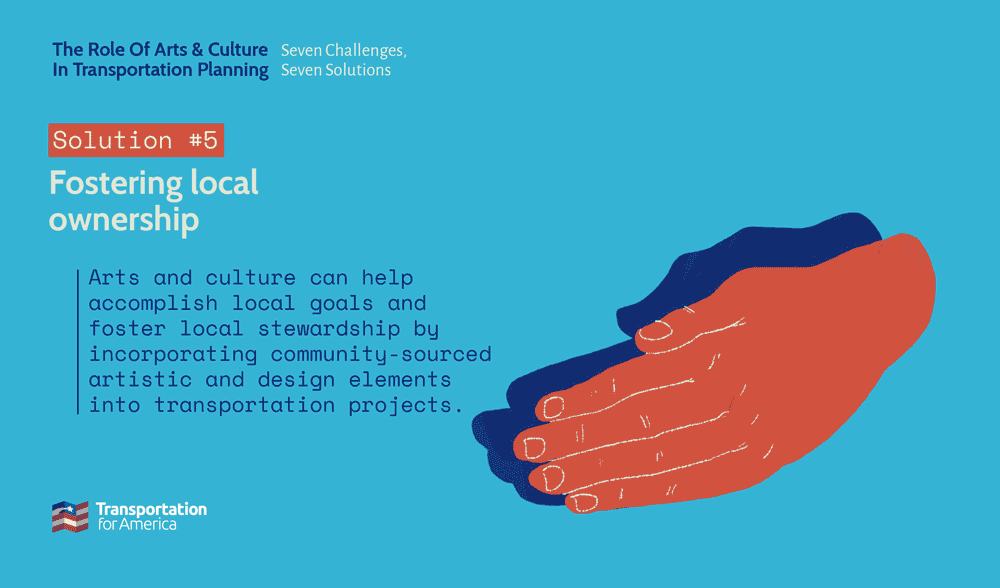 What kind of professional or personal experiences do you have in Washington state? What lessons from your work outside of Washington do you hope to bring to the residency at WSDOT?
Mary is based in Palouse—a small rural town on the eastern edge of the state that is inaccessible by any type of public transportation and sits at the intersection of three small highways. She cares deeply about cultural equity in the state of Washington. Her projects seek to build systems of exchange across the rural-urban continuum and she's excited to collaborate with an agency that recognizes—and also has to effectively serve—the entire state. WSDOT is more than the sum of its parts. The agency is a living network of people and place. She brings a keen and curious place-based practice, a deep affection for the hinterland, and extensive experience as a long-haul cross-country driver who has never taken the same way twice.
Kelly has long been an advocate for alternative transportation. She has worked on a number of transportation related initiatives throughout the last decade. With the urban design firm Gehl, Kelly helped create the National Street Service, a participatory social movement to transform America's streets into enjoyable and fulfilling places for all people. She also co-founded Post-Car Adventuring—a micro-publisher which creates guidebooks for outdoor adventure using public transport and bicycles. She loves long train travel and rides her bike everywhere.
Full artist and team bios
Mary Welcome (Palouse, WA) is a multidisciplinary cultural worker collaborating with complex and often under-represented rural communities. As an artist-activist, her projects are rooted in community engagement and the development of intersectional programming to address hyper-local issues of equity, cultural advocacy, inclusivity, visibility, and imagination. She collaborates with local schools, city councils, civic groups, youth, summer camps, libraries, neighbors, and friends to build cooperative environments that encourage civic engagement, radical education, and community progress. She believes in small towns, long winters, optimists, parades, and talking about feelings. www.bangbangboomerang.com  
Kelly Gregory is an itinerant social architect based on the Pacific coast. Her practice is rooted in socially-engaged work: affordable housing projects, exhibitions, reimagining spaces of incarceration, democratic public space, and in-depth community-driven research. Her projects fold current communities and future solutions into functional, beautiful spaces for collaboration and engagement. www.rovingstudio.com
As a team, with a multi-disciplinary backgrounds in arts, outreach, architecture, and activism, they listen with communities and imagine new solutions in collaboration with neighbors.