After two straight years of the Trump administration pushing to eliminate all funding for building or improving public transportation systems, Congress is right now deciding how much funding to provide for transit in the FY19 budget. To make sure Congress knows they need to continue rejecting these proposed cuts, T4America is circulating a sign-on letter for organizations and elected officials.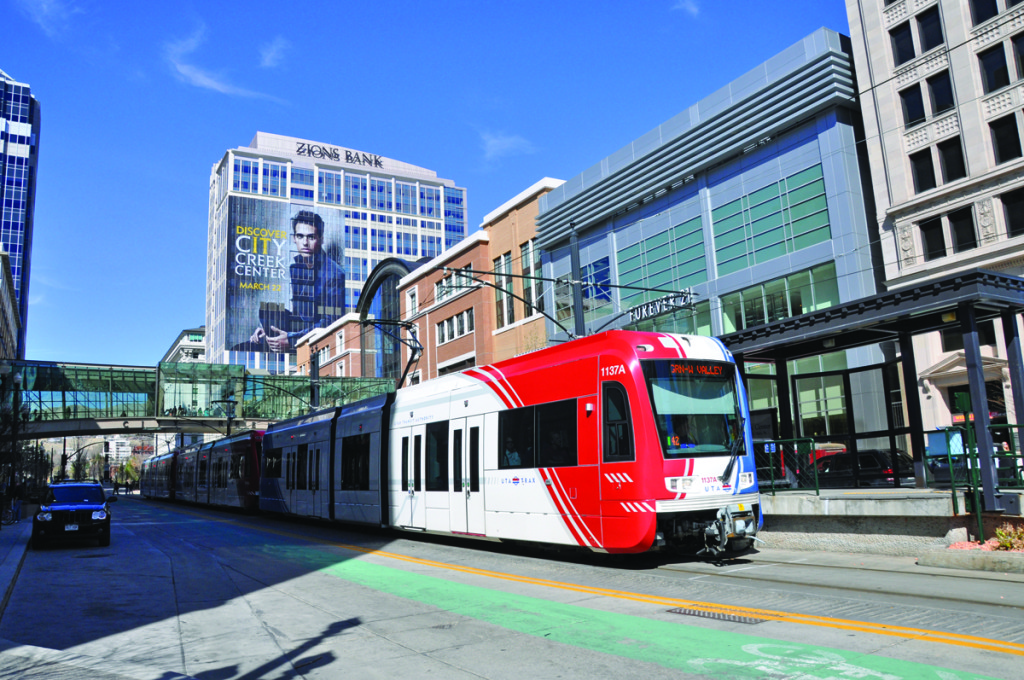 Communities across the country are using transportation as a powerful tool to boost their local economies, whether by remaking the streetscapes on Main Street to better support local businesses, investing in public transit to improve access to jobs, or revitalizing a downtown anchored by an Amtrak station that connects to other communities. Federal transportation funding plays a key role in these efforts, and many communities have raised their own local tax dollars with the expectation that the feds would continue to be a reliable partner in their efforts.
However, unlike past presidents from both parties, the Trump administration has proposed to cut and/or eliminate the federal programs that invest in these strategies for local economic competitiveness. These cuts would result in canceled transit projects, less vibrant communities, and many people stranded without options for getting to work and other necessities. This would pull the rug out from approximately 40 cities that were fully expecting the federal government to share around 50 percent of the cost—many of which have already raised new transportation revenues from voters at the ballot box.
Congress is in the annual process of putting together the FY19 appropriations bills and they are deciding right now how much funding to provide for these vital programs. We need to join our voices together and urge them to prioritize investments that support local communities, public transportation and passenger rail service.
We are organizing a sign-on letter for local or community organizations and local elected officials to call for robust investment in these programs. Sign this letter of support that we will deliver to House and Senate appropriators.
The letter urges Congress to provide robust funding for transit capital grants, the BUILD program (which replaces TIGER), and various passenger rail programs. As our letter says:
We want all American communities, large and small, across the country to benefit from a multimodal transportation network. We want to rebuild and improve our transportation infrastructure and that begins by ensuring that projects and programs in the Fixing America's Surface Transportation (FAST) Act are fully funded and that the administration's proposed cuts to key federal transportation programs—including the BUILD (previously TIGER) program, the Federal Transit Administration's (FTA) Capital Investment Grants (CIG), and long-distance passenger rail programs—are defeated and funding for these programs are secured or enhanced.
If you represent a local or national organization, or are an elected official at any level, click here to read and sign the full letter.
—
Note: For the wonks among you who want to know all the finer points and funding levels, the letter calls for maintaining authorized funding levels of federal transportation programs in the FY19 appropriations process. Specifically:
Fund the Federal Transit Administration transit capital investment grants program at or above the FY18 level of $2.645 billion.
Continue supporting the 56 projects in 41 communities that are anticipating federal transit funding by requiring the USDOT to sign Full Funding Grant Agreements (FFGAs) for these projects, advance them through the pipeline, and obligate these dollars so construction can begin. This funding is critical to all future rail and bus rapid transit projects.
Fund the Better Utilizing Investments to Leverage Development (BUILD) grant program at or above the FY18 level of $1.5 billion. This fiercely competitive program (formerly known as TIGER) is one of the few ways that local communities of almost any size can directly receive federal dollars for their priority transportation projects.
Provide funding for Amtrak's national network at or above the FY18 level of $1.292 billion and $650 million for the Northeast Corridor.
Fund the Consolidated Rail Infrastructure Safety and Improvement (CRISI) grants at or above the FY18 level of $592 million.
And lastly, fund the Restoration and Enhancement (R&E) grants for passenger rail at or above the FY18 level of $20 million.
Read the full text of the letter here. And sign the letter today.